Kartik Johari, Vice-President - Marketing and Commerce, Nobel Hygiene, speaks about the company's ambition to become the largest Indian player in the sanitary pads segment, and shares how the focus on quality is helping the brand penetrate into the market dominated by heavy-weight multinational players.
Q] Please share your insights behind the new campaign where you ask women to 'stop managing'?
We are excited about the new campaign, which showcases a highly engineered product. We launched Rio pads last year, and within a week of the launch India went into lockdown. Though it was tough, but based on the product feedback, we've upgraded it. The campaign creatives talk about the beauty of the product, with Radhika Apte urging more women to try it. It's been seen that women aren't comfortable trying a new product unless they have a thorough knowledge of it, probably from someone who has used it. So, the creative shows the product's detailed features and tries to build familiarity around it. We have very high expectations from the commercial. Our previous creatives have ended up getting engagement rates of over 15-18%. With some of the great pieces of content, we have hit completion rates of over 50%. So, we're excited to see how this ad builds up.
Q] What was your learning from the launch last year?
From the product perspective, we have learned a lot. Earlier, we did not design wings for our product as we thought the feature works against it, as it might lead to leaking.
But, it was very difficult to go against 20 years of user experience and market practices. A number of our users shared their experience with us stating that they found the product useful, they missed the wings. We reengineered it, with one wing in the middle, and the other at the back. We also retained the guard walls attached to it. The absorbency rate is the same as the earlier version but it is thinner now — it's less than half the size of what it was. So, it's truly a superlative experience.
Q] How do you gather consumer insights on a topic that is still considered a taboo, particularly among women in the middle-income target group?
There are multiple ways through which we gain consumer insights. While aiming to reach our target audience, we've never addressed women in the 18 to 25 age bracket at all because, we believe, our first and foremost responsibility is to talk to women who have to handle crucial responsibilities in life. Currently, the sanitary napkin market is not addressing their concerns. We follow a structured pattern for our research. We conduct about two or three preliminary studies on a small-to-medium scale every year for the brand. Besides, we have a cohort of women who've been with us since Rio's inception. We spend thousands of man hours on product testing, to get reviews from women who suffer from heavy flow, PCOS, menopause etc. to create an extraordinary experience.
Q] Looking at the initial demand for Rio, what kind of growth are you expecting for the product in the next three years?
I draw inspiration from our parent company Nobel Hygiene. In the next three years, Rio should be the largest Indian sanitary napkin brand in the country. We are up against multinational giants in our category, the likes of Stayfree and Whisper. So, as a company, we are very accustomed to walk among giants while carving out our niche.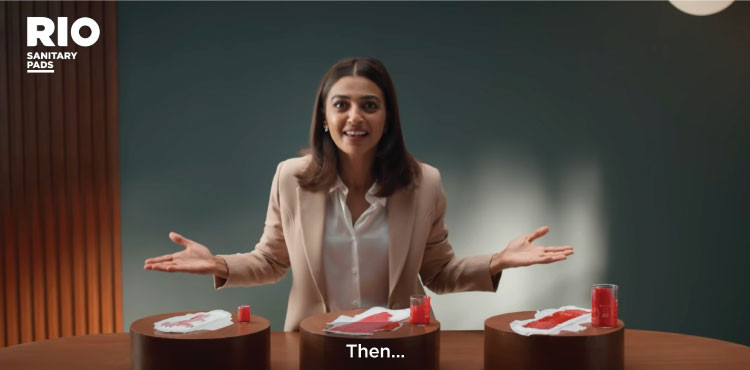 ABOUT THE BRAND
Manufactured by Nobel Hygiene, Rio pads have been specially designed keeping in mind the needs of women suffering from heavy flow periods due to PCOS, menopause, endometriosis, etc. Nobel Hygiene was established in 2000 with a view to provide Indian consumers with global quality products, customized according to Indian body type. Its flagship product is Friends Adult Diapers.
FACTS
Media Agency: Madison
Creative Agency: The Womb
Social Media Agency: Schbang
Digital Agency: NPDI + Schbang
PR Agency: Nucleus PR
PROFILE
Kartik Johari joined Nobel Hygiene as the Vice-President - Marketing & Commerce, in 2014. His role at Nobel Hygiene consists of tying together the various facets of the company and increasing efficiencies in functioning across different verticals. He spearheads the marketing and advertising activities, and also oversees new product development and human resources. He credits his learning about Indian business to the company; and learns more from each market visit.



Q] What changes have you witnessed in the advertising and marketing of a category, which hardly had open conversations around it?
In our country, all the players in the category are now showing the true colour of blood in their TV commercials, which, I believe, is a very substantial and big step. There's a need for honest and open conversations about what your biological reality is, which unfortunately remained masked all this while. We're very proud of the step. And we've seen everyone in the market pivot and change their communications accordingly.
Q] What kind of growth are you expecting for Nobel Hygiene as you compete with market leaders in categories you are present?
We've delivered 30% growth on our top line year-on-year for the past four years, and more than 30% compound annual growth. This is also the target for the next couple of years. We are the market leaders in the adult diaper category. The only way you can survive against multinationals for over a decade is with a highly engineered, good quality product.
Q] Would you like to share the media mix of your product across categories?
Rio is completely digital-led, with about 15-20% allotted for offline promotions. For Friends, we follow an ATL-led spending pattern. Majority of the spending is on TV, outdoor promotions and other activations, with about 30 to 35% reserved for digital. For Teddy, in the baby diaper category, we have competitors who singularly spend close to Rs 180-200 crore a year on advertising alone. There you need to allocate a huge sum if you want to go toe-to-toe, which we don't. About 100% of the ad spend is skewed toward BTL activities, and is very tactical in driving the market for our trade channel as well as for our consumers.
Q] So what's your target for all these three categories in terms of market share in the near future?
According to Euromonitor International last year, Friends is the clearest leader in this category, accounting for 65% plus market share. Teddy is the largest Indian baby diaper brand, accounting for about 5% to 6% of the category.