Automotive company MG Motors recently marked two years in Indian market. Gaurav Gupta, Chief Commercial Officer, MG Motor India takes us through the brand's journey in the country, its target growth markets and explains how the brand is redefining tech in mobility by offering internet-connected cars
Q] MG Motors recently completed two years in the Indian market. Tell us about the brand's journey so far.
It's been one of the most exciting journeys that we've had. When we were launching the MG brand, we knew that we were going to enter a country and a market that already had so many players and it was not easy to launch a new automotive brand in the country. So, we thought on what would be the differentiating factor for us and chose to focus on the history of MG, a brand that was born in 1924 in Oxford, UK and whose legacy has been one of innovation.
And we said, let's look at that in today's context, where technology is connected, autonomous, shared and electric. So we decided to build the story on the pillars of connected, autonomous, shared and electric.
And that is why the first car was MG Hector, which was India's first SUV with an embedded SIM. We then gave our customers assurance of MG Shield, which is a five year unlimited warranty. It's also got a five year unlimited kilometre warranty for the first time in India because most companies give three years and you can buy additional warranty but we said five year unlimited. We also partnered with CarDekho through which you could assume a 60% buyback value after three years. I'm happy to share today that we are at more than 250 touch points across the country. So, I am happy with how we have enabled a wonderful journey for the brand, focusing on the product, the customer experience and addressing their concerns.
Q] What marketing and communication strategies have worked best for your brand in the Indian market?
We are a digital first company. In fact, when we launched the car, it was first on Digital. Similarly, on e-commerce today you can pay the entire amount for the Hector through Digital; it is completely online. And we have partnered with brands like Adobe and Cognizant, who have brought in together the entire package for us to work on it from a technical perspective. And I take great pride in saying this that in our company, we think digital first.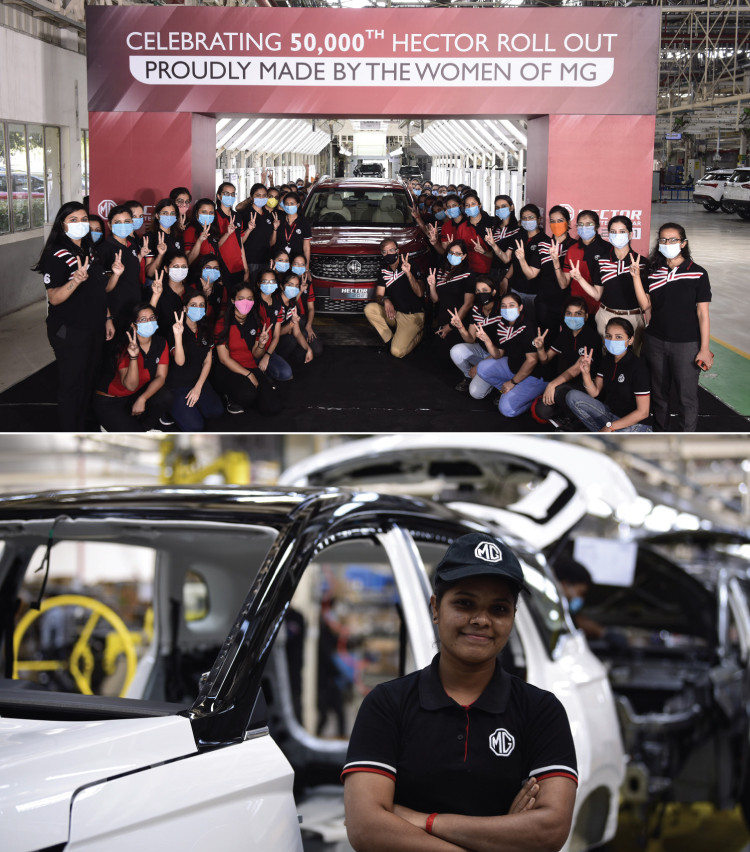 ABOUT THE BRAND
Founded in the UK in 1924, Morris Garages vehicles were known for their sports cars, roadsters, and cabriolet series. Over the last 96 years, MG has evolved into a modern, futuristic, and innovative brand. MG Motor has introduced several 'firsts' in India including India's first internet SUV – MG Hector, India's first pure electric internet SUV – MG ZS EV, and India's first autonomous (Level 1) premium SUV – MG Gloster.

PROFILE
As the Chief Commercial Officer at MG Motor India, Gaurav Gupta has played an instrumental role in engineering the go-to-market strategy for the brand's flagship Indian offering – the Hector. An industry veteran with over 25 years of experience in the automotive industry, Gupta has previously worked with brands like Bridgestone Indonesia, General Motors and Deloitte.



Q] What is your target market-share currently in the automotive sector and which are your strongest growth markets as of today?
We are happy to share that we have risen to top 10 in the country, although we play only in a very expensive sector. And we are able to hold that. But we still have to do a lot more work in this area. Our goal is to make sure that we have happy customers. So we keep working on customer satisfaction and customer delight. We also work on dealer success, which means dealer profitability. And we work on new technology in the automotive space, which is auto-tech. And of course, on the values of diversity, women employment, which is 33%, making it even higher and working for the community under MG Seva.
Q] How important are non-metro markets for your brand? Have you seen any substantial increase in growth from such markets recently?
Right now for us, it's more of a 50:50 kind of a split, both metros and non-metro markets, because there's also a blurring line between metros and non-metros in today's world. In terms of overall growth, there are phases where you see a slightly higher growth in a non-metro area. But to be very fair, given our product category and given the fact that we already have about 250 plus touch points in the country, you know it's fairly well spread out for us at this point in time, but definitely the way we see it going forward, future growth rates and expansion would be in the upcountry area for us.
Q] How did your brand navigate through both the waves of the pandemic?
The most important thing than any strategy is to remain true to your brand values and to what your brand is, and be authentic. We have always been focused on customer satisfaction, and we know that during these difficult times, community service is paramount. So we have reached out to take care of our employees, because internal brand is very important. We have a very clear philosophy with our dealers, suppliers, employees and whoever we interact with; we want to be your friend in your bad days. We have flexible work hours for our employees. In phase one, we actually built a 100-member female hostel for the security of female employees, so that they can easily commute to our workplace. All our dealers, we got them to cover their employees with not only medical cover expansion but also life cover. We've donated ambulances and provided biodegradable bed sheets to hospitals and supplied ventilators under our MG Seva initiative.
During the second wave, we got into oxygen manufacturing in one of the plants in Gujarat. And we also introduced a 24x7 helpline for our customers, as well as a panel of professional doctors. We also donated 100 Hectors to healthcare professionals so that they can use these cars for community services and for their own use.