Q] What was the insight behind your latest festive campaign? What was your brief to the ad agency for the campaign?
In terms of a campaign, I'd like to allude to the research that we did which says very clearly that there are people who want to have celebrations indoors, and there will be people who want to celebrate Diwali like nothing much has happened. And it's purely a customer's choice.
We believe Lifestyle is an enabler and we go the distance to cater to what the customers really want, in terms of choosing whatever fashion works for them while celebrating festivals in whatever way they choose.
Whether it is celebrating at home or celebrating by stepping out, Lifestyle as a brand will take care of your fashion needs. So that's really how the campaign was. We don't brief an agency, we work with them and co-create communication because the agency is part of the entire journey.
Q] Do you see growth coming back because of the festive shopping impulse amongst consumers, and a semblance of normalcy returning?
The way we look at it is—we call it business as usual. Let's say, we were doing 100 last year, during festive months of October, November, and December – we are looking to touch about 80% to 85% of our business from last year.
That will come by way of about 50% to 55% of customers coming back, and 15% of growth in their ABV (Average Basket Value). So a combination of growth and conversion, which means more higher-income customers coming into the shop. Plus, they're shopping for definitely a higher value than last year.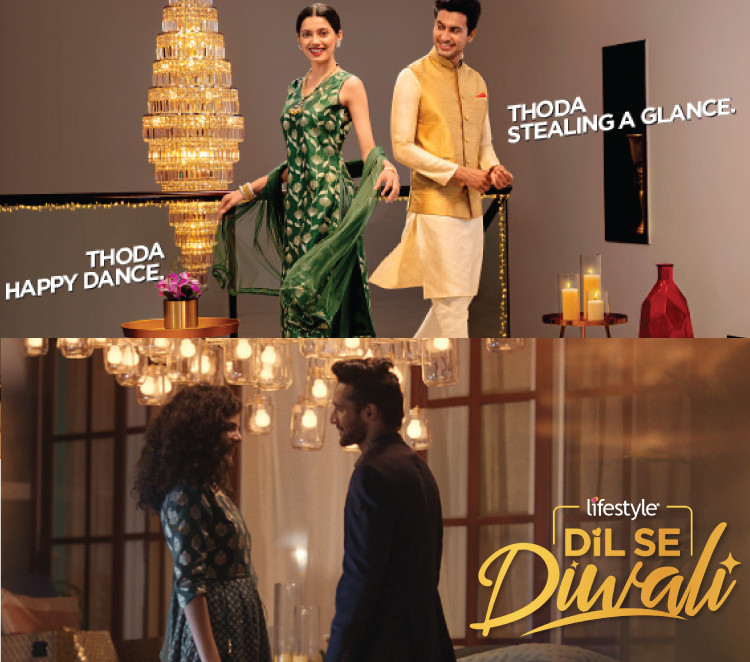 ABOUT THE BRAND
Lifestyle is a retail fashion brand which is a part of Dubai-based retail and hospitality conglomerate —The Landmark Group. It brings multiple categories including men, women and kids' apparel, footwear, handbags, fashion accessories and beauty under a single roof. Currently, Lifestyle has a network of over 80 stores, across 44 cities and delivers to over 19,000 pin codes.
FACTS
Creative agency: Wunderman Thompson
Digital Media Agency: Sokrati
Print Media Agency: Mindshare
Social and digital media marketing agency: Social Panga
PR agency: PR Pundit

PROFILE
Srinivas Rao has over 20 years of experience in Sales and Marketing across FMCG, consumer durables and retail, including more than 10 years at Lifestyle. He has contributed immensely in establishing Lifestyle as a youthful brand in the country besides building several brands such as Ginger, Forca and Melange among others. He has a keen interest in consumer behaviour and data analytics.



Q] Is your festival spending going to be different this year? Is it going to be on par with what you did last year to make up for the loss?
So, it will be more or less aligned to our business outcomes. We're saying we're only going to be doing 80%-85% of our last year's business. So we will align our spends accordingly.
Q] What will your marketing mix be like?
There is a significant shift in our spends away from Print to Digital, and to select Outdoor locations. I am not saying we will do zero Print. We will do Print, but our Digital will be significantly higher than last year. Plus we're going to be selective about some Outdoor especially since the customer knows we are located in malls.
So we're going to be focusing on OOH in malls and Digital, which will impact both our physical stores as well as our online stores. Last year, the biggest was Print, followed by Digital, and then followed by OOH. And this year, it is to be Digital followed by Print.
Q] Is Indian advertising expected to witness a K-shaped recovery? Will it be on the upward slope or the downward slope for your sector? How soon do you see it happening?
As far as fashion retail is concerned, the spends will be muted this year. And we are all expecting that normalcy gets restored by Q4.
And if we are right in our assessment, in Q4 we can get back to 100% of our numbers, then you will see a significant revision in terms of our approach to overall spends for the year FY22. But currently, the spends from the fashion retail sector will be muted.
Q] Can you tell us your plans for expanding your physical store footprint? Will you continue to look at opening up stores in the coming few years?
We've not revised any targets. So post the lifting of the lockdown restrictions, we've launched three new stores. And we will continue to launch stores as per our original plan.
What might happen is some of the mall constructions might be delayed because the country was under a lockdown for a long period and whatever malls were supposed to get delivered in the next few months, will not get delivered.
So this is why we are not sure yet as to what the new schedule is going to be because labour is starting to come back slowly. Plus I don't think anyone has a 100% capacity in terms of executing mall projects. But we've signed up many malls, and we've got a good pipeline of properties across the country.
Q] Will COVID-19 lead to a shift in your long-term growth strategy?
We are an absolutely omnichannel player. We will continue to expand our brick-and-mortar stores the way we always wanted to.
We will continue to invest in our online platform as well as our omnichannel capabilities. We're going to be a lot more active on the omnichannel adoption, because the customers are on Digital and the shift has happened significantly faster than anyone would have anticipated.
So, that is one of the changes we will make but nothing to disturb growth strategy as far as the physical growth is concerned.