Q] Tell us about Godrej Appliances' newly launched IOT enabled ACs. What was the marketing strategy for the new launch?
Our core strength in the AC category lies in cooling and efficiency. We decided to add on more to the categories, so we also have Nano filtration and UV technology now. Moreover, we have voice-enabled smart AC, which means that you can control your ACs, schedule service appointments for your AC, or set the modes. Just voice command the AC and control it. The reason to add this value proposition was simply because of the growing savviness of people in terms of using IOT enabled devices. It also allows us to reach out to the more niche segment of consumers who are early adopters of the internet. Also, the reason for its proliferation now is also led by what's happening across other categories, such as the smart TV.
Q] What was the objective behind the launch of the brand's latest campaign? What media mix was used?
It's a multi-aided campaign, where we speak about cooling, energy efficiency, and smart technology. The strategy essentially revolved around building high visibility for the brand in an extremely cluttered category. Hence, our focus has been more on visibility campaigns driving more awareness. With that being the starting point, we ensured that we had an IPL property in the campaign for quick reach. In order to have higher frequency and greater hammering of the brand across channels, we are using Digital, where we will be leading with YouTube and supporting it with a whole host of other platforms.
Q] What are the new trends in the AC segment and what are the key growth drivers for the brand?
Smart ACs are one of the growth drivers and therefore our IOT range of ACs carry Alexa and Google. We are seeing a growing adoption of five star air conditioners. Also, on the consumer side there is the greater focus on health, and therefore, we are offering Nano and UV in our air conditioners. Lastly, as far as a trend in the segment is concerned, we are seeing that even in air conditioners, aesthetics have started playing a significant role.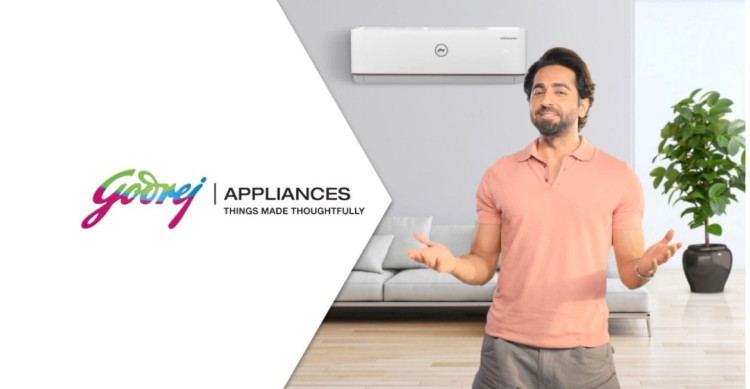 ABOUT THE BRAND
Godrej Appliances, a business unit of Godrej & Boyce, is a Home Appliances player in India. Godrej & Boyce was the first Indian Company in 1958 to manufacture refrigerators, and since then Godrej Appliances has expanded its portfolio across many other categories like Washing Machines, Air Conditioners, Microwave Ovens, futuristic Thermo-electric cooling solutions, Air Coolers, Deep Freezers, highly specialized Medical Refrigerators, and more recently, UVC Technology-Based Disinfecting devices and Dishwashers.
FACTS
Creative Agency:
Creativeland Asia
PR Agency:
AdfactorsPR
PROFILE
As the Head of Marketing at Godrej Appliances, Swati Rathi leads the marketing function for the brand. In her current role, she oversees all aspects of marketing – communication and media, public relations, digital and ground presence, apart from driving conversions through exclusive brand outlets. She joined Godrej Appliances in 2006.



Q] While Godrej is more renowned for refrigerators and washing machines, how are you making your mark in the AC segment?
We actually have a pretty high consideration when it comes to air conditioning. Traditionally our five star mix is better than the industry standards. People who are looking at strong product deliverables, do understand that the brand has a great reputation. We understand the need to rebuild and regain that mindshare, and that is why this summer, instead of talking about any other category, we are focusing completely on air conditioners to ensure that we build it as an elite category for us to have a longer play.
Q] There seems to be an evident shift in consumer behaviour in general, what has been the sentiment in the home appliances market in the new normal? What purchase trends are you seeing?
During the pandemic, one of the key shifts we saw was that there was a decline in consumption of appliances. However, the premium segments continued to grow, it is the mass segments which took a beating. This is because during both the waves, consumers couldn't access the stores. After the waves, the peak heat was over, the need to buy an AC got postponed. The other thing that started happening was greater acceptance of online purchases. If earlier people were visiting multiple stores before formalizing their purchase, they now typically make the purchase in one visit. A lot of top level research got shifted to Digital research. So it's the online influence on the offline sales, which definitely grew by leaps and bounds. Air coolers in the current season are doing extremely well. So the cooling products are back with a bang this summer. During the pandemic, it was the premium segments in every category that did well.