Q] How has the consumption of Cello products been impacted after education and work went digital? What significant changes have been observed in consumer behaviour?
The interim closure of educational institutions affected the education sector and all the parties involved as the overall stationery industry that saw a decline of approximately 35% in 2020 vs. 2019 in general trade sales. We at BIC Cello noticed a similar trend for our core business i.e., writing instruments but we registered an increase in demand for the art and craft product segment and for writing instruments sold through e-commerce. This year looks promising in terms of revival as offices and educational institutions have started to open up.
In December of last year, we ran a survey to better understand the challenges and issues brought on by the pandemic. The survey showed that despite the drastic changes in the education model, there were some positive changes too. Staying at home gave parents quality time with their children. Even the children got a break from the fast-paced life, helping them perform better and express themselves creatively through offline activities, such as handwriting, colouring and drawing. At BIC Cello we are proud to provide families and children with essential tools they need for learning, working and self-expression, and hope we can help spark a little joy and imagination during these difficult times.
Q] What were the challenges in re-strategizing your primarily offline retail business into an omnichannel business? What percentage of your sales was from Digital pre-lockdown versus now?
Building a strong omnichannel presence was a part of BIC Cello's plan even before the pandemic. We always had a plan of making our products available in alternate channels of modern trade, e-commerce, institutions and exports. 2020 only accelerated our journey in alternate channels, particularly e-commerce and digital. BIC Cello grew more than 50% in terms of sales on e-commerce platforms and we have a double-digit business contribution from the alternate channels.

Q] A crisis also throws up opportunities; what have been the opportunities that BIC Cello has capitalised on?
We were able to accelerate growth in our arts and colouring and e-commerce business. We turned to moment marketing and trending conversations to get our message across with more relevance. 2020 was all about moulding the brand to create relevant communication and marketing campaigns around different occasions to engage our consumers. While everyone was home, we created content on ColourUp to connect with our audience on Digital and Social. We shared topical content and provided people with ideas on how to keep children busy by giving wings to their imagination with our art and craft range. We teamed up with Disney Imagine That, where the anchor Rob shows children interesting and exciting ways to create things creatively with ColourUp products.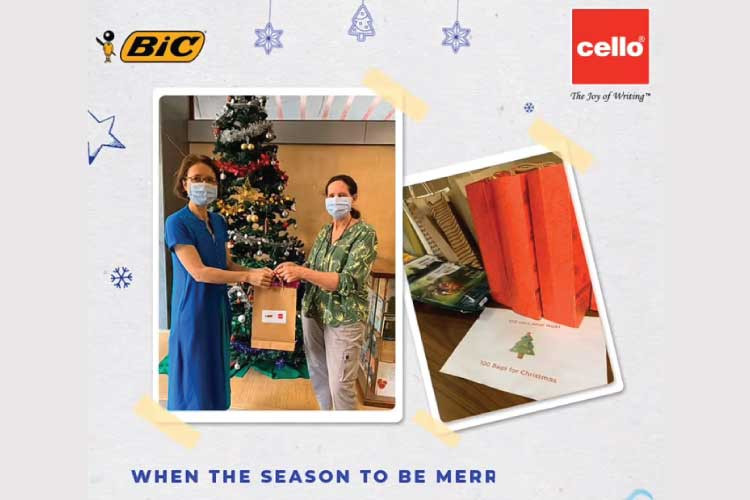 ABOUT THE BRAND
Founded in 1995, Cello Pens is a prominent, well-known stationery brand and the leading manufacturer and distributor of writing instruments. The brand manufactures and markets a wide range of classic ball pens with imported tips and German inks. In December of 2015, the French stationery major BIC acquired 100% ownership in Cello writing and the company was renamed BIC Cello (India).
PROFILE
Tanveer Khan is a marketing professional with over 19 years of FMCG experience in India and South East Asia. He is well known for developing strategies and delivering business targets, crafting winning marketing mixes and activating them with immense impact across channels.



Q] Can you tell us how consumer preference evolved and which products/categories have driven growth?
Over the period of the pandemic, consumers preferred trying new products that helped them keep the kids engaged at home, which resulted in the sales growth of our arts, crafts and colouring products. There was also an increase in sales for instruments that were used primarily at home for teaching, like markers. For us, these are the segments that did better than others. Social media allowed us to reach new consumers and stay connected with the ones we already have. We created meaningful content and provided solutions to consumers in an enjoyable and convenient way. Throughout the lockdown, we tied-up with influencers and communities to create engaging content for running contests and DIY videos. This helped drive demand and increase sales.
Q] How do you leverage the different mediums for marketing?
We use the mediums as per the objective of the activity that we want to carry. We use mass medium channels like TV, outdoor, and point of sale for generating awareness for new products and providing visibility during key occasions. We use digital channels to increase our consideration as a brand and engage with the consumers and carry conversations throughout the year. The benefit of the stationery and arts and crafts sectors is that consumers are open to experimenting. Product innovation and a diverse portfolio answering every consumer's need are key to building a strong brand. However, strong engagement is primarily driven when a marketing strategy leads with content instead of products. Similarly, inspiring consumers has now become even more critical as the second phase for engagement. We are determined to create platform curated campaigns that help forge an emotional connection with our consumers.
Q] How has BIC Cello's relationship with distribution partner strength evolved recently?
Our relationship with our distribution partners was strengthened in 2020. We helped them liquidate their inventories and provided support via credit terms. When the stationery retail outlets and wholesalers started opening up, the company actively distributed Oorja Kits to improve their safety. The kits given to shop staff included face masks, face shields, sanitisers, gloves, a Cello Sapphire pen and a personal letter. Prior to the pandemic, we hosted some of our customers for a tour of our Karambeli facility and a run-through of our plans for the upcoming year.