One of the oldest and strongest multipurpose adhesive brands, Araldite has completed over 70 years of its existence. With maximum consumers spending most of their time on digital media, the brand has taken to Digital by associating with renowned influencers to increase brand recall and communicate better with its DIY consumer base. Araldite, which was never available on e-commerce platforms, is set to make its debut soon there as well. Here are excerpts from a conversation with Shenoy Muralidhara, Commercial & Country Director, Huntsman Advanced Materials (Araldite).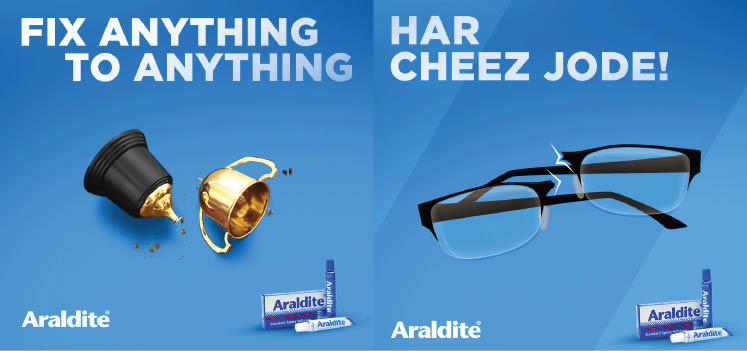 ABOUT THE BRAND
Araldite is the flagship brand from the Huntsman Advanced Materials stable. The legacy of its constant growth and development is built around a colossal range of adhesive solutions. The brand's focus is on improving product performance through chemistry. With the proposition of the world's strongest adhesive, Araldite offers a complete range of ready-to-use products in applications to build, bond and protect.
FACTS
DIGITAL AGENCY: BCWebWise
CREATIVE AGENCY: NONE
MEDIA AGENCY: NONE
PR AGENCY: BCWebWise

Q] Tell us the insight behind the recent Araldite campaign #BondsThatLastForever, which marks 70 years of the brand's existence…
In a world swamped with opinions and multiple channels of expression, a home-bound consumer feels completely lost. Most find it impossible to filter facts from feelings and the #BondsThatLastForever campaign aims to highlight that each one of us have our own opinions and perspectives. It aims to shed light on the fact that we could all be right in our own unique way, despite having differences in opinion. What is important is to focus on facts which are universal and time-tested. 'Repair is better than replace' is a fact that is not only sustainable but also inherent to Indian values. The greed for materialism is only recent since traditionally we have been quite content human beings. In fact, most of us attach memories to objects as they are a great reminder of the relationships we have had. In case anything happens to these priceless objects, Araldite will be the handyman at your service because the bonds it creates last forever.
Q] The campaign was a Digital-only one. Had the current situation been better, would you have looked at other mediums to promote it?
Traditionally, our marketing and marcom campaigns are more conventional in design and focus on our target customer groups such as Masons, Carpenters, Mechanics, Craftsmen, etc. We have used this opportunity to target a wider audience, including emerging DIY enthusiasts, using the Digital platform, now that the need and use of the Digital medium has sky-rocketed even more than ever.
Q] Do you have any other campaigns in the pipeline to be out anytime soon?
We would like to own the message of repair is better than replace. Thus, the same campaign will be extended to multiple platforms, going forward.
Q] Araldite has been a multi-purpose brand that has served industries across automotive, assembly operations, rail, aerospace and more. Which of these have contributed to maximum sales of the product?
In the retail space, Araldite is mostly focused on the construction industry applications. Whereas, in industries, in addition to construction, it is widely used in Coating, Electrical Engineering, Electronics, Industrial Composites, Aerospace, Engineering Adhesives, etc. However, all of these industries represent a significant part of Araldite's revenue footprint.
Q] Most people have had to repair commodities rather than replace, due to limited purchase options in the lockdown. Have you seen an uptick of sales in this period?
We expect this shift to happen in the interim, as more people have become conservative in their spends and are more likely to 'repair than replace'. However, it is too early to see this reflected in the sales revenue, since the markets remained closed for 10 weeks, without any commercial activities during this period.
Q] Which are your strongest growth markets as of today and the ones you would want to concentrate on, going ahead?
Construction and Coating, Infrastructure, Railways, Wind, Electrical Engineering, General Industry are all strong growth markets for us and will remain our primary focus even in the future.
Q] How big a focus area is localization for the brand? What are the measures you have undertaken to reach out to local consumers?
Though Araldite is a global brand, it has had a strong presence in the Indian market for several decades, both for the consumer as well as the industrial sector. A large part of our marketing programmes and marcom campaigns are deployed in Indian languages, including Hindi and many other regional languages which enable us to reach out to local consumers and communicate with them better.
Q] You head operations in Europe, Middle East, Africa and the India region. How distinguished is the Indian market than the rest in terms of marketing?
India is a large and a complex market, with unique challenges. Conventionally, purchasing decisions have been strongly driven by the 'value for money' concept, in addition to the customer's desire for performance, reliability and longevity, all of which are strong characteristics of brand Araldite. More recently, we are seeing the emergence of a new segment of young urban DIY enthusiasts, who are technically savvy and looking for products which are smartly packaged, easy to use, visible in the Digital space and available through e-commerce. Both these customer segments present different challenges in terms of branding, communication, product portfolio, price points and distribution channels, which makes India a very exciting market in terms of marketing challenges.
Q] What marketing strategy has worked for you in this lockdown period?
As marketers, we need to keep our target audiences central to anything we do. The time-tested strategy of "go where your audience goes" always works anytime, anywhere. During the lockdown period, India witnessed a significant increase in online activity. They also had more time on their hands. We thought it was an ideal opportunity to build awareness and drive engagement for Araldite on Digital. Our partnership with top influencers like Ranveer Brar and Kunal Khemu significantly increased our share of voice. We are already seeing some great results with increased demand. Going forward, you will see Araldite on e-commerce platforms too, enabling the brand to be an essential part of everyone's toolkit. Repair is better than replace is the message we want to convey and Araldite will be the key partner in this endeavour.
Q] What is the biggest marketing challenge that
you face in India?
The diversity of the market in terms urban/semi-urban/rural, conventional mason/carpenter versus young urban consumer,
wide range of building materials used, wide range of economic status of the end customer, all make for a very exciting and challenging market.

PROFILE
Muralidhar K. Shenoy is the Country and Commercial Director of Huntsman Advanced Materials in Europe, Middle East, Africa and India. Since 2010, he assumed the responsibility of the Advanced Materials business in India, with a focus on improving its financial performance and cultural health. Under his expert leadership, Araldite, the flagship brand of Huntsman DIY business in India, has steadily registered growth and profitability.
MARKETING TIP
Driving demand via marketing is like being on a date; you have to understand the person before you start to engage with them. Do the desired actions, build interest via a crisp spiel, fulfill the need and never let them down.