Q] What was the prime objective in bringing out the expanded definition of family for Future Generali's health insurance offerings?
Future Generali believes in being a Lifetime Partner for consumers, and we follow the philosophy of leading with simplicity, innovation, and human touch. A key component of our Lifetime Partner philosophy includes DEI (Diversity, Equality & Inclusion), where inclusion is a key driver. We believe that the only way we can make a real impact on society is by looking at inclusion not only as an employer, but also as an insurer. This means that we are always on the lookout to understand the needs of the various communities that we serve, and fulfil those need gaps with relevant products and offerings.

It is our agenda of inclusivity that led us to research and closely interact with the LGBTQIA+ community, and appreciate the challenges that they face from an insurance perspective. We realised that this community was excluded from purchasing floater health insurance covers as they did not fall under the classic definition of 'family.' Therefore, we decided to make this industry-first move so as to expand the definition of family for our retail health insurance products, to cover those who don't necessarily follow traditional societal norms to define their family. This includes, live-in couples, and same sex couples. As insurers, we believe that we have a moral and societal responsibility to provide a level playing field to all of our consumers. Our decision to do so has made us the first insurer in India to offer equal opportunity to those LGBTQIA+ members in a live-in relationship to secure their health insurance needs.
Q] How did you execute the overall campaign, both on Digital & OOH? Why did you choose real-life same sex couples?
Our campaign showcasing real LGBTQIA+ couples is a first-of-its kind in the insurance space. To deliver our message on the expansion of the definition of 'family' in our retail health insurance products, we broke the norm by collaborating with two real-life, same sex couples —Yogi and Kabeer, and Adhila and Noora. It was important for us to have real-life couples for this campaign, rather than models, because we believed that we could only do justice to a message as strong and important as this one by showcasing real voices that resonate with the community.

We built up an air of intrigue with teasers two days before revealing the campaign. We then launched the campaign on January 1, 2023, on Digital and on Out-Of-Home (OOH) platforms in strategic locations with high footfalls such as cafes, malls, and restaurants in Mumbai, Delhi, Gurugram, Goa and Bengaluru. We leveraged Digital platforms such as Instagram, Facebook, Twitter, and LinkedIn, partnering with real life couples and influencers to co-create static and trending reels on Instagram. We also amplified the reach and connect with the audience by interacting with posts and by actively using the hashtag, #RedefinedFamily.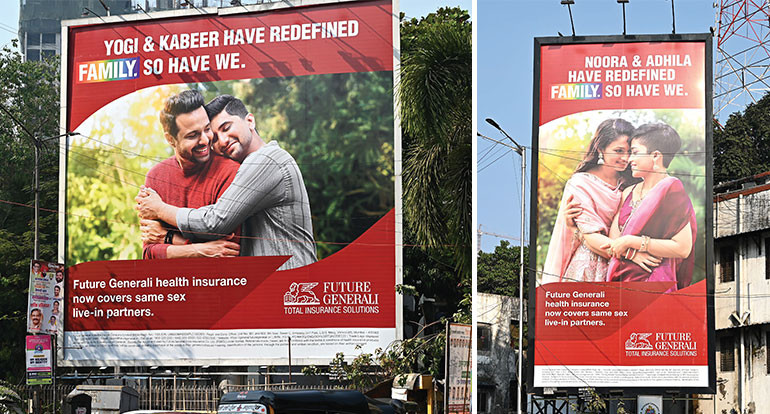 Q] What kind of responses did you receive for such a brave advertisement?
We believe that the Indian society is currently in the midst of a transformational journey, and the time is right to address sensitive issues that are often brushed under the carpet. With this campaign, we are very conscious of the fact that a subject like this could be sensitive in the Indian context, given the differences of opinion among people. But the response to this campaign has been very encouraging. The Digital social reach of the campaign in just 10 days is 13 million views, and over 1100 unique mentions, out of which 83% are positive comments. People have posted pictures of our hoardings on their social media platforms, appreciating and applauding the initiative, and tagging the brand. It is particularly gratifying to note that we have received a positive response not only from the LGBTQIA+ community, but also from people outside of the community, reaffirming our belief that we are a step closer to a progressive and inclusive India.
Q] How is your brand harnessing the power of new emerging technologies for driving the business forward?
Being an organisation that has always focused on innovation and technology, Future Generali has successfully integrated Digital self -service tools in processes across the customer value chain. We have leveraged technology to ensure that our customers have a seamless experience with us, and have developed mobile apps and an intuitive website to deliver a superior experience. We extensively use WhatsApp as a policy delivery tool, as well as a self-servicing tool. We use AI based technology & tools right from chatbots to automated underwriting, and virtual claims assessment. We have also leveraged Digital technology to enhance our distribution presence through bancassurance tie-ups, and also to introduce innovative products tailored to the exact needs of customers.
Q] What kind of traction have you received from online channels for purchases and queries? How much do the online channels contribute to the total sales?
The pandemic has accelerated the pace of adoption of Digital technology. While direct sales to customers is still at a nascent stage for the insurance business, the fact is, Digital technology is driving a massive and consistent change. Therefore, it is only logical for us to be available on Digital channels and leverage Digital platforms to enable purchase, and self-servicing. Our online sales channel has shown a growth of 4X over the last two years, thanks to lead optimisation strategies, and a seamless online experience. Additionally, we are seeing a continued growth in Digital adoption of our platforms. Today, a substantial number of our customers reach out for queries on our Digital and conversational channels such as WhatsApp and AI Chatbots.
---
PROFILE
As the Chief Marketing Officer of Future Generali India Insurance Ltd., Ruchika Varma leads brand & marketing communications, along with diversity, equality & inclusion, and sustainability agendas of the organisation, among other functions. She has over 21 years of marketing experience across multiple sectors, including financial services, media, entertainment, travel and consumer goods.
ABOUT THE BRAND
Future Generali India Insurance Company Limited is a joint venture between Future Group and Generali – a 190 year old global insurance company. The Company was incorporated in October 2006 and received the IRDAI license in September 2007 with the objective of providing retail, commercial, personal, and rural insurance solutions to individuals and corporates to help them manage and mitigate risks.
MARKETING TIP
60% of brands create one piece of content on a daily basis. Be brave. Be provocative. Be authentic. Stand out. Your content is competing with everyone.