Q] Bisleri recently unveiled a campaign for its doorstep delivery service. Tell us a bit about the campaign and the other efforts you are taking to reassure consumers during this difficult time.
We have introduced the Bisleri@Doorstep initiative in its commitment to fulfil the increasing demand for safe and healthy mineral water. The initiative also emphasises on the importance of staying hydrated at all times and scaling up immunity with added minerals. Through this initiative, consumers across cities can opt to order directly on the company website or by calling the customer care toll free number to indicate their requirement across a range of sizes. The order will be delivered by the company via its distribution network across the country. Through this D2C approach we want to address any demand-supply gaps in the market, while at the same time ensure that consumers have access to essential needs like safe drinking water during
the crisis.
Q] On the marketing front, have you adopted a Digital-first approach? How are you amplifying the Bisleri@Doorstep initiative?
All our focus has been directed towards ensuring that safe drinking water reaches our consumers as and when required. As people are confined to their houses and spending more time on their devices, we are switching our marketing messages online to relate better with our consumers and to promote our efforts for them through Digital and Social media platforms as well as TV. This is the right opportunity for brands to pause and reflect on their roles to help consumers navigate these challenging times.
Q] How are you keeping production and distribution going in this situation, where people's movements are restricted? Are you able to continue distribution across cities and markets in the country?
Distribution in the initial stage of the lockdown was quite challenging as the supply and movement of goods was disrupted by strict restrictions by the local authorities. However, over the last few days we have been working very closely with the government and local authorities to make them understand how critical and essential it was to supply safe and clean drinking water to consumers in the time of crisis. The situation is much better now in many cities.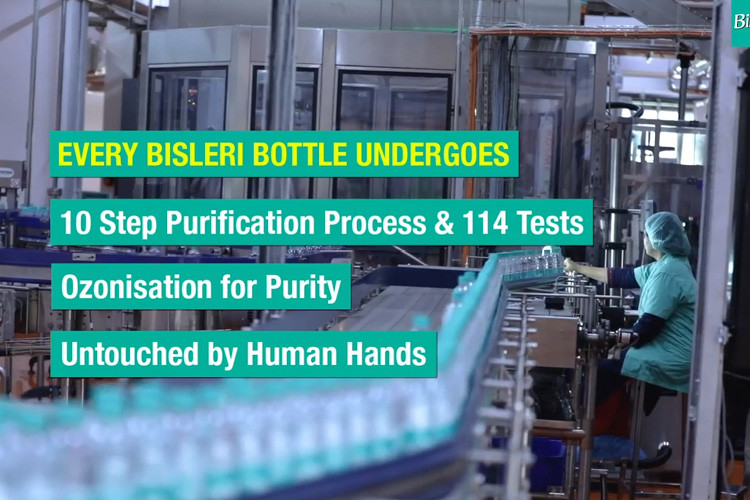 ABOUT THE BRAND
Bisleri International, launched in 1969 by Chairman and MD, Ramesh Chauhan, is one of the leading brands in the branded water business. Having completed 50 years in 2019, the brand has become a household name almost synonymous with packaged drinking water. The company has an extensive presence in India and the neighbouring countries with 125 operational plants and a distribution network of 3000 distributors. The company also runs initiatives that focus on sustainability like Bottles for Change, a plastic recycling programme.
FACTS
CREATIVE AGENCY: 82.5 Communications
MEDIA AGENCY: Wavemaker
DIGITAL AGENCY: Gozoop
Q] Tell us a bit about the efforts the brand has made to support the relief efforts during the pandemic.
To support the efforts of the frontline fighters who are ensuring that people are safe and this nation is moving forward even in a crisis, our distributors have been going across cities and providing mineral water to them so they can stay hydrated all day and keep their immunity in check. We have reached out to policemen, healthcare professionals, migrant workers and public in general to ensure the essential need of safe drinking water is been made available to them even in a crisis. We believe every bit counts and each of us are responsible in strengthening the morale of our frontline fighters who are critical in the functioning of essential services. In addition, we have also created and installed ozone based sanitation chambers at the entrance of SevenHills and Sion Hospital in Mumbai. The facility was created by our team of doctors and medical practitioners with an aim to ensure safety of health workers and help disinfect them before entering hospitals and isolation centres.

Q] With hotels and offices barely functioning, what is the impact the company is seeing during the COVID-19 shutdown?
COVID-19 has impacted businesses across sectors and it is really difficult to predict at this point how good or bad it could get. It is a 'never experienced before' phase for businesses but what is key is to be able to play our part in reaching out to consumers, adopt new platforms to deliver essential needs, take lessons from the crisis and anticipate a change in consumer behaviour and address it.

Q] A couple of years ago, you rolled out the 'Bottles for Change' initiative to support plastic recycling. You recently even made uniforms with recycled plastic! Has the effort gathered momentum in its second year, and are you looking at scaling up to cities other than Mumbai?
Bottles for Change has received a tremendous response and appreciation from the stakeholders in Mumbai. Our stakeholders include schools, colleges, corporates and housing societies. As a part of our awareness programme, we have also placed benches made from recycled across public places in the city. Mumbai is our pilot project and now we have started our operations in Chennai, Bangalore and Delhi NCR too. We are set to start our operations in the other cities of India as well, as we want to scale up the campaign and involve more people in this initiative. So far, Bottles for Change has helped to create a positive perception towards plastic and managing plastic pollution. We have successfully recycled over 5,000 tons of plastic since the past two years.
Q] In the current scenario, what will your broad marketing strategy for the brand be like? Any specific areas that you will focus on this year?
With the current Coronavirus situation, consumer behaviour has altered which is changing the way we do business or market our products. At Bisleri, we are adapting to online marketing strategies, we have activated our web and mobile platforms to support the distribution network and are enabling an e-commerce platform through which consumers can avail regular deliveries.
Q] Share with us an interesting learning you've gained from this current situation. Any interesting insights?
Every crisis comes with its fair share of opportunities. It gives you a chance to get out of your comfort zone and paves the path for innovation. This crisis has no doubt been one the most difficult phases but it is also an opportunity for people to take more risks, focus on how you can help, and lead with a meaningful purpose to embrace the post-COVID-19 world.
PROFILE
Anjana Ghosh is the Director of Marketing and Business Development at Bisleri International. She has been with the company for over a decade and has been the driving force behind its new image, market reach and profitable growth year-on-year. She is also credited for the innovation of the brand identity, and has strategized the engineering of Bisleri's colours from blue to green. That move saw a dramatic change in the perception and demand of the brand.
MARKETING TIP
Always keep a consumer-first approach and communicate how you can provide value in any situation.
This will go a long way in connecting with your consumers and building trust.