Q]

Tell us more about the #TimeForJoy campaign.
Mobile phones have become an extension of us today. But while it has its plusses, it makes us focus on the virtual world and we end up ignoring people around us like our parents, spouses, friends etc. That is where the thought came from. The whole campaign was about you pledging about 60 minutes of your time to somebody and letting us know what you want to do in those 60 minutes. So, there were people who told us that 'I want to have tea with my mother as I haven't done that for months' and we sent them this hamper of tea, someone said I miss playing board games with my brother and we sent them board games as a gift.
Q]

What kind of response did you get?
We garnered an overall of nine million impressions, we had about 24.8 million minutes pledged. We ran the campaign only for about five days but got a brilliant response.
Q]

What is the marketing mix like for Motorola's campaigns?
We are a 'digital first' company and a 'digital first' brand. We are targeting youth who are on social media in a big way. Our core target group is between 18 to 24 years of age which can go up to 35. Of course, we have had TV campaigns too, like in 2017 we had six TV campaigns, in 2018 we slowed down there a little. We also spend on Outdoor and Radio.
Q]

It is interesting to know that a smartphone brand has cut down on TV spends when your rivals are going all out fighting for visibility on TV
The power of digital is very misunderstood. Of course TV is still considered as the biggest reach medium. If you want to target masses, you have to use it. But we are not in that price bracket that would be called as mass. So, we operate between the range of Rs 10,000 to 20,000 going up to 50,000. So, it would be considered as a mid to premium category. So, I don't think there is a need for us to go on TV as much. I would rather be in a very personalized, more direct conversation with my consumers rather than on a mass medium like TV. We are focusing more on engaging with our customers, was launched in September is the only exclusive device that we are selling online. Everything else is actually retail focused. We have divided our portfolio into online and offline. We realized that the customer buying behavior and the customer choices are very different in both channels. The online guy is far more spec-driven, price-driven, he is more of a deal seeker or a smart shopper and thus is looking for a value for money device. While the offline consumer is looking for softer aspects, like the experience, features, hardware etc. Both would start with an online research but the offline buyer would go to the dealer, the retail point and ask about the device. He may have one brand in mind but may end up deciding on two or three. And that's when we focused on building an experience at the retail point which would be unique and which would swing it our way. And that's something that we have been working on very extensively last year.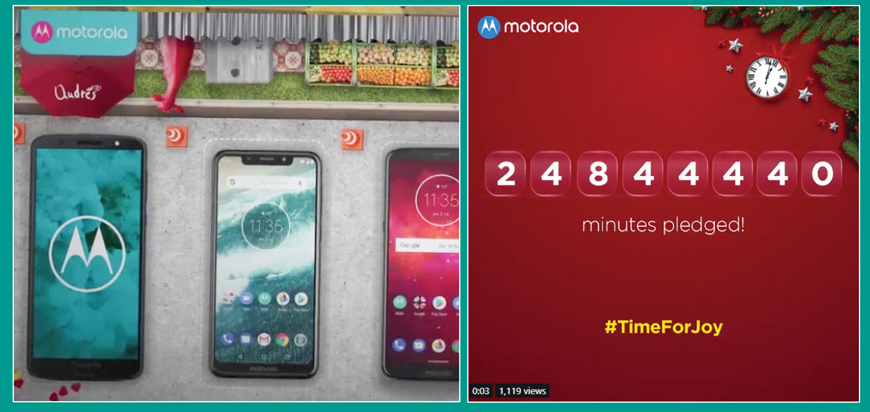 Q]

According to Hong Kong-based Counterpoint Research, Motorola (excluding Lenovo) had a marketshare of 2.6% in the first quarter of 2018…. but managed to capture only 0.9% share in the third quarter of 2018…. Where did you go wrong?
It's a year of consolidation for us. We have changed our tactics. Our strategy is now on building our offline business, which won't get us instant success like in online. Also, we are now consolidating our portfolio to Rs 10-20K price point and have vacated the sub Rs 10K price point which is where the maximum sales actually happen in India. So, obviously volumes will drop. But, fact is that we are not chasing marketshare, we have never done that. We focus on fulfilling the needs of the consumers. It's not about just pumping in volumes of the cheap, sub-standard products which are just packed with features that have no quality. If you have used a Motorola phone, you will appreciate the built quality of the device, we are one of the brands that has the highest ownership period of phones. Usually people change their phones between 8-9 months. For Motorola on an average it is about 10-14 months. That is one of our biggest USPs. We have one of the lowest field failure rates in the industry, our service centers are now open seven days a week and 70% of the problems are resolved within two hours.
Q]

Which phones have done really well for the brand in the past year? And which ones are you betting on?
So, as a series we have the G series which has been always our biggest flagship franchise. So, G has always done well no matter which part of the year it is launched in. G6 gave us great results. Apart from that, E5 has now become our battery power house, we call it our battery warrior. Similarly E5 Plus which is our higher variant in the E series has done really well. And then of course there is Motorola One Power which is the only online exclusive device that we launched in 2018. The focus is on its 5000mAh battery, it has got turbo power charging, an Android One OS which means that it's worry free. It's one of the bestselling devices on Flipkart.
Q]

How much does the India market contribute to the global revenues of Motorola?
It is amongst the top five markets for us. India is a focused market for Motorola. We want to succeed here, but again, not at the cost of profitability which means building a slow base, no issues with that. We will wait it out. The Indian brands that were ruling the roost about two years ago are nowhere to be found. Everybody is bleeding and not able to make any money which beyond a point is not sustainable. In the short run you can drop prices, make the cheapest products with the highest specs like some of the new brands which no one has heard of do. They come with a spark but can they sustain that is the question. We are working on a model that is going to see us through the long run.