Q]

How did you come up with the new brand proposition?
Contrary to the communication theme of most of our peers, we believe life insurance is more about living benefits. Customers invest in life insurance so that they can achieve their aspirations while they are still alive. Largely, that is the driver for investing in life insurance products; personified through affluent younger investors, whom we call life maximizers. As compared to the older generation, the youth view life in a different light, with multiple life goals which they hope to achieve in a shorter time span. In order to build a relevant connect with our core TG, we need to enable these goals through reorientation of all our touch points - our sales processes, training, the kind of people we hire and our products. Our new products have the relevant features that are aligned to this new promise. For example, a new ULIP product we launched recently, 'Goal Assure', is a one-of-its-kind offering because we are the first in the industry to offer Return of Mortality Charges (ROMC) at the end of the tenure, in the case of no fatality. Thus, it is almost like a free life insurance cover.
Q]

How have you been educating consumers about your new value proposition?
Earlier this year, we rolled out a 360 degree campaign where we spoke about our new philosophy. We also made the announcement through Facebook Live to reach out to a wider audience. Post the campaign, we managed to sustain the buzz by creating relevant content. We launched a web series that spoke about things like the lack of discipline or a plan in a millennial's life that prevents him from pursuing his life goals. We followed that up with another web series called 'Game of Life Goals' where we focused on procrastination, which is a common trait among this age group. Recently, we also capitalized on a new social sensation, 'Dancing Uncle' and timed it well with our bonus offering because this piece was relevant for the new audience. Basically, we don't want to be a typical life insurance brand. The idea is to generate interest within the category and within our brands, with the larger objective being to build a brand which is relevant to this growth.
Q]

Does this mean that the younger audience is now your core TG?
If you look our marketing campaign, we have used mass media which cuts across age groups. Our research tells us that this has resonated well across the board. However, we are beginning to be seen as a more youthful brand, which is a relevant brand attribute to have today. People want to be associated with brands that are youthful, agile, approachable, and innovative. The essence of our promise is rooted in our fund performance which has been consistently performing better than our peers, and is one of our key strengths. In fact, it is considered to be one of the best in the mutual fund category, as well. Our funds have given a CAGR return of 22-25% year-on-year, over a long horizon of five-seven years. This gives us the confidence to own the promise of being life goal enablers.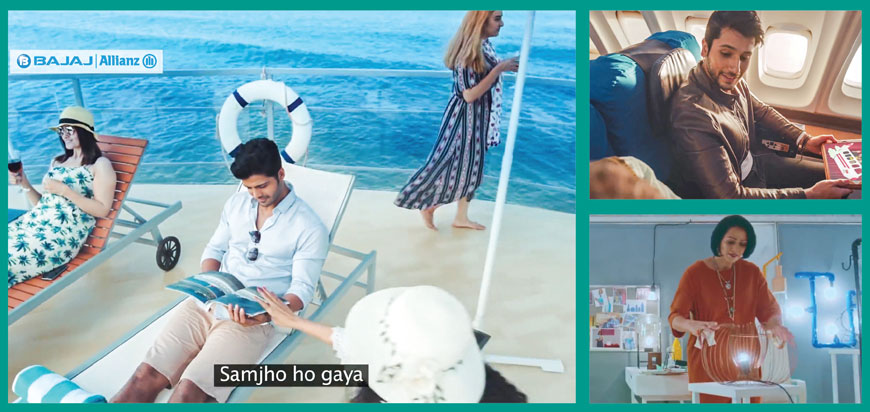 Q]

Is most of your communication driven by the Digital medium?
Yes, Digital will be at the center of most things we do, and there are several reasons for that. Firstly, it's about the speed of execution. We are able to do multiple things within a short time frame with considerably lesser investments. Secondly, Digital helps in sharper targeting and therefore it makes sense for us to use the medium.
Q]

So is Digital taking the lion's share in terms of investments too?
Not really! Given our physical reach, we are one of the most widely covered brands in terms of distribution with around 638 branches in India, across Tier I, Tier II and Tier III towns. TV continues to be one of the most important mediums for us because the cost per thousand reach is the lowest. Moreover, at this stage of our brand evolution, it becomes the most potent medium to build an emotional connect. That said, our Digital spend has gone up by four-five times in the last few years, with a budgeted investment of 22-25%.
Q]

What is your primary distribution network?
We have the traditional agents who we call 'insurance consultants'. Secondly, we have a host of bank partners. Thirdly, we also have direct online sales and sales through web aggregators.
Q]

How much of your sales is happening online?
Our online sales are growing at an exponential rate and we are emerging as a market leader in the online ULIP space.
Q]

Brands like LIC have been the go-to life insurance product for people for years. How difficult was it to educate people about your products and build trust?
The insurance industry is about 17-18 years old and a lot has changed. If you look at the market now, almost one-third is now backed by private players. With the increasing usage of Digital, a lot of research is happening online. People are trying to understand the features, the claim settlement ratios, and reviews of the products before taking a decision and therefore it is no longer a one-player market. In the past 7-8 years, the share of private players has continued to increase, thanks to a greater level of awareness and savviness among customers.
Q]

The 'dancing uncle' campaign grabbed quite a few eyeballs. What was the connect?
When we started reorienting the brand, we were very clear that we didn't want to be seen as a typical insurance brand because it could put customers off. We wanted to be a brand that would talk and engage with consumers in a relevant manner. Which is where dancing uncle fit in. He became a sensation over a weekend and the more I deep-dived into his story, I realized he made for a reliable connect because of his professional background. He was an engineering professor who became famous in a very short span of time. That was when we had declared our one-time bonus offering to policy holders. So we thought why not connect the emotion we wanted to evoke - that of happiness, by leveraging his popularity. Moreover, there was an alignment between the message we wanted to deliver and his core skill. So using him helped us push the awareness during that period of time and build engagement within a shorter span of time. The key is to monitor such trends all the time and then use them to build a connect.