Q]

How did you come up with the idea of getting people together on Kargil Vijay Diwas for your brand?
StaR City+ as a brand has been championing this whole concept of stars behind the stars where we talk about people who are actually behind the stars that you see in the forefront. About a couple of years back, we had done a campaign where we spoke about stars behind the stars in terms of cricketers, and focused on their physiotherapist, their bag-pickers, etc., who actually made them stars. Extending the conversation that we had with customers, we came up with the 'Kargil Calling' campaign. It is about our defence forces who stand and guard our freedom and it is because of them that we are able to live, breathe and enjoy the life the way we do. The whole idea was that while we know about them, do we appreciate them enough? And the answer perhaps was 'no'. And we thought that can we generate some appreciation and empathy for these soldiers and our defence forces in the common man's mind, through this campaign. With this, we encourage initiatives thanking our defence forces and also ask people to participate in the ride that we are organizing on July 26, the 'Kargil Vijay Diwas'.
Q]

How are you building traction around it? How are you going about the entire campaign?
The approach is led by social media. We have put out an audio-visual that depicts daily moments of joy and that someone out there is guarding our freedom. Alongside, we have started a special microsite which enables every Indian, every citizen to wish these armed forces personnel, and also participate in the ride. Post the deployment of that AV, we already have about two million views on YouTube and about two million views on Facebook. We have been able to generate quite a bit of conversation around the cause. Even brand ambassador MS Dhoni posted about it on his Facebook page which further got a lot of appreciation from his followers. Just before the ride, we would also be coming up with a Print campaign and are using Radio channels to take this message forward.
Q]

How will this activity eventually help the brand TVS or StaR City+? This is a cause-related campaign and is a one-off event. What after the ride on July 26? What is your objective out of this activity?
For StaR City+ we are not looking at it as a one-off campaign. Even in the past, we have taken up this whole concept of 'stars behind the stars' and we keep on coming up with new ideas, new celebrities who we believe are extremely important in society, and take up their causes and enable people to have this connect with these real stars. I also believe that the moment any brand honestly supports a cause, it would always have a positive rub-off on the brand. It may not be very overt, say, in terms of sales numbers for next month. But when people see the honesty of the cause, there would always be openness towards accepting StaR City+ as a brand.
Q]

In the auto category, people research online about the product they wish to buy and digital media has a lot of influence on their purchase decisions. So, apart from this campaign, what is your overall strategy on digital media?
There are two parts - one strictly in terms of digital media, we have a dedicated website and a very active and engaging Facebook page. We continuously interact with consumers on the page, inform them about new offerings, schemes, etc. At the same time, we also actively take their feedback on products, services and all. One thing that we have realized specific to StaR City+ as a brand, is that the TG is more vernacular and more mobile. They are not on their PCs and laptops, they are primarily on their mobile phones and are consuming content and information in the vernacular language. So, our conversation with them is essentially in vernacular language and mobile based - SMS, and WhatsApp. So ours is primarily a mobile-driven vernacular strategy.
Q]

How would you define your key target audience demographically and geographically?
If we look at the core TG of StaR City+, we are targeting the urban, semi urban, young married male. He is a guy who is perhaps working in an IT company or has his own new established business. This customer is upwardly mobile in the sense that he is aspirational and looks at his choices in such a way that it should connote a certain signature to him. He is digital media savvy and makes informed choices about brands on whatever he is purchasing.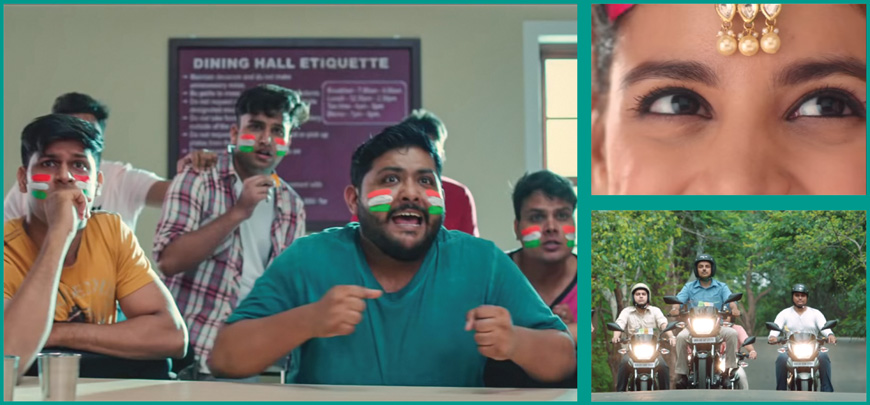 Q]

MS Dhoni is your brand ambassador for Star City+. So what's the actual positioning of the bike?
Is it the style and the experience or is it fuel economy? StaR City+ as a product and a brand is about a very well designed, stylish offering for the young urban, semi-urban male who wants to create an impression, who wants to leave a mark on others.
Q]

We see a trend of people shifting to premium bikes from the commuter category ones. What has been your observation about this trend? And how is it impacting the commuter motorcycle segment?
The commuter motorcycle segment is currently at about 50% of the overall motorbikes category. This is pretty huge and extremely relevant for us.
Q]

Consumers are highly involved in this category and make informed choices. Does marketing eventually work in this segment or is it more of customer experience or customer relationship management?
Well, it all starts with the product and eventually when a purchase is made, it is both product and imagery that play a huge role. What matters eventually to the consumer is what you are putting in the marketplace as a product and what is the imagery that he buys from the brand. An optimum combination of these two will eventually lead to volume and market-share.