Q]

It's been more than a year since Too Yumm! was launched. How has the journey been so far?
In the past, a lot of initiatives taken for healthy snacking didn't go that well. We
havelearnt
a lot from those past experiences of other brands. In snacking, taste is the primary driver, and everything else follows. When the Too
Yumm
! products were being formulated, we made sure not to compromise on taste. Another insight was that consumers believe that
healthy
cannot be tasty, and vice versa. So when we managed to get the taste right, the going became much smoother. We also wanted to be credible in terms of our communication. That's where our brand ambassador,
V
irat Kohli
helped a great deal. Getting him on board, especially after he publically announced his departure from Pepsi, helped. For a startup brand like ours, approaching the trade and convincing them about our product and credibility was difficult. Kohli as a face helped there, too. Also, when we launched initially, we missed out on a few things - we had a higher price point and sold the products in large packs. Moreover, in the
beginning
we felt that Digital was the way to go. However, we soon realized that wasn't enough when you wanted to spread awareness about a new brand. There was a huge gap between where you wanted to go and where it all started. It took us some time to get the mix right. We then launched smaller packs at Rs 10. Yet another learning was that 'Wheat Thins' and 'Fox Nuts', two products that we started off with, were only popular in certain parts of the country, which became a challenge. Our first mainstream product launch, 'Veggie Sticks', was what led to the brand's traction finally. We were clocking sales of Rs 50-60 lakh a month in October-November. With our first campaign, we hit Rs 5 crore, in less than two months. Now, it's a matter of building awareness and also expanding our distribution. At the moment, we are present in around 2.5-3 lakh outlets. But the snacking universe is huge; over 7 million outlets. So, the next stage for us is to be present in a million outlets in the country

.
Q]

By when do you think you can reach that number?
It will probably take us another year. Hopefully, by March 2019 we will get to the half a million mark. Currently, we are present in around 250 towns. We are hitting Tier II, but haven't really gone into Tier III towns yet. For these towns, we need products which those consumers are familiar with. We need to make our products
moremainstream,
while retaining our proposition. We still don't have Rs 5 packs which
is
55% of the snacking market. We are working on all this currently.
Q]

Was it difficult to get Kohli to endorse a snacking brand?
It wasn't easy. We started engaging with him almost 3-4 months prior to him coming on board. He wanted to experience the products which he carried with him on his tours. He was constantly consuming them at home. He went to the England tour with our products. It took him almost 2-3 months to be convinced that what we were saying was true. However, ever since he came on board, it has been a fun ride. He is a great guy to work with, the epitome of fitness and health, and a fine actor too.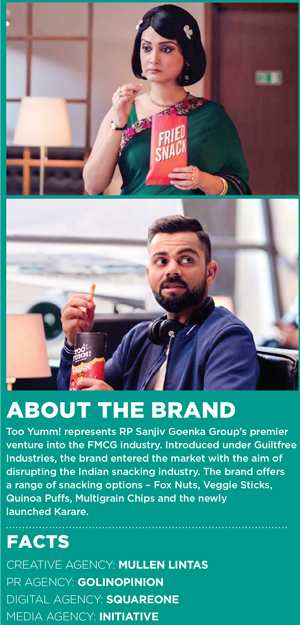 Q]

Why was this a good time for the RP Goenka Group to enter the snacking business?




The group had been considering entering FMCG for a long time. And some of the learnings actually came

from

the

Sp

encer's business. Also, there is a real gap in the market; there aren't too many healthy snacking products that also taste good. Moreover, we chose

snacking

as a category to enter FMCG because that's a space where you can experiment a lot. While consumers are loyal to existing brands, they are also open to experimenting. It's an impulse-driven category. Hence, we thought this was the best way forward and an easier play to get into FMCG, rather than venturing into any other category

.

Q]

You still have to compete with a few well-established players...




Today, there's a movement towards healthy products. The government has also been supporting initiatives like 'Hum Fit Toh India Fit'. The younger audience is aware and conscious. Our competitors are large brands that have been in existence for decades now.

But the

space hasn't seen too much innovation over time. We wanted to fill this gap. Distribution is a long-term competitive advantage and it takes years to build, but we are trying to build a strong perception towards our brand. In the top five metros, we have the second strongest equity among snacking brands, after

Lay's

.

We are already matching the likes of Haldiram's, Kurkure, and are stronger than Bingo.

Q]

Who is Too Yumm!'s primary target audience?




For us, it's a combination of Gen Y and Gen Z. So, typically the audience between 15-35 years, with 25 year-olds being the bull's eye. This is the age group that is exploring life to the fullest, possibly just entering work life and are voracious snack bingers. But they also want to stay fit and healthy. They want to look good and are conscious of what they eat. We believe we have got our product right because our awareness is building month-on-month, whereas the awareness of more established brands is stagnant. Our consideration is the second highest in the country, and so is our brand equity. Our loyalty and brand

differentiationis

at an

alltime

high. While it takes time to build a relationship with retail and trade, we are growing at 10-15% month-on-month in terms of our distribution, and we will continue with this momentum.



Q]

Apart from Too Yumm!, are there other categories you are planning to enter in the near future?




We are. Our immediate ambition is to hit Rs 50 crore turnover a month with

Too Yumm

!, and we hope to do that within the next few quarters. We were the fastest to touch Rs 100 crore in the Indian FMCG space and we want to be the fastest to reach Rs 500 crore, too. After

that

the natural ambition is to take Too

Yumm

! to Rs 1000 crore within the next couple of years. That's the Too

Yumm

! story. As the health credentials are strongly in place, we might expand Too

Yumm

! to other food categories too, which will depend on whether there's a fit. If it's a healthy option, we would possibly use the brand because it's difficult to create a new brand from scratch. We are looking closely at a few new categories. The ultimate ambition of our Chairman, Sanjiv Goenka, is to build a Rs 10,000 crore FMCG business in the next five years.

However

at this point, our energies are focused only on snacking.



Q]

How is Evita, the other brand in your FMCG portfolio, performing?


The Evita brand is a part of Apricot Foods that we acquired. It's a mass market snacking brand and follows a different model. At the moment the brand's footprint is only in Gujarat and some parts of Maharashtra. Their focus is on Gujarat and Rajasthan because these are massive, ethnic snacks markets. The portfolio is 80% ethnic snacks and 20-25% western snacks. We feel that atwopronged

strategy would help us going

forward, because

creating relevance and attraction for Too

Yumm

! as a brand which is more health-oriented as we go further downstream is not going to be easy and maybe Evita can play that role. This way, we can cater to Tier III markets. We haven't really focused on rural yet, but a brand like Evita can actually take us to rural India, as well. On the marketing front, we are revamping the packaging, making it look more like a brand. So yes, it's looking quite good

..