BY DIPALI BANKA
Q] Burger King released its first TVC last year with the brand philosophy of 'Your Way' launching the iconic Whopper burger. How has it helped establish the brand?
Globally, Burger King has this philosophy of 'Your Way' which is all about respecting the authenticity of food and people. When I took over in 2016, my task was to pick up this global philosophy and figure out a locally relevant cultural insight. And that is very different fromtypical QSR (Quick Service Restaurant) advertising. The 'Whopper' ad was all about people mispronouncing the word 'whopper'. Our take on it was, call it whatever you like, but don't call it a burger. That's the whole 'Your Way' philosophy.
In fact even in the second advertising campaign, '2 for 50', we showcase a single person eating a burger. Typically in QSR advertising and otherwise too, the norm is that people in India go out in groups and eat, but if you look at consumption patterns today, the youth actually have a lot of individual moments. There is that need for'metime' which is emerging quite strongly and that is what we have tried to bring out.
Q] In the second TVC you focused on the price and not the product. Was it a conscious decision to draw sales?
Actually in both the campaigns, the focus was on the product. Our core positioning of the brand is actually taste and quality. So if you look at the first one, 'Whopper', it was all about the size, the quality of the ingredients and the taste. In the second one, the tagline kind sums it up, 'pet bharega neeyat nahi'. And the whole premise of one person eating two burgersis driven by the thoughtthat the burgers are so tasty, that one would rather have both of them alone. The offer just happens to be a reason to call to action, but the basic premise was around taste and quality.
Q] How did it impact the sales eventually?
The sales impact was pretty good. I think right from the first campaign, the key task for the brand has been to drive awareness. We are a new brand. Other brands have been around for a decade, maybe two. We have seen our unaided awareness almost double after we went on TV, and in similar fashion, the brand consideration also has doubled. The sales impact has been phenomenal. We have seen double-digit growth in our sales ever since then.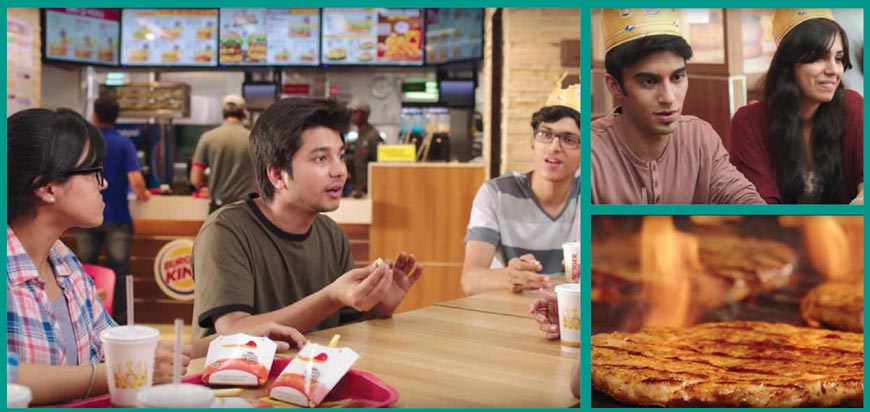 Q] Being a late entrant in the category, what has been your key challenge in terms of positioning the brand in India?
The key challenge has been to buildawareness. Our products are superior - that's already proven. In fact, we conducted the biggest taste test in the history of Burger King Systems, in India. Over 3500 to 4000 people went through a blind tasting session on multiple products before we chose the menu that we have in our stores today. These arewinning products that we have on the menu. Hence in terms of both, product taste and product quality, we have 100% confidence. Even in terms of quality, we follow international standards. So that piece isfairly sorted and we are very confident of it. The only challenge is to get as many people as we can to come in to our stores and try these products. Thus, awareness and trial is the key challenge now, and that's what we are working on. All our marketing efforts; whether it's advertising or the content we are putting out, or the fact that we have recently partnered with Mumbai Indians around the IPL, are about driving salience, awareness and trials.
Q] You do a lot of content marketing in the digital space as well…
We started creative native content from our first campaign onwards. For the 'Whopper' TVC, there was a separate video uploaded on YouTube which was more in sync and native to that platform. It was all about how to get ready to eat a big burger. Similarly, on Valentine's Day, we did another piece of content on the 'flirty whopper', which was all about celebrating singles. Again, if you go by the general brand philosophy, typically all brands will celebrate couples; it will be all pink and mushy on Valentine's Day - but there are enough singles out there, as well. Hence we said, listen Valentine's Day is 'Your Way',and we will be celebrating singles. So there was some engagement there and it was a lot of fun recording that piece of content.
Q] People these days are getting health-conscious. Moreover, there are a lot of videos on social media platforms around the fact that QSR brands in India are not maintaining quality standards for ingredients used. Being a marketer of a junk food brand, what is your take on this?
From Day 1, our brand has been aligned with global quality standards and our products are MSG-free and trans fat-free. Moreover, we are the only burger chain in India today which offers grilled burgers in the category. Thus, it is all about making sure that you have the right quality of ingredients. We follow global protocol on preservatives, no artificial colors, and no added flavors, in sync with our ingredients policy. The other part is offering consumers enough choices to enable them to make an informed decision.
Q] Burger King is perceived to be a non-vegetarian brand. People in India want vegetarian options. In fact, in a few regions, some QSR restaurants actually started out with an all-vegetarian menu. How are you working around this?
Our menu has been designed for India. None of the products that we have on the Indian menu are actually from the global pantry. We just used the 'Whopper' -name and actually curated a menu for Indian consumers around that. We have got eight vegetarian burgers on our menu. They are all unique patties designed for the Indian consumer with authentic Indian spices. We also have segregated areas in our kitchens for vegetarian and non-vegetarian preparations. Thus, as once can see, we are very conscious of the cultural sensitivities of India, and we make sure that we offer 100% authentic vegetarian choices. In fact, our lead product for advertising has been the 'Crispy Veg' burger, which is vegetarian.
Q] In the West, we see a lot of rivalry and anecdotes on social media from QSR brands like Burger King, McDonald's, KFC, etc. How do you react to such banter in India?
Such communication is driven a lot by the global brand. There is a lot of friendly banter and it goes on between brands without really being disrespectful. It's just part of making sure that you drive or become part of conversations and stay relevant to your consumers. Sometimes Burger King does it, sometimes the other brands do it. But at the end of the day, it's just friendly banter - there is no real motive to disrespect or pull down the other brand in that context.
Q] The last couple of years have been tough for the economy because of demonetization and the impact of GST. Have you seen any impact on the QSR category?
It's more about how brands have reacted to it. I think if you continue to offer your guests value and quality, they still stick to the brand, because they will not give up consumption altogether. There might be a slight drop in the frequency of eating out, it will still happen. I think what it really comes down to is which brand you trust and the one that offers you the best value for money, coupled with best quality and taste.
@ FEEDBACK dipali.banka@exchange4media.com