Q] Why

did you think of a revamp for a legacy brand like Bajaj?
The brand and the business has undergone a complete metamorphosis over the last three decades. The first stage was the 'Hamara Bajaj' stage. Back then, Bajaj was an Indian scooter maker, and in a lot of ways, was possibly the first brand which provided personal mobility to Indians at a mass level. The brand was known for value, trust and reliability and 'Hamara Bajaj' summed up what Bajaj meant at that time. However, with the launch of Pulsar in 2001, we created a new category of common sports bikes and realized the opportunity of moving into motorcycles. In the last couple of decades, we have invested heavily in technology, R&D, design, styling and brand building and in a way, transformed ourselves from a scooter company to a motorcycle company and built very powerful brands like Pulsar, Avenger, Dominar, V and Platina, each occupying its own space. That was the second phase of our journey. Now, over the last few years, the brand has grown beyond the Indian boundaries and is available in about 70 countries. Around 40% of our business comes from exports. Last year, we hit a landmark and sold 2 million units outside India. We are the biggest exporter of motorcycles in the country with over 60% share of motorcycle exports. And in over 20 countries, we are the number 2 player. When somebody bought a Bajaj Chetak 20 years back, he was buying something reliable, designed for India, available at an affordable price. 'Hamara Bajaj' was moving the whole country. Today, our products have state-of-the-art styling, technology and performance. And proof of the pudding is, we are selling around the world with a strong dominance. But we realized we haven't spoken about our position of dominance yet. That was a big reason why we chose to move the brand from being a heritage to a futuristic brand.
Q]

How are you going to communicate this new brand positioning?
We are looking at a very powerful marketing campaign. We will communicate this new identity through the media, press and influencers. We have a powerful communication on TV and Digital. We will also use a lot of outdoor. And as we go along, you will see us tell a lot of engaging stories. Our new positioning will reflect in our retail showrooms too. We have a network of around 4,500 dealers and sub-dealers who sell our brands exclusively. And starting immediately, the exterior signage and the interior look and feel of the showrooms are being upgraded. We aim at completing this rapid and frontloaded transformation of the entire brand within this quarter.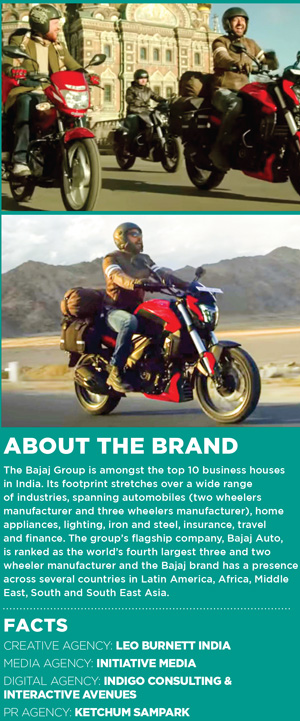 Q]

What mediums will see the maximum investments from you?
TV will be the biggest channel for us, because this message requires that degree of engagement and interaction. Also, in the first phase of the campaign, Digital, outdoor and retail would be very critical too.
Q]

What are some of the most promising global markets for you?
We have got a very strong presence in multiple geographies like Latin America, Africa, South Asia and South East Asia, where our brand is very strong. We have also forayed into several other markets like Russia, Turkey and the Middle East.
Q]

What are the factors that have made an intrinsically Indian, legacy brand be accepted so well globally?
Our biggest winning point has been our product. When we entered these markets, we were an unknown brand. So unless you have a world-class product, you can't compete on a global scale. If your product and proposition isn't credible, fancy advertising alone can do nothing much to help you. We made significant investments in design, technology and R&D. We sell the same product that we sell in India in the global markets too. You are competing with the Yamahas, Hondas, Kawasakis and Suzukis of the world, so you clearly need to have a proposition that stands up well against them. In terms of performance, styling and features are important. ABS is becoming a mandatory requirement in India only now but we launched our first ABS bike RS 200 about four years back, because we had to gear up the product to meet international demands. So, our product range and the fact that we've built each product into individual brands has been our strength. Finally, the way we have built a distribution network, nurtured partners, provided customer service has built us into the trusted brand that we are today.
Q]

There have been talks of Bajaj soon launching an e-vehicle. Do we have our infrastructure in place for that?
It's a chicken and egg story. Before mobile phones came to India, were there sufficient towers? Would any tower company have had the courage to go on and install towers all across the country? It wouldn't have. So, do we have an infrastructure today? Of course we don't. Have I seen a concrete plan on the table? Not yet. But is it going to come up soon? I have absolutely no doubt it will. There is a big opportunity, and we do hope that there are strong steps taken by the government to encourage the right kind of players to setup a powerful infrastructure over here.
Q]

Will the new norms making ABS and CBS mandatory post April lead to a spike in prices, thereby affecting sales?
The new norms dictate that motorcycles up to 125cc will need to have a Combined Breaking System, which will be an incremental cost. And that's a very price-conscious segment. Motorcycles above 125cc will need to have ABS mandatorily and ABS comes at a much higher price. This will definitely increase our input cost. At this point, I would not like to comment on how it will affect our pricing, but our input cost will definitely go up. And it's not just for us, it's for the entire industry. From a safety standpoint, the new norms are great. I just hope there's an equally strong drive to get people to wear helmets.
Q]

How is the three-wheeler segment working out for Bajaj right now?
It's doing extremely well. We are clearly the number one threewheeler manufacturer, not only in India but across the world. In several segments of the three-wheelers, we have got a strong leadership share. It's a segment that's been growing for the last few years at a very good rate. So, it continues to be a great niche for the Bajaj brand which helps us.
Q]

What are your efforts towards making your product more environment-friendly?
Two years back, the industry moved from BS3 to BS4 norms, and April 1 had been marked as the transition date. Many of the other players were not ready by the date for the transition and they tried to liquidate their stocks. But we transitioned as early as January. Coming to our commitment to the environment and our ability to make a product environment-friendly, we are anyway adhering not only to Indian but international emission norms. So, it makes it easier for us to bring a low emission vehicle in the country.