Q]

Your latest #NoTension campaign is targeted at millenials, asking them to consider buying term plans. What was the thought behind it?
We have tried to build the campaign around the message, 'Don't look at life insurance as something sad'. It's not about death, but actually about ensuring that you live life in a carefree way. We are telling people that if they are bread winners and don't want anything to happen to their families when they are not around, they should buy a term plan to live a tension-free life. Our entire campaign is centred around this theme. We are telling the youth to stop procrastinating and to take care of their responsibilities to lead a relaxed life.
Q]

Aegon Life went digital about two years back. How has the move worked for the brand?
About two years back, we went digital and direct-to-consumer. This means, most of our customer acquisition happens digitally. We still have physical branches and teams on ground, but most of the sales for our flagship product happens on digital. We are a new-age digital insurance company and amongst the first companies to launch an Online Term Plan in India. Digital was intrinsic to us, right from the start. Two years back, we simply took a call to focus primarily on Digital products. The company realized that we wanted to be closer to customers and to come up with offerings that are better for them. Going online was a bold call because a lot of insurance companies really do not go that way, but it's worked well for us.
Q]

Have you seen a difference in the consumer's reception of your products?
When I say our move has worked well, I measure it based on a few different parameters. One is clearly to look at whether the consumers like us and how they are responding to us. We clearly saw a shift the moment we started interacting with customers directly. We measured this through our net promoter score which tracks what customers are talking about us, where we saw a positive response. Our persistency rates on our term products are over 95%. Moreover, our business is growing. When we decided to go direct, we had to let go of some businesses. From there, we grew our premiums by about 50% last year. Protection, another flagship product, grew by about 32% in the first six months. Direct has created a certain pull. We are reaching out to consumers through different digital mediums, and they like our proposition. One key change required in an organization, especially an insurance organization, is to think directly about the customer. Only the end customer matters. So, our product design, processes and culture is completely focused on the customer.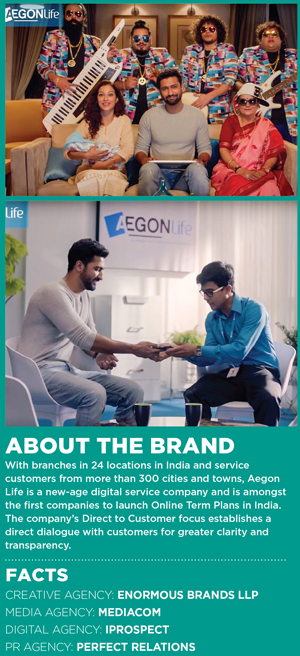 Q]

What kind of growth has the brand witnessed in the past few years?
We had to let go of a lot of businesses when we went digital two years back but in the subsequent year, our premiums grew by about 50%. After correction of the base, we grew by about 50%. And this year also with protection as a front, our sum-assured has grown by about 30%. According to an IRDA report, we are ranked 9th in terms of the sum assured book which is an important message from the consumers.
Q]

What are the factors that make your brand favourable to your consumers?
Our product, pricing and processes have helped us pull consumers to us. We don't just use the traditional methods of underwriting, but also use a lot of data and analytics. Nearly 18-20% of our policies on term book that we write don't go through medicals, because we look at a lot of data points around consumers before underwriting them. We try to focus on the consumers and their needs. People taking traditional insurance need to go for a medical checkup which includes fasting for 12 hours for the blood sugar checkup. Our customers on the other hand, can opt for an anytime sugar test which allows them to buy a policy online and even schedule their medical at their workplace, if they choose. Secondly, our primary TG are the millennials and these are the people who don't want to talk about life insurance as a sad thing. So through our communications, we are focusing on life insurance in a very different fashion. We're giving a positive spin to the entire piece and this positioning is working well with our customers.
Q]

Insurance, as a segment, has always used a lot of jargon, which can be confusing for consumers. Doesn't going Digital put you at a disadvantage then?
Insurance comprises three or four different segments. One is protection, which is simple to understand. Then there are savings and wealth creation products which are slightly more complex because of the jargon related to the products. There we believe our assistance is required at this stage. We do see some consumers who understand these products and buy them online, but that's a small percentage. Within the savings plan, we have recently launched our POS Guaranteed Returns Insurance Plan. The product is simple to understand and provides guaranteed returns. Even products like these can do very well on digital because there's no interpretation or de-jargonization that is needed. As an organization, our aim is to create simple products which customers can understand themselves, and be able to compare with other products.
Q]

Are millennials actually showing interest in buying term plans?
Our consumer sweet spot is between 30-35. And this is the age group that is now becoming more aware about protection plans because when your responsibilities start increasing and you start seriously thinking about insurance.
Q]

Going ahead, what are your focus areas to accelerate growth for the brand?
We will focus on reaching out to more customers and building a stronger brand, while launching simple products. We will also look at building products from other segments, like savings. Our strategy would be to come up with these simple, easy-to understand products and to offer the best proposition to our consumers.
Q]

What are the larger challenges that the industry, and the brand is witnessing?
Since we are Digital, we are going directly to the customer. We have to design products that are easy to understand. Our challenge is how to create simple products for an industry that has been using jargon for so many years. Communication also becomes a challenge because you have to create campaigns that can be understood easily, so that people buy your products.
Q]

Currently, don't you have agents to sell your products?
We don't have any agents. As of today, nearly 60% of our customer acquisition happens on digital. And the balance comes from our offline branches, where we have our employees provide on ground support to customers.