Q] You recently launched the Nitro Cold Brew. Tell us a bit about the new launch.
The Starbucks Nitro Cold Brew is the next level offering for coffee enthusiasts. It is unique, innovative and is a fresh take on coffee, available on tap. The idea is to infuse the classic Starbucks cold brew with nitrogen, thereby enhancing the flavour, adding a creamy and velvety texture and making it visually appealing as well. There is no application of heat in extracting the coffee concentrate for this brew. The fact that it is available on tap makes it more exciting for the customers as well. Every cup of cold brew is actually handcrafted by the baristas at all our outlets.
Q] How does the brand plan to refresh and reinvent the customer experience with this new launch?
While we have only just launched the Nitro cold brew, we are extremely optimistic about the way customers will receive it. Initial customer feedback has been very positive.
Q] What are your plans to promote the new product?
Three elements are key for Starbucks as a brand – its unparalleled quality of coffee, our partners who serve customers with great care, and the store ambience. These three pillars are quintessential. In terms of promoting the new beverage, I believe that each of our stores are reflections of the Starbucks philosophy and are powerhouses in terms of exposing our customer to different variants of coffee. Additionally, we are of course present on Digital platforms, so a great deal of our communication happens through Digital. Starbucks as a brand has been built by a lot of love and affection from the partners, customers and the various coffee brewing communities across the world. Therefore, it is a brand that has been built almost organically. Our approach for the new launch therefore will be to primarily focus on enhancing the customer experience through the Nitro cold brew and the store ambience. We will be rolling out an awareness campaign for the new product shortly through our Digital platforms. Digital is the best medium for us to connect and engage with the customer.
Q] How has the Indian market evolved since the launch of Tata Starbucks?
India is one of the most exciting markets in the world, with a very diverse and dynamic culture. The discerning Indian consumer is very well-traveled and well-informed, and appreciates a quality experience. India has seen the fastest rollout of stores in our first five years of operation in Starbucks' history, in any new market. We are humbled with the affection that the Indian consumer has bestowed upon us. We are excited and honoured to partner with the customer in his journey of coffee exploration and lead the specialty coffee industry in India.
Q] Who would you define as the target consumer for Tata Starbucks?
Our customers come to us for a cup of coffee, stay for the warmth and return for the human connection. Our stores see coffee lovers across age groups. At Starbucks, we therefore believe that each cup of coffee is special and ensure we offer high quality beverages that suit different palettes.
Q] The brand does not do a lot of advertising. What is your approach when it comes to communication strategy?
Starbucks is a brand that is built on three key pillars – our coffee, our partners and our stores. If you ask me, it is these three pillars that we invest the most in. Outside of these three, we believe in engaging and interacting with our customers, and the Digital medium allows us to do exactly that.
Q] How have your Digital campaigns worked for the brand?
Starbucks has a strong digital presence. Our objective is to reach out to our customers via Digital channels and partner with them in their journey of coffee exploration, while building passion for coffee. Some of our campaigns like 'Meet me at Starbucks' and 'My Mood, My Starbucks' aim to build connections with customers on Digital platforms. Initiatives like 'Bring Your Own Tumbler' and 'Grounds For Your Garden' encourage customers to partner in our sustainability journey.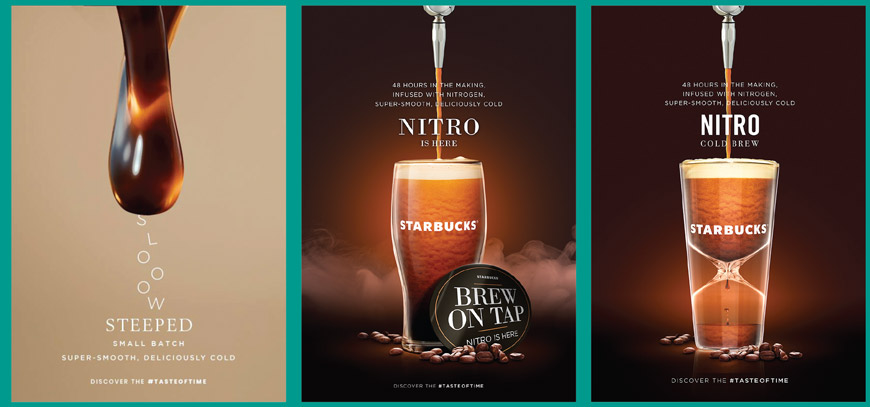 Q] What is the total number of Tata Starbucks outlets in India?
We have a total of 120 Starbucks stores across seven cities in India – Mumbai, Delhi NCR, Bangalore, Hyderabad, Chennai, Pune and Kolkata.
Q] Which markets have seen greater traction for the brand, and which ones will you be focusing on going forward?
Starbucks believes in thoughtful expansion that allows us to exceed customer expectations and build a strong brand presence. India has seen the fastest expansion in the first five years for the brand. The country therefore has the potential to be one of the top five markets globally for Starbucks. The way customers have embraced Starbucks so far makes us very optimistic for the long-term; they are making Starbucks a part of their day-to-day life, and are gathering in our stores with friends and families to share real moments of human connections. There is still a lot to explore and reinvent in the world of coffee. The brand made its entry into India on the back of its 40-year legacy, and we are confident that we will continue to build passion for coffee among consumers across the country by introducing innovative beverages and enhanced experiences. We put a lot of thought into our entry in new markets, and new store launches. Going forward, our endeavour is to be where the customer is, and where we see scope for growth.
Q] The brand has spoken a lot about sustainability. Take us through some of the recent initiatives in this area.
At Starbucks, we are committed to environmental sustainability and are steadfast in our support to related efforts. We use paper bags across our stores in India, provide glassware or ceramic options for items consumed in-store, and work to provide sustainable solutions for take-away. We have introduced biodegradable compostable straws and wooden cutlery and are constantly working towards greener alternatives.