Q]

Sennheiser has been in India since 2007 but has only recently come out with a high decibel campaign. What is the reason for this?
Sennheiser was a category shaper because when we entered India, there were no well-known headphone brands. People were happy with the bundled headphones they got with their phones. Once we entered the market, we had a good start and garnered a loyal consumer base in India. However, off late, there have been a lot of changes in the category and the latest trend is wireless headphones, a trend that's bringing an altogether new set of audiences who are first-time headphone users. They might be people who had been staying away because they didn't feel the need for wired headphones. It's like a reset button for the headphone industry. We conducted a survey and realized that while people were aware of the quality of our products and liked the brand, it was still a functional relationship with our consumers. This made us realize the need to build an emotional connect with our consumers. Therefore, we thought it was a good time to reach out to this new set of people entering the category and build a connect. We decided to used TV because of its immense reach. We wanted to hightlight three things - the brand, the consumer whose story we wanted to be a part of, and thirdly, the wireless segment. Having said that, we want our campaign #DaretoDisconnect, to go beyond these three focus areas as well, because we want to turn this into a movement and inspire people to find that 'me' time in their lives.
Q]

What mediums are you using for the campaign?
We will be focusing on TV and Digital, along with smart partnerships with mediums like Radio. We will also be using a lot of social media, to build engagement with our fans and to garner usergenerated content in the hope of being able to encourage more people to disconnect from their daily lives.
Q]

Since you did not do a lot of traditional advertising to begin with, did word-of-mouth play a big role in popularizing your products in India during the early days?
We had an early-mover's advantage. Initially, we made some really smart marketing moves. We came up with some targeted Digital campaigns and also used a lot of experiential to connect with consumers; given thne fact that headphones, as a category, needs to be experienced. Our in-store marketing worked in our favor. We alsol had partnerships with some of the top handset brands at that time like Nokia and Samsung, and they gave out Sennheiser headphones with their products to the consumers which also helped our case.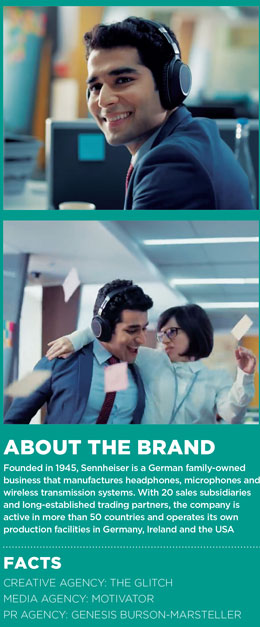 Q]

Your wireless range that starts from Rs 7,490 is priced at a premium. Are consumers showing an interest in investing so much in the category?
We have a wide range of products that are priced from Rs 1000 to Rs 45 lakhs. Interest in our high-end products is slowly picking up, but that's primarily among the music purists. The biggest and the most exciting numbers are coming in from the wireless segment which is witnessing huge growth. Industry estimates show that wireless would soon be contributing around 60% to the entire headphone business in India in the next couple of years.
Q]

How big is the market currently?
As of now, there aren't any solid numbers because no market study or research has been conducted till date. It requires a combined brand effort from many brands for a market research company to get the correct numbers, but that hasn't happened yet.
Q]

What have your key learnings about the Indian market been so far? How is it different from other global markets?
Indians are smart consumers who catch on to the latest trends fast. At the same time, it's a price-sensitive market and consumers want value for their money. However, we have been successful as a brand in the past few years and people who have used Sennheiser are aware about our quality. With this campaign, we are confident of connecting with audiences on an emotional level for more success in the coming years.
Q]

After-sales service is very important in the category. What kind of service are you providing to your consumers?
After-sales has been one of our strongest offerings. We are probably the only headphone brand that offers a two year warrantee on all our headphones and earphones. We have four service centers in Delhi, Mumbai, Bangalore and Kolkata. Additionally, people can courier their headphones to our service centers where we get them fixed and send them back to consumers. We offer a world-class service experience, and there are strict processes to ensure that the customer is kept at the center of our story.
Q]

What kind of growth has the brand been witnessing in India?
Our Indian growth story has been phenomenal. In the past 10 years, we have witnessed an average year-on-year growth of over 30%. With wireless coming in, we expect the number to go up soon. And that is why we wanted to be fully prepared with the campaign, to latch onto that opportunity. From a global perspective, India is an extremely important market and Sennheiser has shown its trust with additional investments here. A percentage of our turnover is given to us as our marketing budget and this year, the number had almost doubled. That is the kind of trust and vision that Sennheiser has in the Indian market.
Q]

How is the brand adapting to rapidly evolving consumer needs while continuing to stay relevant?
Sennheiser puts in a lot of research and development into smart connected devices. The future will be all about a connected approach. We might not call our devices headphones, rather they will be called smart devices that will be connected to the entire ecosystem. We are putting in a lot of effort and investment into making sure that we are one of the first brands to achieve this, because our tagline reads, 'The Future of Audio' and we ensure that we are the first people to catch new trends, while living up to the quality that the brand is known for.
Q]

What part of your sales comes from e-commerce sites and from retail stores?
Currently, it is a 50-50 mix.
Q]

What would Sennheiser's broad marketing strategy for the Indian market be for the next few years?
We want to be a leader in the wireless segment. When anyone thinks of wireless headphones, Sennheiser should be on top of their minds. Also, since Sennheiser stands for the future of audio, there are a lot of interesting products we are coming up with. We are working on a proprietary technology called 'Ambeo', which is our 3D audio technology. In the past, people would hear mono or audio, and currently, we are on stereo. However, the future will be all about 3D audio which is an immersive experience. Moreover, under the Ambeo umbrella, there will be products that will capture sound in 3D, which could be used in reproducing and mixing sounds. Till date, we have been a pure-play headphone brand but next year, we will launch the Ambeo Soundbar which will mark our entry into the speaker market. We did not want to enter the market like a me-too brand and therefore we have come up with this innovative technology. It's a simple plug and play device that can be connected to your LED Television. It is innovative because it is a single sound bar but it gives the effect of sound coming from all around you. We are really excited about this offering.