Q]

Gits Food is credited with creating the instant mixes category in India. Tell us about the brand's journey so far.
We started the company in 1963, and were the first company to start the convenience food sector with the launch of instant mixes. We created the category. My grandfather, one of the founding editors of Vyapar, a Gujarati business newspaper, started the company along with his friend because both of them realized their wives used to spend a lot of time in the kitchen instead of being with their families. However, they also wanted to ensure that the products that they come up with are as close to homecooked food, in terms of the quality and ingredients used. That's how Gits Food came into being. Initially, we started off with soups but it did not work for us. The idea was too new at the time and when we took the product to shopkeepers, they would ask, 'Is this tomato flavoured soap?' There's a long running joke in the family, that our soups put us in a soup, because nobody could understand our offering. That was when we decided to change our strategy and started to focus on Indian food products like gulab jamuns, idli, dosa and khaman dhokla, among other products. Over time, we have worked on building and strengthening our distribution. Until 1015 years ago, we were largely an export-driven company because India was not ready for our offerings. 60% of our revenues would come from exports. However, now 60% of our revenue comes from domestic sales and 40% comes from export.
Q]

Why did you refresh your packaging recently, after almost a decade?
Every packaging has its lifespan, and our refresh was overdue. We also wanted to build a stronger connect with the audience. When we repackaged about a decade ago, we were ahead of our times then but now market situations have changed, and we needed to change with it. Modern trade has grown, ecommerce has come in, and even the consumer demographic has changed. We are also targeting the younger generation with the new packaging.
Q]

Was it nostalgia about Indian food that made your product work better outside India?
Nostalgia did play a role. Also, it's not easy to find ingredients to make things from scratch. People who had left the country would then call back home to figure out how to make these dishes. Hence, the uptake of our products among the NRI audience was better. For a long time, we were present in Indian stores in many foreign countries. But now we are making inroads into mainstream stores too because, with ready meals, there is no cooking involved. You just heat and eat, so a lot of the local population is buying our offerings like dal makhani and biryani. We have also come up with organic and vegan versions of some of our ready meals to attract both NRI and local populations outside India.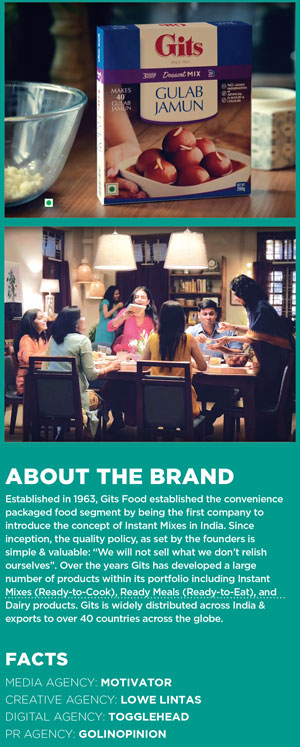 Q]

You've recently come up with a festive campaign. Tell us a bit about that…
For a long time, our advertising focused on the export market. It's much cheaper to advertise there because the audience number is smaller. So we advertise in those markets almost through the year. For India, you require really deep pockets to do that. We have started consistently advertising in India over the past decade and are primarily focused on the festive time. Initially our marketing used to be done inhouse. This is the first year we have roped in Lowe Lintas who conceptualized the new campaign. We realized that for years, we have been silent partners in so many households and we don't even want to take away that pride from a woman's hands because at the end of the day, we are just mediating. We have come up with a heartwarming ad and a new jingle. Since our gulab jamuns do really well for us during the season, the ad features it. But we will soon release a few other ads too. It's a 360 degree campaign and will be on air till Diwali.
Q]

What kind of investments have gone into it?
Our investments this year are much larger than last year. We've more than doubled our budget this year. We are still investing the most on TV. While it's the most expensive medium, its also the most cost-effective way of reaching more eyeballs. We are also increasing our investments on Digital and Social Media because we are seeing better returns.
Q]

People often believe that every kind of packaged food is unhealthy. Is that a challenge for a brand like yours?
We are constantly trying to communicate with our consumers that our products are made from natural ingredients. With the new packaging, we wanted to communicate to our consumers that our products contain no preservatives and colors. We mention this prominently on the front of the pack now. In our ready meals, we have also explained the process of manufacturing these products. Again, it's up to us to really build consumer knowledge. Even in our Social Media communications, we are trying to educate consumers. The ready meals category is at a nascent stage in India and it's not about fighting for market share. It's an ongoing process and no brand can achieve this alone. Educating consumers needs to be a collective effort.
Q]

How wide is your distribution network currently?
We distribute to about 40 countries. In India, we have a presence in all states, in close to a lakh and a half outlets. We have a network of over thousand distributors. Fast moving products like gulab jamun, khaman dhokla, idli and dosa do really well in Tier II and Tier III towns and we have a good presence in smaller towns too.
Q]

Are there plans of entering newer regions and categories?
Distribution is a never-ending process. Over the past decade, our distribution has grown significantly, and we continue to do that across all our avenues, be it general trade or modern trade. We are now also selling to B2B customers, so we are taking bigger pack sizes to hotels and caterers. In terms of categories, we have recently entered dairy. We have started with milk pouches, curd, buttermilk and lassi. It's at a nascent stage and currently we are only present in Mumbai and Pune.
Q]

Dairy is a cluttered category with a lot of strong players…
Yes, but we are trying to add value. Our milk has a little more fat content than other brands, and we have priced it almost the same. Dairy also helps build distribution because milk goes everywhere. So, we are trying to leverage that better. Finally we will also look at value-added offerings. We have also launched a dairy whitener recently. We have had ghee for a long time now. However, we are very clear that we don't want to go national with dairy right now.
Q]

What are the biggest challenges for the ready meals and instant mixes segments?
The misconceptions in people's minds, about the products being unhealthy is one of the biggest challenges. People believe everything that is packaged is bad which isn't really true. We are a brand that is consistently working on giving its consumers the safest and tastiest food. The category is already witnessing a good growth but the minute this mindset changes, our growth will accelerate and our jobs will become easier.