BY SAMARPITA BANERJEEQ]

Onida is one of the few homegrown brands to survive the coming in of global brands. What has helped you sail through?
We went through a lot of ups and downs over the years, but the only thing that stands out in the end is innovation and quality. Onida has always been innovative and has been known for its quality. That is a part of our ethos. When we started off, we had a chance meeting with Japanese consumer electronics brand, JVC, which led to a partnership with them. That partnership led to us making use of their R&D which helped us to emerge with innovative products. We were doing well until India opened up the flood gates, which saw the coming in of global players like Samsung and LG. These players came with deep pockets and instead of putting anti-dumping duties on them, we as a country welcomed them with open arms. We gave them sales and income tax advantages. However, we didn't buckle down in the storm and learnt to dance in the rain. Recognizing opportunities has been our biggest strength. We could survive the storm because of our superior quality. Moreover, GST has been a great move because it is now a levelplaying field. What gives us yet another advantage is that we understand Indian consumers and what they want.
Q]

What are the innovations that have helped Onida stand out?
For Indians, good sound is a critical factor, so we gave them a TV with 3500 watts. People love it. When we started manufacturing washing machines, we put in rolls that could help clean cuffs and collars easily. When we started manufacturing ACs, we realized that they are a basic requirement in places with humidity. Places near the sea also go through a lot of corrosion. So we decided to manufacture only copper ACs, without using any aluminum. We have also been the frontrunners in optimizing the Internet of Things in our ACs. Besides, we were the only brand to come out with innovative technology in our microwave ovens which automatically displays the weight of the items inside, given that this has been a customer requirement for a very long time. We have also added 150-180 pre-programmed menus with the oven to simplify the process.
Q]

What made you resurrect the Onida devil after all these years?
When we launched the Onida devil years ago, it really resonated with the audience. When we thought of getting back to advertising, we thought why not get the devil back! We launched our new devil campaign during IPL. Cricket is a religion in India, so IPL was the best time for the launch. And since it is summer time, we decided to do the campaign around our ACs. However, going forward, we will come out with campaigns for the brand as a whole, instead of for just one product, in order to rebuild brand recall. Within the organization, we tell ourselves that we need to turn three years younger every year in terms of thinking, and bringing back the devil was a part of that philosophy.
Q]

What kind of reception has the new Onida devil ad received?
It has received mixed reactions. Some people hate it, and some love it. Nevertheless, it has top of the mind brand recall. People are talking about it and that's what advertising is all about. It has created curiosity nudging people to go to showrooms to check out the products.
Q]

Onida chose to stay away from advertising for a long time…
Once India opened up its gates for global players, we faced stiff competition. We had to stay alive and the first thing to cut down on was advertising. We were a bit silent when the storm hit us. Once the government let all the global players come in, a lot of companies collapsed. We were the only one to stay afloat. We are still standing even today, giving our competitors a run for their money. Our growth story is also a positive one - our profits are increasing and so is our market share. We stood by our quality and innovation. Now we are topping that with advertising, to spread awareness about our products.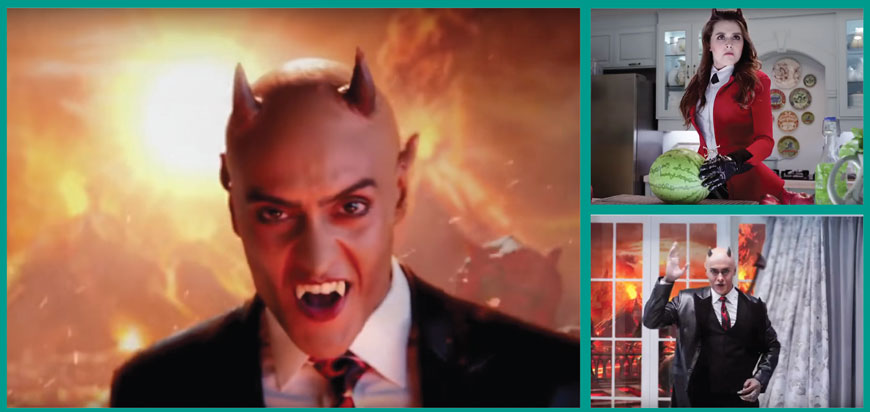 Q]

While the first devil ads came out in the 80s and has a connect with people from that time, will the current generation be able to have the same connect?
Why not? People still remember the devil ads we did at that time. And the new ad is catchy, negative and bold. We do not use brand ambassadors. Our devil is our mascot. We will also be using the old tagline 'Neighbour's envy, owner's pride.' We want to come up with a jingle that uses these four words, so that people remember the mascot, the tagline, as well as the jingle.
Q]

What is your current market share for all the product categories?
Our market share for all the categories are ever on the rise. In the TV segment, we have approximately 6% market share. In the AC segment, we are currently at 9%. In the washing machine segment, we faced a bit of a setback when one of our factories burnt down, but we have rebuilt the factory now. We have grown by about 80% so far this year and are confident of reaching 100% growth in the category, as currently we have a small base.
Q]

How wide is your dealership network currently?
We have close to 4000 dealers currently. We have decided that rural is going to be an important thrust. We are going deeper into the country and are working towards keeping our shelves full.
Q]

You are spending around Rs 20 crore on the current campaign. What is your advertising budget for the year?
Overall, we will be spending around Rs 40-50 crore this year. We will come out with our next campaign during Diwali. We are very conscious of Digital media and are investing in Social Media and Programmatic, as well. We are investing about 10-15% on Digital. While TV is still the biggest investment at the moment, spends on both TV and Print are being drastically reduced.
Q]

What would be your broad marketing strategy for the next few years?
We have to move towards Digital. Moreover, strategy is something that is different from operational excellence. Going forward, our strategy would be to lobby with the government to decrease duties, which would eventually help us to double sales. We need to convince the government that if it brings down the tax rate from the current 28% to 18%, more people will buy the products, which will eventually lead to more money coming in.
Q]

No plans of cutting down on advertising for the next few years at least?
Not at all! We have signed up with the Bennett Coleman & Co, The Times of India. They have a stake in the company and they give us a lot of free ads. That has been a good deal. They took a stake in the company which helped us bring money into the company. It's a win-win for both them and us. When the world sees that the Times of India has invested in us, it works in our favor. It has made the investors happy. We received an investment of Rs 150 crore and today are completely debt-free.
@ FEEDBACK
samarpita.banerjee@exchange4media.com