Q] How is the brand ramping up its go-to market and Digital strategies to drive growth and increase its penetration pan India?
We have recently launched a TVC with Virat Kohli and Anushka Sharma for Shyam Steel, and we have a few more TVCs coming up in the future with Sonu Sood, based on our app, 'Apna Ghar'. The tagline for the same goes as, 'Neev Se Pravesh Tak,' i.e. from the very beginning till the very end of your journey of home building, we will be supporting you.

The slump that we had seen in the market demand, because of COVID, now we are seeing its revival slowly and steadily. Especially right now when it's not season time, we've been seeing a huge increase in demand for our product. We already have a strong presence in the West Bengal market, and the eastern regions of Bihar, Jharkhand, Orissa and Northeast, but we are slowly and steadily increasing our presence in the UP, Punjab, Haryana, Jammu Kashmir markets. In terms of retail, we've also started exploring the Southern markets of Telangana, Andhra, and Tamil Nadu.

So in order to capture these markets or to have some sort of presence, we've been on boarding different ambassadors to have that regional connect, especially in these markets. Like for Bihar, we have associated with a few local celebrities, such as Pawan Singh, Nirahu, and Manoj Tiwari. For Northeast, we had associated with, Lovlina Borgohain, who was the silver Olympist last year. For the Punjab market, we have associated with Manpreet Singh, who is the captain of the Indian hockey team that went for the Olympics. These small endeavours to have that regional connect with consumers in those markets have really helped us, and we are trying to maintain that through further branding activities.
Q] What was the thought behind launching an app for TMT bars and celebrity collaborations? Was it an attempt to reach out to the younger generation? What do you consider as your target group?
The traditional TG for us is '30 plus male' in tier 3 cities. While, the launch of the app was not triggered by the pandemic, it expedited the process. As it's a huge investment product, we were really focusing on how to get it started and trying to see whether people are reciprocating to the app well enough. But, surprisingly, especially in the Northeast and the Orissa markets, we've been seeing great results. Traditionally one wouldn't think of purchasing a TMT bar product or maybe cement online, but with the launch of our app that offers all sorts of home-building solutions, our TG for 'Apna Ghar' specifically has been reduced to 25-plus males. I think people are trying to shift from the traditional ways of doing things, especially in marketing.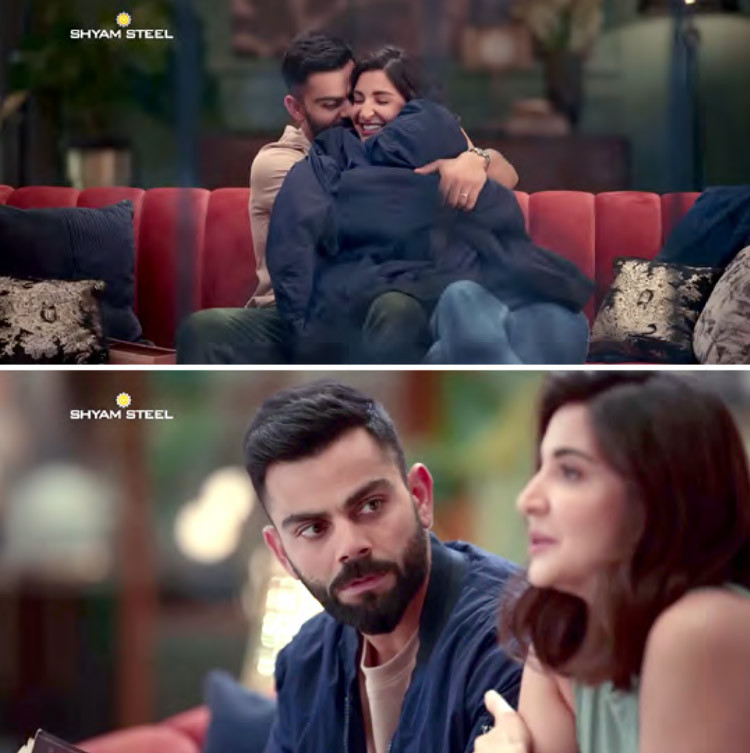 Q] Can you share the media mix for Shyam Steel across platforms?
Initially we used to invest quite a lot on print medium and focus a lot more on TV news channels advertising. Currently, we've been doing a lot of cinema hall branding, especially in the South, not just in Hindi, but in regional languages as well.
Post our association with Virat and Anushka, we've been associating with a lot of cricket series, and cricket matches. So, our investment has gone into sponsoring events such as, the ICC World Cup, and IPL. Now adding to that, as our viewership has come onto platforms like Hotstar and Amazon Prime, we've been with Hotstar too.
We have also been exploring a lot of Digital news platforms like Jagran and Aaj Tak, as they have quite a good penetration in our markets in Bihar, among other places. Also, YouTube has been one of the biggest consistent platforms for reaching out to our consumers. We cannot compare it with other social media platforms. So, YouTube has been a big space for us to spend in. While I wouldn't be able to comment on the exact percentages, I would say it's about 40% on the TV, 15 to 20% on newspaper, 20% would be for Digital, and 20% on cinema.
Q] Can you share, on which of these platforms have you seen really good returns on the ad spends?
IPL is one of the hottest properties in India for anyone to associate with, and it's always a good time to launch a TVC, so, we are looking forward to associating with IPL.
I think our association with these cricket matches, because of the kind of presence that Kohli has, and the kind of popularity he enjoys, has been one of the most impactful properties that we've associated with, including on HotStar. We are currently exploring quite a few opportunities, such as the upcoming Cricket Match series with Australia and New Zealand.
Q] Can you share the roadmap ahead for the brand in 2023?
Given our pan-India expansion plans, we'll only be increasing our ad expenses in terms of branding and then focusing a lot more on the app Apna Ghar. It is one of our most important projects. So, we will be spending heavily on that, and investing time into getting more people to adapt to that particular platform by spreading awareness about it specifically and in terms of building a dealer distributor network through the additional support that we provide to them under the same platform.
With the Apna Ghar app we've been coming up with quite a lot of innovation, associating with a lot of cement brands and paint brands and a lot more facilities. So, we'll be helping people in designing their interiors and the entire structure of their homes from the ground up.