Q]

Society ventured into the herbal tea and wellness space last year, something leading tea brands haven't yet done. How has the product fared in the market since its launch?
Wellness is becoming an important part of everyone's life. In that context, it was a natural move for us to enter the category. This was one product launch I was really excited about, because there isn't anything like it in the market. Our herbal tea combines a rare variety of tulsi with lemon grass and mint. I personally drink this herbal blend myself, close to three litres every day. The product has been doing really well so far, and we have got fantastic feedback from consumers. These are still early days, but the initial feedback is very promising.
Q]

Do you have plans to launch more variants of the herbal tea?
Not just yet. This is still a niche category and we don't want to flood the market with too many options. Our plan is to allow the consumer to get more acquainted with the new herbal tea and then gradually grow the category.
Q]

How are you marketing some of the newer products from Society such as the one minute tea, iced tea and green tea?
India has always been a tea drinking nation. It's an intrinsic part of who we are. For a lot of people, a cup of tea always brings a sense of comfort and feeling of being at home. We introduced the one minute tea for those who don't have the time to brew a cup as they head out to work, or while they're travelling. We were the first company to introduce such a product. When we launched, we rolled out a campaign across outdoor, TV and radio. We have seen a great response to the product and the campaign – it's clearly something that has resonated with consumers and we will continue to promote the product through various customer touch points. Even for products like our green tea, we are positioning it in such a way that it will appeal to anyone looking for a healthy yet flavorsome beverage. Since these are largely younger, millennial consumers, Digital becomes an important medium for us.
Q]

Your recent campaign, the tea society called India, went on to win a lot of awards. Tell us about the thought behind the campaign.
India is a tea loving country, and our latest campaign celebrates this very love for tea. Irrespective of which part of the country you go to, you will see an underlying common love for tea. This campaign also celebrates our loyal customers that continue to come back to us for our quality and consistency. Interestingly, the campaign concept also emerged from the brand name Society itself. That's perhaps one of the reasons it resonated with our target audience.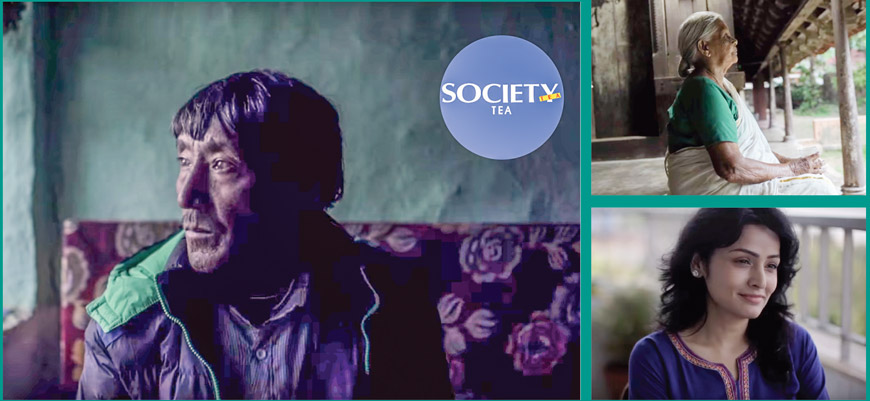 Q]

As one of India's older, heritage brands, how do you work to stay relevant in a market that has bigger players like Tata and Brooke Bond?
Yes, there are a lot of other brands in the business, but I think the only way to keep growing and staying ahead of the competition is to keep improvising. Quality is definitely one thing that sets us apart. Another thing that I believe gives us an edge is the fact that we are a family business, and our consumers continue to trust us. So, quality is everything to us. Our family is very involved in every aspect of the business – two of my uncles and my cousin dedicatedly taste several cups of tea a day to ensure our quality is impeccable. My point is, tea is the family business and we value consumer trust. Yes, there are several brands in the market but I don't see that as a challenge. It is healthy to have competition. In markets like Maharashtra in fact, we continue to enjoy a good market share of over 40%.
Q]

Are you looking at acquiring market share in other states as well? Do you have plans to enter into any new markets in the country?
While we are present in most metros and eight other states, we don't enjoy the leadership that we do in Maharashtra. So that will continue to remain an important market for us. We are also in the process of ramping up our production – we have a factory coming up in Gujarat too. We are also looking at entering new states during this year, but we want to ensure we can service new markets properly. We will announce expansion plans as and when we are ready.
Q]

You have been doing a lot of digital marketing for your newer products. What percentage of your advertising budget is spent on Digital?
I would say about north of 25% of our budget is devoted to Digital. We do a fair bit of Print and TV, but considering that a good percentage of our target audience is online, Digital is definitely the place we need to be. Another thing we're definitely stepping up is our activations. We work with various local festivals and community events because being a tea brand, tasting is everything. We even have plans to launch a Society café in the near future.
When it comes to Digital however, the best thing is that it allows us to target specific consumers, and direct them to our social pages and even purchase the product.
Q]

What kind of traction are you seeing online? What kind of sales are you seeing from online and e-commerce platforms?
The online spectrum opens up a lot more customers and we're growing at about 200% of what we currently are, which means that the potential for growth is tremendous. This is why Digital is so important to us. We're present already on quite a few e-commerce platforms and we're constantly evaluating how to leverage the medium to drive sales online.
Q]

What are some of the key trends that you think will drive growth for both Society Tea and the category in general?
While there is growing demand for herbal and green tea brews, one thing we are definitely seeing is the increasing demand for the traditional taste of tea. That's something we are definitely focusing on, going forward. It's that craving for traditional tea that inspired the One Minute Tea – we want to give people the traditional tea experience in a fuss-free manner.