Q]

Philips has been present in India for 80 years and it almost feels like a homegrown brand. What are the advantages and disadvantages of this perception?
I look at it as an advantage because whenever we introduce any product under the Philips brand, consumers automatically trust us. Secondly, being present in the country for over 80 years has also helped us win the trust and confidence of the traders. Thirdly, since we have spent a considerable amount of time here, we know the country well. From a strategy perspective, India is very integral to the brand. We have worked hard on decoding consumer insights, connecting with consumers, and developing local product solutions and communication. On the other hand, sometimes you have to carry the burden of the legacy and therefore you cannot afford to go wrong.
Q]

Philips recently roped in Rahul Dravid as the face of its air purifier segment. What has the uptake for air purifiers been like in India?
Philips was one of the first brands to invest in this category in India. While the general belief is that indoor air is clean because there is no visible pollution inside, we realized that it is actually more polluted than outdoor air. We started work on this about two-three years ago and have seen a steady rise in enquiries since then, with business going up especially during the festive season and winter. We expect a healthy growth for the segment this year too, because public awareness about this is increasing and people are looking out for solutions to breathe right. Even our campaign featuring Dravid says, 'Sahi breathing ka first step'.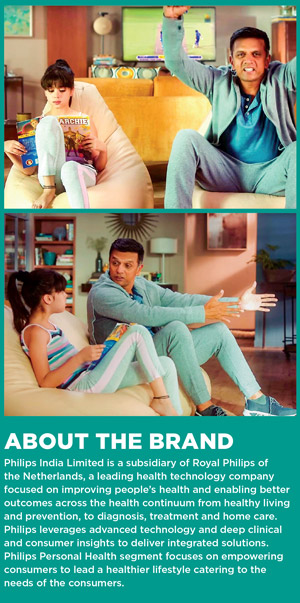 Q]

How big is the market for air purifiers in India? What is your market share?
According to me, the market is currently valued in the range of Rs 200-300 crore and it is bound to grow multifold in the coming years. It's difficult to estimate the growth rate because it's not a well-established category.
Q]

How are you driving differentiation in a cluttered market like India?
We have a threefold strategy. One, we are looking at markets with different needs. We are investing a lot on spreading awareness among our consumers, in terms of communication, partnering with celebrities, and digital promotion. We are also trying to participate in events that are related to respiratory issues, education and students. Thus, education is the second part of our strategy, wherein we want to be the first to reach consumers. The third major strategy initiative is that we try to create an experience for the consumer. As indoor air pollution is invisible, we have created demo zones in some of our dominant stores to demonstrate how the products work, the types of pollution, and more, because that kind of education is important for the category. Today, even if people are aware of indoor air pollution, they doubt the efficacy of air purifiers. So, in a way we are not only building the brand, but also helping the category to grow. We have also set up a dedicated helpline for air purification where one can enquire about the products, their prices, etc, as well voice doubts about the products or air pollution in general. This is our attempt to build a lasting relationship with our consumers.
Q] Philips has been working on offerings cater

ing

specially

t

o the

Indian audience. Has it given you an edge in India?
That is the core of Philips. Our new 5000 series is a connected series. Connecting it to your smartphone can help you find out the pollution levels of your home, and you can switch the device on and off from the phone, too. You can also learn about the pollution level in your city. The device can clean your room within six minutes. We came up with this based on the consumer insight that in highly polluted markets, you need products that can act fast. We are identifying gaps in the market and trying to find solutions to help consumers.
Q]

With Virat Kohli and Rahul Dravid as the faces of your brands, is this an attempt to connect with the younger audience?
Kohli is the face of our male grooming category, especially trimmers. The target audience for these products are young, and they look up to their icons and want to know about their preferences. When it comes to a newer category like air purifiers, we wanted to rope in someone who is known for his credibility, and there's nobody else who personifies credibility better than Dravid.
Q]

What is your focus for the mother and child care business?
Personally, that is one of my favorite businesses because Avent has a strong brand presence and is the most preferred brand among mothers across the world. We have a complete range of solutions including feeding bottles, sippers, sterilizers and breast pumps and the brand is doing very well. Recently, we launched the brand's first campaign around our breast pumps which solve a simple problem of ensuring a baby gets a mother's milk at any time and any place. We are now investing heavily in the segment and you will see more campaigns going forward.
Q]

What are the segments that are contributing to maximum growth for you?
We are seeing a lot of growth and engagement in some of our premium categories. Airfryer is one of the most magical innovations from the Philips stable in the last decade that has helped us establish ourselves as a premium kitchen appliances brand. Even garment steamers is seeing a good uptake at both apparel showrooms and households. Then we have our core categories like trimmers that have been doing exceptionally well and we want to bring in more innovations in the category.
Q]

What is the kind of growth that Philips has witnessed in the last few years in India?
We have been growing in double digits since the last fourfive years.
Q]

What are your key focus areas for the next few years?
We spend a lot of time in trying to understand consumers and we will keep doing that. From a broad strategy point of view, we will work on two things. One, we are looking at categories like air purifiers where our penetration is low and trying to recruit more people. For categories which are already established and growing, we will try to provide premium and better solutions to our consumers. We want to look at the unmet needs in the market and address them to enhance consumer experience.
Q]

Is there any medium that will see increased investments?
Our media spends will depend on the categories. With better revenues and ROIs, Digital spends will increase. However at the same time, every platform and media will have its own play and we will be present across mediums.