Q]

Why did PayPal launch its domestic business in India just last year?
PayPal has been in the international digital payments space facilitating cross-border payments, and has been operating in India for close to a decade now. PayPal accounts for about a third of the B2C payments that happened from an international perspective, so we have a large presence in the B2C space. It was only natural for us to look at the next horizon of expanding into domestic. On the day of demonetization, we started our domestic payments journey. We opened up our network to Indian consumers to participate and started off with a select few like BookMyShow, Yatra and MakeMyTrip. At the end of April, we opened up our India platform for merchants to participate, so that they could accept domestic payments too. India is a massive market. So, any point is a good time to launch in India because the opportunity is always there.
Q]

How have you been talking to your consumers?
Since November, we have been communicating our value proposition to consumers, saying that we offer buyer and seller protection, because we work with both consumers and merchants. We get a fairly large number of people coming to our PayPal network points, i.e, our app and website. Those are the touch-points where we have been communicating with our consumers.
Q]

With so many digital payments platforms already present in India, what is different about PayPal?
Our value proposition. Most popular websites are screaming about discounts and offers from the rooftop. We, however, have come to the market where we are trying to reach out to a group of consumers we call 'Global Indians'. If you give them offers, they will adopt the platform but not necessarily transact with you because you are an offers brand. Our play is caught in the catchphrase 'Safe Hai' which is really talking about our value propositions of seller and buyer protection. That's how we have chosen to go to market and position PayPal as the safer, easier way to pay.
Q]

So discounts and offers are off the table?
Not off the table. It's not our go-to market play. Offers give you a right to play, value proposition gives you a right to win and that's how we look at it. We drive consumers to make first and second transactions on our platform. We aren't in a one and done game.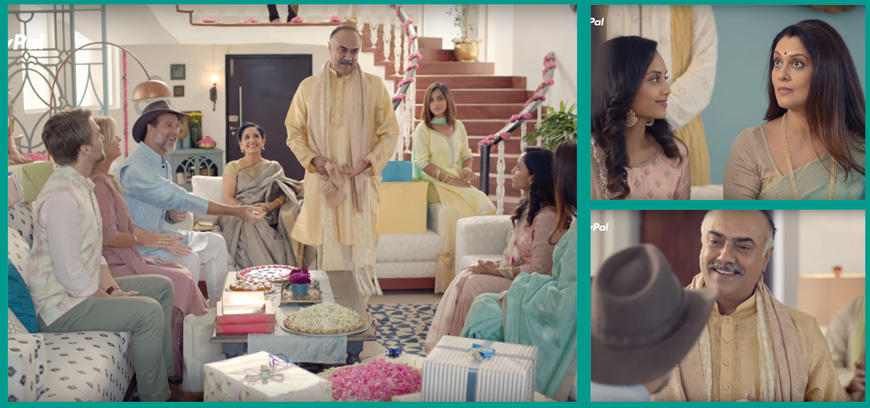 Q]

In India, close to 90% transactions are still happening through cash. What are you doing as a platform to bring more people into the online payment ecosystem?
That is what we are trying to achieve with our launch campaign. We want to reach out to our target audience with our value proposition. There are different plays that happen here, one is cash on delivery and the other is through netbanking. Our researches have revealed that many consumers are hesitant to transact on merchant websites because of the fear of their financial details getting compromised. In case of netbanking, the transaction happens on the bank's page, which you trust. This is one of the things that PayPal has overcome because of its safety credentials. We never share our consumer's financial details with anyone which gives them a layer of confidence to transact. So, this is one way to disintermediate cash transactions. Moreover, a lot of people opt for COD because they have apprehensions about the quality of products they order online which is something we are trying to overcome with focus on buyer protection. If you order something on PayPal, and don't like the product, you don't have to go through a harrowing experience because we will help you to make it right or get your money back. That is another level of protection we offer our consumers.
Q]

What were the thoughts behind your first campaign?
We have been in India for a long time but have never done a high decibel campaign. This is our first-ever television campaign for this market. So, we needed to establish the brand and tell people what PayPal was all about. We worked on two creative tensions – one was around the global-local piece because PayPal was a global brand, coming to India. We wanted to make that our core delivery. The other creative tension was around the old and new. In the US, we have a campaign called 'PayPal is new money'. So, that was one of the starting points. Then we also wanted to build the excitement of a global brand coming to India. How consumers should think and feel about PayPal, was woven into the campaign, and you can see that in the tonality of the films. We wanted consumers to understand why they should adopt PayPal. At the end of the day, our pursuit is to build the brand for the long-term.
Q]

Who is your primary target audience?
Our primary target audience is the people we call 'Global Indians'. It's a term we have constructed internally, to describe consumers who are e-commerce or technologically savvy. These are early adopters of things that are global and new because they see the value in them, people who would typically have a credit card, like to travel and generally have an affinity for doing e-commerce transactions. These are people who predominately reside in urban centers and not so much in Tier II and Tier III towns.
Q]

What have your key learnings been from the Indian market?
We are asked very often, 'Isn't PayPal late in the game?' And we look at each other and smile. The opportunity in the Indian marketplace is massive and it's like running a marathon. We are in the first 50-100 meters of that race. My answer to that questions is, we have entered at the right time. If you flashback to the India of a decade ago, India was tread-milling in the Digital space, e-commerce was mushrooming, logistical capabilities didn't exist. Our road and transportation networks were not up to the mark. We didn't have telecommunication services the way we know of them today. Our banking systems were still emerging. But fast forward to the post demonetization era. Today, the 3G/4G network is fairly expansive across the country. We have got expressway systems that allow for fast e-commerce deliveries across the country. We have got a Government that's lending its voice to the digital payment space. We have got new technologies and all kinds of APIs, and a demographic dividend that's paying out. People are doing well and looking forward to being successful. They want to consume these products to get closer to their goals. Had we entered earlier, I don't know if we would have moved the needle in a big way but today we are in a space that is hungry to take the next leap into converting that 90% cash transactions to digital transactions. With our value proposition and global brand stature, we are confident that we will be one of the leaders in the digital payments space in India.
Q]

In the overall scheme of things, how important is the India market for PayPal?
Today, the so-called developed markets are fairly saturated because brands have been present in those markets and consumers have adopted our brand and transact with them in a big way. Today, the emerging markets are growing rapidly. The phrase 'the next billion' is often used for markets like China, India, Brazil and Mexico, which means that the next billion consumers will come from these emerging markets. And India is one of the pockets that offers those opportunities. The whole landscape and infrastructure is now in place to make this lead which makes India one of the key markets for PayPal.