Q]

Oppo has completed six years in India... tell us about your journey so far.
It has been a great journey in India since we launched our first selfie expert, F1. It actually started from R series, R9, then F1 and F1S, the selfie expert and to now when we have just launched our Reno series, which is very advanced technologically. Over the years we have done a pretty good job of 'Make in India'. We even set up a manufacturing unit in Noida, have a research centre in Hyderabad. I would say it has been a wonderful journey so far.
Q]

What are the qualities the Chinese brand has imbibed from India?
When we started our business here we realized that the India market is a little bit different from the others we have operated in. So, to understand and to solve that problem we needed to build the India team. The R&D centre in Hyderabad is the output of that thought process. And today we have this product Reno which is the outcome of that R&D. So, India has contributed a lot for this product and through this product we tried to solve the small problems which Indian consumers feel and face, be it on the camera side, on the charger side, or system performance.
Q]

Tell us about Reno series…. Why would you say it is unique?
The Reno device is the fastest and the most reliable smartphone with extraordinary hardware design. It has that 10x hybrid zoom. It has night mode 2.0, Game boost 2.0 for improved gaming performance, is a Snapdragon 855-powered phone etc. So, these are the software innovations which seek to solve the issues Indian consumers face because they use their devices a little differently from the rest of the world. We are also working on many new services.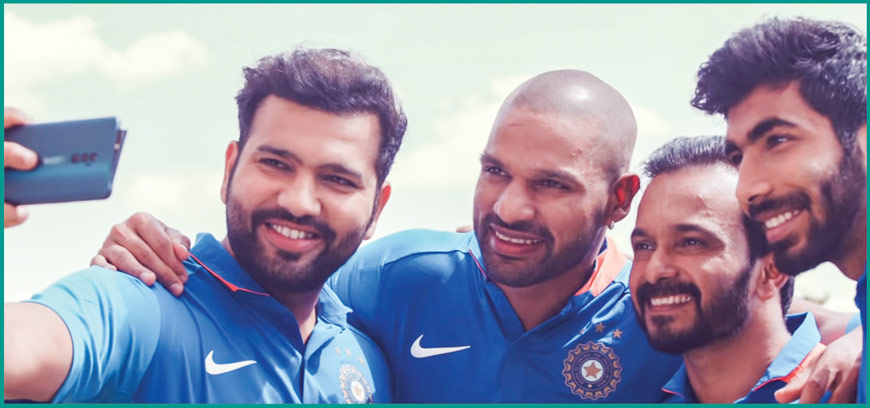 Q]

Tell us about the marketing campaign for the Reno series.
Much before the launch, we collaborated with many renowned global artists, they created their own definition for Reno using illustrations. We also worked with a few Indian artists in a localized collaboration to inspire the Indian consumer's creativity, because this project, this series is engineered for creativity. For the World Cup as well we have a campaign called 'Billion Beats'. We are encouraging cricket lovers to support team India by contributing their heart beats through the Oppo Billion Beats App. The heartbeats will be used to create a team song composed by music director duo, Meet Bros. Also, nowadays a lot of young customers are very active on social media. They want to share their ideas, daily routine etc, so it's very important for the marketers to do some innovative work on the digital platform. We also have aligned with TikTok for some very good short video campaigns. So, we are treating the Reno series like how we treated the F series in the past. It's going to be our star product and we are going to promote it especially during the cricket WC period. So, we have actually invested a lot on this. Can't share the numbers though.
Q]

Ever since Oppo launched in India you had very close ties with cricket. How much has cricket contributed to Oppo's popularity as a brand in India?
Cricket is a religion in India for sure. And four years ago when I was here we barely had any brand awareness, less than 1%. But, when we collected the data again from a third party this year, the brand awareness is already over 96%, so it's quite a big number. So definitely cricket sponsorship contributes to a larger part of these achievements. And it is partly also because we collaborate with celebrities by sponsoring other properties like Bigg Boss.
Q]

With the launch of Reno series, you also introduced a new brand identity. What was the need for that?
While we have been in the smartphone business for ten years, this is our sixth year in India. Usually we call ourselves a fashionable or young smart phone brand. Now we want to go back to focusing on the product and technology by becoming explorers or innovators, thus the repositioning and we thought it was the right time for releasing, both the new series and the new image. It's also a kind of a congratulations to ourselves because of the six years spent in India which is a big achievement.
Q]

Are you also going to appoint a new brand ambassador to go with the new image?
Deepika Padukone was our brand ambassador, but we want to shift our image a little, concentrate on the technology and creativity. So, that is why we want to stop collaborating with celebrities for a while. If you have noticed when we started off, the focus was more on the marketing side, but now we realized that we should work more on the product, quality and after sales service. So, on the product side you see that every year we are coming up with a new innovation, it's the same on the quality side. And as far as after sales service is concerned, recently in the Google online survey Oppo became the number 1 smartphone player in providing the after sales service.
Q]

Do you think more visibility leads to more sales, is that directly proportional?
We strongly believe that product is the center for any business. And if we keep improving our product and the consumer experience, rest all will be taken care of. In the beginning we had to establish our brand first, thus more visibility was needed, but now we are a very well known brand in India. So, now we want to focus on the other three things --product, quality and after sales service. Marketing, advertising has only helped the consumers to realize that there is a product called Oppo in the market, but I think most important is how this product can benefit you whilst you use it, whether you have a good after sales services, only then will the user fall in love with the brand. So, the important thing is that we want to become the consumers' preferred smartphone brand. So, that is something we need to change. We can't always use advertising or use marketing to achieve these goals. How we are going to get consumers to love us is another obstacle we need to overcome.
Q]

India is a very price-oriented market, the smartphone brand which offers the lowest price with better features is picked up by the consumer, how do you earn consumer loyalty for Oppo then?
That can only happen if we solve the consumer's problems and really improve the consumer experience.
Q]

What is your market-share currently?
I think we are always one of the top 5 smartphone brands no matter which third party survey you refer to. But internally we don't believe the numbers, we believe our product. Number is just a game, every quarter it gets changed, so we don't bother about the numbers.