Q]

You recently launched the 'Shake. Spray. Start.' campaign for your new offering, The Nivea Men Duo body deodorizers. How has the audience's reaction been to the product so far?
While these are still early days, since the time the product has been launched, it has been an outright winner. It's also a confirmation that our celebrity choice is spot on. People are really addressing it well. Currently we are facing a happy problem, our supply chain is cramming to get the products out in time, and the demand has been fantastic.
Q]

Do innovations in the category really help woo consumers?
Consumers are primarily on the lookout for solutions to their problems. Innovations are needed when existing products don't help them with their problems. An innovation should always solve a consumer problem. Our innovation is targeted at the consumer who does not want gas in his deo, wants proof that it is a long-lasting product and wants some amount technology in the product. Our product ticks all the right boxes and addresses consumer needs in a very visible manner.
Q]

You currently have three brand ambassadors endorsing three different offerings. What is their connect with the brand?
We have on board Ranveer Singh for the men's portfolio, Anushka Sharma for body lotions and deodorants and Taapsee Pannu for shower gels and lip products. For categories like shower gel or lip that are still niche categories but are growing fast, being adopted by the younger audience, Pannu is a good choice. She is someone who does roles that reflect a contrarian view. She is a sort of an iconoclast. If we are expecting consumers to change their habits, like, make a switch from using soaps to shower gels, an ambassador like her can really help drive the message home. Sharma has been with us for the past seven years now, and she literally stands for the brand. So, when it comes to huge categories like deodorants or body lotions where we want a mass appeal, where we want a certain aspiration, she works phenomenally well for us. The company and Sharma have almost grown together. Singh is another important choice because he is a mix of sophistication, a premium guy but someone who has not lost his common touch. That is a very unique combination which you typically don't find in stars these days. He has a huge mass appeal. We do a lot of research while picking our celebrities and our three ambassadors are completely ahead of the curve.
Q]

How big is the men's grooming category in India right now? Are men finally opening up to the idea of men's grooming?
In terms of contribution, it's about 5% of the overall skincare category, but it's growing. Till now, men have been looked upon as 'Here is a proposition I sell for women, why don't I sell the same proposition for men?' category. But, men and women fundamentally think differently, and to me that is the biggest learning. Due to this insight, we have created a separate brand for men. And the brand personality is completely different from the main brand. The celebrities, approach, tone and humor is different. The way we present the brand proposition is very different too. And its this approach that has worked really well for us. We haven't been doing just a lip service for men but actually consistently coming up with products that address their problems.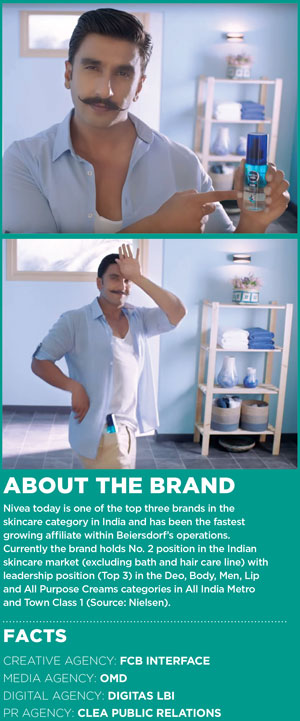 Q]

Within the men's grooming segment, which categories are witnessing good growth?
We are witnessing all-round growth. Skincare and hair care is growing. We also have a beard care segment, which is a great story. One would say that the shaving products are going down, but the way I look at it, we see grooming products are going up because shaving is a part of grooming too.
Q]

Nivea surpassed HUL in the deodorants category last year for the first time. Have you been able to maintain that lead? What are your current market shares for different categories?
We don't look at competition, because competition is distraction. Yes, we are ahead of Unilever, but to me that is irrelevant. I am catering to the full potential of my consumer needs. That is the only thing I am chasing. There is a lot more to be done. You will see a spate of launches from our end in the subsequent year which will address a lot of unmet needs. India is a big country, its almost a continent in itself. To say that I have addressed every single need set in the country is stupid. There is a plethora of need sets which we need to address. So for me, competition is irrelevant, and the consumer is the most important.
Q]

What is your strategy for coming up with differentiated offerings and communication?
For us, the answer is actually very boring, we always start with the consumer. We spend a lot of time preparing. We are probably the slowest go-to market company in India. We take 1.5-2 years of gestation period, but once we get it right, we execute it right. We have the best innovation rate for a company, we are at 50% whereas the industry average is 10%. When we launch something, it's not a reaction to competition, environment or trends. We genuinely look at consumers and their problems and try to come up with products that will solve the problem.
Q]

Are you planning to enter newer categories in the near future?
Not so much. Currently, we are focusing on the categories which we want to play and win. We are currently going to make our current categories grow better, build our understanding of current consumers and categories stronger, and in future if we find good opportunities and we will enter probably new categories.
Q]

Which media platform do you invest on the most?
For us it's TV. The way technology and Digital is evolving is interesting but we are treading cautiously. We are measuring our risks of getting into it because there's always an opportunity cost. We base our media mix on the message we want to send out. For example, if I want to build a business on e-commerce, we have figured that investing on Digital makes more sense. Similarly, if I want to build my business in general trade, TV works better because of its sheer reach. While our media mix depends on our proposition, and the communication around it, TV is here to stay.
Q]

Nivea broke ground on its first Indian plant in 2014. How many plants are there in India currently? What percentage of your products are made in India and what are still being imported?
Roughly 70% of our products are currently produced in India. We have expanded the plant but haven't set up more. Like I said, we don't do things in a hurry. The products that you find in India are exactly the same that you find across the world, in terms of quality. And we say this with a lot of pride. The raw materials used are exactly the same. Not many companies can say the same about their products because usually they have a different set of products for India and the rest of the world. We don't want to set up another plant hurriedly because we really need to ensure that our quality and the standards are met.