Q] Mondelez forayed into the biscuits division in 2011. How has the journey been so far?
Biscuits is one of the biggest snacking categories in the country and also the most highly penetrated and distributed. Traditionally it's been a value-driven market. However over the years, the consumer has started demanding premium and superior products. That's where Mondelez as an organization came in with a position of strength. Over the last six years, we have launched Oreo and Bournvita biscuits; both unique, differentiated products. Both offerings have delivered strong growth. Today, the premium segment is leading growth in the Biscuits category and we are among the top 3 premium biscuit players in the country. Oreo, in particular, has done really well for us. It holds a 6% market share and is one of the top 5 brands in the country in the Cream segment.
Q] How big is the biscuit market in India?
According to data by Nielsen, the biscuit market in India is close to $5 billion. It is one of the biggest and most widely distributed categories, with availability in over 8 million stores and around 97% household penetration.
Q] Being a late entrant, how challenging was it to enter a category that already had so many established players?
We entered the category believing that there was an opportunity for us in the premium segment because we have a few of the world's best products and brand combinations within our portfolio. For instance, Oreo is one of the most popular biscuit brands in the world with a legacy of over 100 years and is available in more than 80 countries. Our approach was simple - to launch the best brand products in our portfolio in the Indian market, and get the basics right. We have been heavily investing in building brands. Being market leaders in the Chocolates category gives us an edge which we are leveraging to the fullest. It's been a challenging, albeit a rewarding journey.
Q] Oreo has become a favorite ingredient for a lot of different recipes - be it cakes, pastries or shakes. Has this been a part of your marketing strategy?
This is an interesting trend we have witnessed in the last couple of years, and it gives us immense joy. At one level, it's really about the versatile nature of the product which lends itself to lot of experimentation and innovation. It's also got to do with the playful nature of the brand which encourages experimentation. We have been actively pursuing this as a strategy now. For example, we tied up with McDonald's for Oreo McFlurry, which is a global concept. We have also tied up with Hindustan Unilever and launched Oreo in an icecream form for Cornetto. It's been doing really well. HUL is reaching out to us for more such tie-ups. Closer home, the Silk Oreo is one of the biggest chocolate innovations in Mondelez in recent times. These experimentations started as a by-product of the work we were doing, but now we are giving them a push.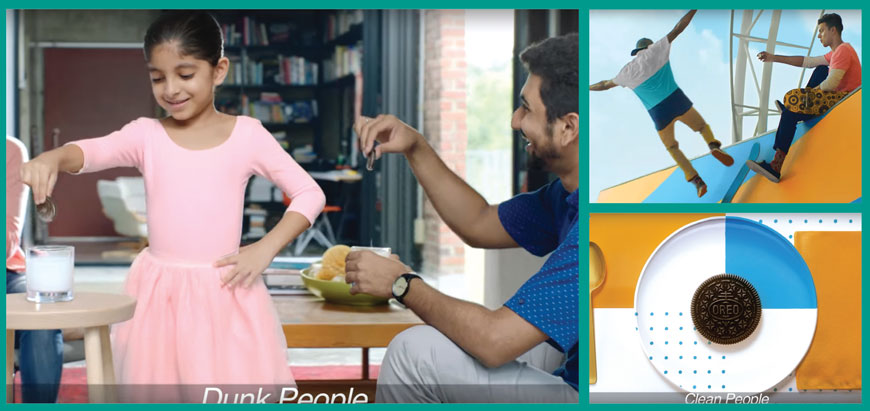 Q] Oreo is looked at as a premium product. How big is the demand in Tier II and III markets?
So far, we have built our strength in urban and modern trade. Going forward, we would want to take a two-pronged approach. We want to accelerate our play in modern trade and e-commerce now because that's one emerging channel which we believe will be big for biscuits and for snacking at large. Looking at rural as a growth driver would also be a priority. Right now, rural is a small market for us, but we want to explore the opportunities. It's all about the right portfolio. Thus, we are working on creating large pack portfolios for modern trade and e-commerce and lower unit price points for rural markets.
Q] Mondelez launched Bournvita Biscuits in 2016. What kind of growth has it seen?
In India, 40% of biscuit consumption is during breakfast time and we launched Bournvita Biscuits to tap into this segment. A lot of mothers give their kids a glass of milk and some biscuits before they leave for school, and we saw Bournvita fitting right into this space because it's a healthy, tasty option. In the two years since the product's launch, it has garnered more than 1% share in the Cookie segment which is phenomenal delivery, considering the highly fragmented market which it operates in, where even some legacy brands occupy just 1-2% market share. For a brand to be able to capture that share within just two years' time, gives us confidence that we are on the right growth trajectory. Moreover, the repeat consumption rate for the brand is very high too, which just goes to prove the kind of popularity it enjoys.
Q] There was a gap of five years between the launch of Oreo and Bournvita. Why did it take so long to come up with your second offering?
India is an important market for Mondelez and we are here for the long haul. When you enter a new category, it's better to take time to understand the customer and category dynamics, in order to set the foundation right. That's exactly what we have been doing. We have been able to build a strong presence for ourselves in the past five years and are looking forward to the next five years, confident of continued growth.
Q] Where does the Indian market rank in Mondelez's global scheme of things?
Today, India is one of the top 5 markets for Oreo as a brand, so it's a critical market. Moreover, India is one of the biggest biscuit markets in the world, in terms of volumes, so there is a huge opportunity for growth. Subsequently, there is a clear focus on leveraging and growing the Biscuits category.
Q] The Cream Biscuit segment in India is quite cluttered. What worked in Oreo's favour?
It is a combination of having a great product, coupled with comprehensive consumer insights. Oreo stands out in the market today because it has been able to create that kind of brand love and has a special place in the consumers' heart. Kids love it because it's tasty. And moms connect with the brand because of the promotional campaigns we have done over the years.
Q] What would your primary media mix be for both the brands?
We look at multimedia reach. Based on our marketing mix model, a combination of TV and Digital is where we are investing in the most. Digital is increasingly gaining more traction across consumer segments - including mothers, who are our primary target audience. To put it in context, we have doubled our Digital spends over the last year. Even though TV sees the highest investment, Digital is gaining more traction. Our mantra is test and learn!
Q] Do you do direct marketing to children?
As per our parent to child marketing policy, we don't do direct marketing to children, especially in the absence of parents. Our strategy is to build a stronger connect with mothers as we need the gatekeepers on our side.