Q]

Your most recent #KeralaisOpen campaign has struck all the right chords, and also went viral. What was the thought behind the campaign?
We actually decided to roll out the campaign around World Tourism Day last month. Since Samsonite is a part of the travel industry, we wanted to put the spotlight back on Kerala as a travel and tourism destination after the tragedy that struck the state. A lot of corporates and companies have been ideating about how we can get Kerala back on its feet by focusing on what is perhaps one of their biggest industries – tourism. We wanted to remind people that perhaps the best way to restore the state to its former glory is by supporting its tourism industry. What we saw was a really overwhelming response from people across the country, people in Kerala and even Indians abroad. We are delighted that the campaign went viral, that people took the message so well and that it was supported by politicians, celebrities and social media influencers. It also moved people and that's perhaps the best thing for us to see as a brand.
Q]

Earlier this year, you had announced that the brand would be focusing extensively on content marketing. How is that working out so far for Samsonite?
Sometime around the end of last year, we realized that consumers today are consuming a lot more content online, and if it is something that is relevant to them, it sees a great deal of traction. Also, our target consumer group is one that is niche and aspirational – therefore, content marketing plays a more impactful, relevant role than a mass medium like TV. So, that's why content marketing has become a much bigger part of our strategy and will continue to be an important part going forward, to get that little extra connect with the consumer and to convey that message that you can't when you are just making a 20 second ad film.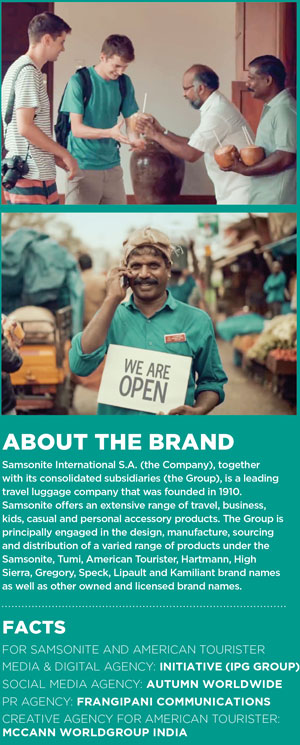 Q]

When you talk content marketing, who would you say is your target consumer?
We sort of have three buckets of target consumers that we reach out to today. The first bucket would be the frequent business traveler, a consumer for whom it makes sense to spend on a quality travel product. The second is the aspirational, brand conscious consumer who values that extra bit when it comes to style or fashion, someone who makes a trendy piece of travel gear an important part of their ensemble. The third bucket would include the younger consumer, who may not afford to buy a Samsonite piece today but would definitely aspire at some point to do so – these are the younger, millennial consumers. We are looking at targeting these three groups through our various efforts in the Digital space. So, for example, last December we did a campaign called 'Push The Limit' to showcase our indestructible product line, messaging that makes a difference to the business consumer who looks for that kind of durability. Then we did another piece of content around weddings where the messaging really was around how important luggage can be in a woman's trousseau. So through that kind of content we are looking at talking to consumers who will save up and buy something stylish and expensive because these things are important to them. And finally, with the Kerala campaign we are talking to the younger group of consumers who are drawn to brands that are socially conscious. For this lot, it's not just the product and its relevance but about whether a brand goes the extra mile and cares about the world.
Q]

For your flagship brand, American Tourister, do you adopt the same strategy?
Samsonite has a bit more gravitas, if I may say so. For American Tourister, we usually talk to a much younger consumer group so the content is usually more fun and has more mass appeal. So, that's where the Virat Kohli connect also comes in because we need to connect with the teenaged consumer. Likewise, for our global American Tourister campaign we had Cristiano Ronaldo on board.
Q]

What kind of market-share does American Tourister currently enjoy?
In terms of sales value, it's the largest single brand in the country because the other brands also sort of split into multiple brand sales. So, for us 70% of our revenues is driven by American Tourister.
Q]

How are you promoting your more recently launched Kamiliant brand?
There are three brands that we will be betting big on in 2019 – Samsonite, American Tourister and Kamiliant, which is talking to a more price conscious consumer. For Kamiliant, we are adopting a largely BTL strategy and there will be less splashy marketing spends. This brand will take the Indian market more head on, and will compete directly with brands like Skybags in terms of price points.
Q]

What percentage of your marketing budget is devoted to advertising?
Around 70% of my marketing budgets are devoted towards advertising. TV takes up a good chunk of that budget, followed by Digital. We also do a fair bit of BTL, Outdoor, Airport advertising, etc.
Q]

What is the volume of sales revenue growth that you've been seeing on e-commerce platforms?
Currently we work with all the big players in e-commerce such as Amazon, Myntra, Flipkart and Jabong so our focus for now is on improving content on these platforms. We realized that when a customer enters a store he gets a certain kind of an experience with the sales rep taking him through the purchase journey, so our endeavour is to replicate that online as well. For Samsonite, we are working to re-create that store kind of experience on Amazon and Flipkart this year. As far as sales revenues go, about 8-10% comes from e-commerce. I don't think the platform is growing as fast as a lot of people in the industry say it is, but it is definitely expected to be one of our biggest sales channels in the next couple of years.
Q]

Can you give us a sense of how big the luggage market is across India?
In India, the organized luggage market would be valued around Rs 3,500 to 4,000 crore. And the industry is seeing double digit growth, so it's been a fairly good time for everyone involved with the industry.
Q]

Is there something the brand is doing for the ongoing festive season?
We plan to launch something exciting for Samsonite between November and December. We have an upcoming product launch called Polygon, which we are very excited about. For American Tourister, our focus is on next year with the Cricket World Cup round the corner.