Q]

What is the overall brand philosophy of HP in India and how are you positioning it across categories?
The HP brand is positioned around the philosophy 'Keep Reinventing' in India, as we want our technology to inspire people to reinvent their lives, stories, success and productivity every day. Our numerous activities in branding, marketing, business and product innovation actually take this philosophy forward to create amazing experiences. Be it the new Spectre launch or the Omen X launch, it is all about how we are reinventing the game, luxury or performance. We also take forward the reinventing thought process in our CSR activities. So, this is one philosophy that binds us as a company, right from insight and product innovation to business and brand innovation.
Q]

We saw the brand philosophy of 'Reinvent my story' in the last HP TVC, how do you plan to take this brand proposition forward?
If you look at India, it's a huge market with different consumer segments right from urban to rural, and from first-time buyers to replacement buyers. For everyone it's a different story through which you can use technology and reinvent your life. 'Reinvent My Story' was a series of stories which we created around the newer trends which are emerging in the millennial segment - for example entrepreneurship. Going forward, we will have many such 'slice of life' stories in different segments.
Q]

More than 100 brands associated themselves with IPL 2018. Did you feel that your brand was getting lost in the crowd of so many other brands?
There are millions of brands in the country, but the one that actually gets noticed and has a lasting impression on the minds of consumers is the one that creates a relevant connect with them over a period of time. HP is one of the most powerful brands from the point of view of topof-the-mind consumer recall. This association with IPL has helped us to build a good emotional customer connect and very good sales excitement.
Q]

HP has been the leader in the PC category in India for quite some time. How do you plan to maintain this positiongoing forward?
That's the power of a strong sales team and customers who are the backbone of our market share and leadership position. The biggest factor of success is the innovation which we have driven in the last two years. Product launches right from Spectre and Omen to Pavilion have not just enabled us to retain market share, but grow quarter on quarter, as well.
Q]

HP recently shifted its focus to the gaming segment. However, it is second to Dell in this area. What is your approach for targeting consumers in this particular segment? How are you talking to them?
While Dell has been in the gaming segment for quite a while, in just one year's time we have taken the market by storm. We have not only gained market share but also grabbed a significant slice of the pie from our competitors. Being a millennial brand, we believe in talking to expert gamers or performers and creating affinity for the association of 'Omen by HP'. Moreover, we call it 'Omen by HP' because we want to create a brand culture, connect and aspiration in terms of dominating the game. There are lots of activities which we do to drive our brand's aspirational value among gamers. Going forward, there are aggressive plans which will further help us take the lead in this segment. We also have a strategic partnership with ESM (global platform for e-sports) which actually helps us plan our annual calendars, activities and gamer brand ambassadors there. Even globally we are very strong in this area, as we have lot of gaming brand ambassadors in multiple markets who help us bring very strong insights; not only with respect to gaming engagement, but also for product development and futuristic ideas and innovations.
Q]

HP has had products in the premium category for many year, but never targeted consumers in this category. What is your game plan to tap this consumer segment going forward?
We have three product categories catering to different consumer segments. Pavilion is for the entry category and Spectre, which we launched in 2016, is for the lifestyle category and most recently we launched Omen by HP catering to the gaming category. These are some of the strategic moves to drive the premium portfolio of our business. In 2016, we launched a mega campaign and even during IPL 2018 we had a campaign running for Spectre. We are already a leader in this segment. With the Omen launch we are the number two player in the premium category.
Q]

What is the key insight for the Indian consumer in the PC category? Do they look for after-sales service or pricing?
Consumers look for simple things. They do not look at just a product or its price tag; they look for value, as in how will a particular product add value to them. In this age of human experience and emotional connect, the purchase experience of a consumer is imperative. If you look at the way retail, premiumization or urbanization is emerging, it will work only if brands are able to connect back to the culture and the context in which those brands are used, thus providing a seamless brand experience right from the time they see the product in the store or online, to the time they make the purchase. Moreover, today consumers are willing to pay a premium for the service they get by the brand. They are also willing to pay a premium for the touch and feel, as well as the experience and engagement which they get and the affinity which the brand drives. In this technology industry, what matters is the way we can humanize, personalize and customize the brand and provide an experience that will make a consumer's life better.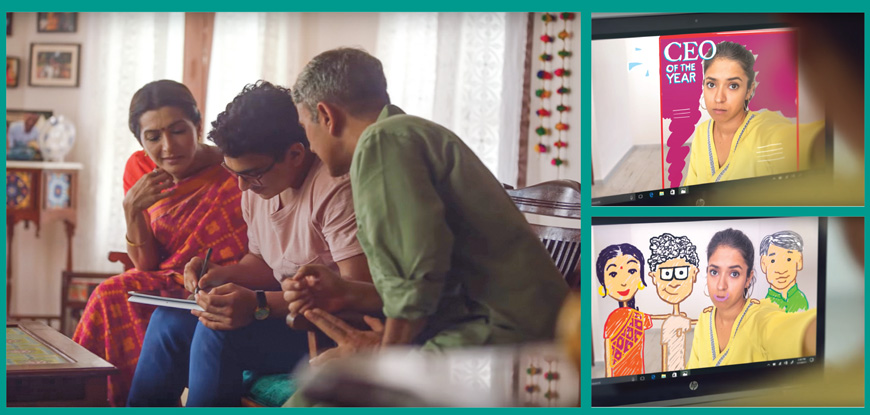 Q]

Are consumers in rural areas also as discerning; do they also ask for a particular brand over the other? What is your approach for rural areas?
Yes, our brand sells really well in rural areas. I have personally seen the kind of crowd that our 'HP world on wheels' pulls in the rural market. Those 48 vehicles that we run across the country touch almost 6,000 Indian villages. And people definitely come back asking how they can go about purchasing a particular product. Even if this technology is expensive and premium, if we are able to show consumers the usage of the product and how it is likely to add value to their life, it creates a lasting impression for them. The key is reaching out them in their own language and in their own ways of communication, which can be easier for them to understand.
Q]

Is it a challenge for you to target both, the premium segment and the mass market, at the same time?
The key is to have the right consumer insight, because if you go with a one-size-fits-all communication strategy, it may not work. What HP does really well globally is tracking relevant consumer insights, creating product innovations, driving brand communication around them and then touching and impacting the lives of consumers to bring in strong brand affinity.
Q]

What's the next big insights in the context of the Indian market?
Personalization and customization is one major insight wherein we see the potential of digital and social media. The second big insight which we are also looking at is global branding with a local soul. This is because people don't just buy brands, they buy emotions. They don't just look at price points, but emotional connect with the brand. This is where humanization of the brand comes in. The third big insight which we are already exploring is passion marketing. It is about how we can really create a powerful brand which consumers are passionate about by showcasing product performance and the way in which they can improve the life of consumers.