Q]

V-Guard is a legacy brand in South India. What was the need for a brand transformation?
When we set out on this exercise for brand transformation, we were growing and nurtured ambitions to become a Rs 5,000-10,000 crore company. We were fundamentally a company based in South India, and wanted to become a pan-India brand. We straddled low involvement product categories, and were looking to build our portfolio in more consumercentric, consumer-facing product categories. Therefore, it was very important that we connect with consumers as also their evolving and changing aspirations. We realized that as a brand, we have been in the business for 40 years, and our identity did not reflect that change. So, bringing in a new look and feel to V-Guard was important for us. Also, we took a conscious call that this shouldn't be a cosmetic change, but change built on a vision and a philosophy for the brand going into the future.
Q]

Post the rebranding, what kind of change did you notice in the way consumers receive the brand and also in the sales figures?
The reaction was very positive, the customers felt that the new identity actually identified V-Guard as a futuristic and progressive brand. It made it look really sleek, adding a lot of premium values to the brand which is now seen as more agile. We went one step forward and changed the entire packaging line-up as also communication at the retail front. And it was received very positively, especially by our channel partners, who play a very influential role in our line of business because many of them are instrumental in pushing products also.
Q]

Do you follow a 'digital first' policy, or will TV still be the primary medium of spends?
We completely understand that digital is growing at more than 30%. And we are certainly not going to be bound by a particular medium despite the fact that TV is still contributing a lot as far as cost-efficiency and reach is concerned for V-Guard. We will be choosy but we will continue to invest in Digital and increase marketing budget for Digital soon.
Q]

You have been releasing campaigns at regular intervals; one of the recent ones being for V-Guard wires. What is the marketing mix you have?
We have 360-degree marketing campaigns. From PR to Television, Print, Digital and OOH. We have tried to tie this all together with one creative thread using kids who we believe do thoughtful things. In the wires commercial, the kids have grown up and are seen reminiscing their past where our wires had a big role to play. They come back to see their nest, which they had created using V-Guard wires and realize that even after 30 years, the nest is intact. So, the entire premise was built on a proposition of long-lasting wires. They managed to carry the creative thought to the consumers that we actually seek to reach out to.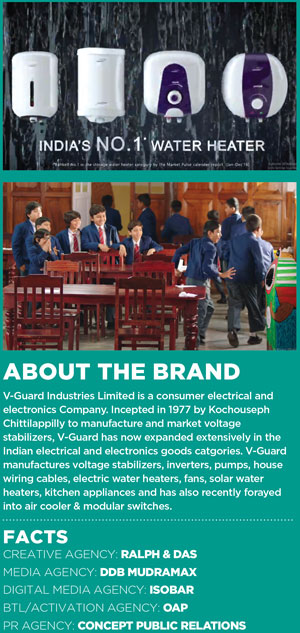 Q]

Generally, when a brand wants to go mass and spread its wings quickly, they use a brand ambassador with national appeal. Why don't you have one?
We have debated the brand ambassador issue, and we internally believe that it is still some distance away. Once we reach a certain stature, we could amplify that further by having a relevant brand ambassador who connects strongly with the V-Guard values. If we have one at this point of time, it may probably come across as a little lazy. We have so much work left to do, plus there are a lot of factors that you need to keep in mind when you associate with an ambassador, like he needs to transcend geography. Also, the A-listers would come with a significant amount of investment. Plus, all the A-listers straddle multiple brands and it's very difficult for someone to get them to closely identify with your brand unless you have a rock solid theme integrated into the campaign. But having said all that, we are evaluating it.
Q]

How much are you spending on marketing overall?
Every year, we spend around Rs 100 crore on advertising and marketing.
Q]

Which are the product categories that you are betting on in the future?
It would be our kitchen appliances portfolio. We recently launched coolers and are expanding our portfolio even in the electrical space. So, we will continue to invest in consumer-facing categories, as also focus on our core product. We will also make efforts to grow the water heaters category, which is close to No.1 in the market now.
Q]

What are the unique products from the V-Guard stable?
The smart water-heater named Verano is a first-of-its-kind product. From anywhere in the world, the water-heater can be switched off or on. It is also equipped with an intelligent scheduler where the 'temperature alert' sends a notification to your connected smartphone on reaching the set temperature. Staying true to its smart water-heater tag, it sends energy consumption notifications to the customer, apart from alerting the customer if the water-heater is running dry and cuts off power supply immediately. Apart from that, we have smart inverters. Using smart technology to drive a connected world, all it needs you to do is download the V-Guard Smart Inverter app and get going. It allows consumers to turn it on/off, know the inverter battery usage and back-up, control the performance levels on basis of the appliances you want to use, run highintensity appliances like iron, coffee-maker, grinder, toaster, rotimaker, hair-dryer and more on lower capacity inverter models for short spurts of time during emergencies, apart from enabling a super-charge mode to ensure longer back-up during emergency situations. We also launched a smart fan called Imagina, which comes with LED lights in a million combinations that can suit your taste and mood; it is also equipped with a unique 'breeze' mode that will transform your living room to a seashore-like experience.
Q]

As a brand that originated and functioned in Kerala for the longest time, what kind of challenges are you facing in getting the rest of the country to relate to you?
We were a Kerala-centric brand many years ago. Much of that has changed. We are present in all States today. One of the things that we also did when I came into the system was build stature for the brand. In the initial phases, we used large impact properties like IPL, for example, and derived benefits out of that association. We also used news, revamped our communication largely, so that we come across more as an aspirational national brand and not a regional company. So, there has been a lot of effort which has gone in across various parameters which have actually changed the perception in a large way. Today, even in non-South markets, people know V-Guard. Yet, I'd say we have a long way to go.