Q]

Products like Fevicol and Fevikwik have almost become synonymous with the categories. How have you managed to stay relevant, both in terms of your communications as well as your product offerings?
Brands like Fevicol, Fevikwik and Dr Fixit have remained relevant for consumers, contractors, and influencers over the years because like any good brand, these brands have kept in touch with the changing market trends and consumer behaviour.
Over the years, we have built strong consumer insights, which help us in developing new ideas. For example, we've launched products like Fevicol Marine, SpeedX or HeatX, based on different consumer needs. Along with functional needs, we also try to understand emotional needs of our consumers and contractors. For us, along with the consumers, contractors the influencers like architects, interior designers and structural engineers are very critical. We have put together a lot of initiatives for the different stakeholders to continuously connect with them while also educating them about the changes in the markets and our products. And all this is backed by our marketing which is based on active listening along with a strong R&D. We also have solid partners like Ogilvy and Madison. Piyush Pandey works on our brands and creates memorable ads for us, even today. All these factors together have helped us reach where we are today.
Q]

Humour has played an important role in almost all your communication over the years, and it continues to do so…
Pidilite is a company that has been pioneering new categories since the 60s. We pioneered products like Fevicol, Fevikwik, Fevistick that have become categories in themselves. When trying to inculcate usage of a new category among consumers, or trying to change the consumer's attitude, telling the message seriously doesn't always help. Saying the same thing in a light-hearted, humorous fashion at times has the desired impact. Besides achieving brand objectives, humour also entertains people and then, the brands become popular and enter people's lingo, get used in memes and jokes, thus becoming a part of the culture and language.
Q]

For a brand like yours, that has been in existence for a while now, what is your primary aim while communicating to consumers?
Our primary aim is to tell consumers about the new uses of our products, or to educate them about emerging categories like water-proofing. We hardly ever come up with campaigns to increase brand awareness because our brand awareness is over 90%. Our task is to grow these categories because in India, most of the categories are still in either single digit or lower double digits penetration rates. Our purpose is to change consumer behaviour and attitudes and to expand these categories.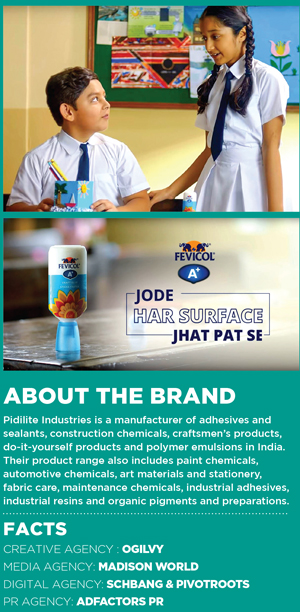 Q]

What is the traction that Pidilite gets from its presence in international markets?
We have enhanced our international presence through various ventures around the globe. Currently, we are present in 71 countries and have over nine manufacturing facilities. Over 10% of our turnover comes from outside India. The Middle East and South Asia are important markets for us. We have three fully-equipped in-house R&D centres in India and five state-of-the-art technical research and innovation centres in Singapore, Thailand, Brazil, Dubai and USA.
Q]

How do you promote your brands in these markets?
While marketing in the global markets, we have to take cognizance of the local culture and market structures. However, the core DNA of the Pidilite way of marketing remains the same. In all these global markets, we make an effort to work actively with the carpenters, plumbers, contractors and engineers. We adapt ourselves to the local work practices because every country is different – they use different kinds of wood, build different kinds of houses. We keep these in mind and structure our marketing approach accordingly. For example, there are some parts of Africa where colourful houses are very popular, much like a lot of smaller towns in India. So, our brand Unitint sells well there. The insight is the same as in India, but the way we communicate may be different, using different cultural symbols. The key is to visit the contractors and sites, observing what they need, and formulating the products with the purpose of making their lives easier and job faster.
Q]

You have also launched FevicolDesignIdeas.com which acts as a mediator between contractors and consumers. How has been the uptake on that?
The genesis of this platform lies in the fact that when consumers are making new furniture or renovating old ones, they are on the lookout for new designs. Earlier, they used to go to showrooms or search magazines, but now the search and research for designs happens online. While we are not in the business of designing furniture, the end consumer who is using Fevicol might want furniture designs to make life easier. The aim of FevicolDesignIdeas.com is to facilitate this. The platform hosts designs from various interior designers, architects and contractors on the site and takes them to consumers who can then choose. We have a huge network of expert contractors. So we connect Fevicoltrained contractors to consumers because they trust our brand. The platform helps consumers look at and select both furniture designs and contractors. It makes the consumer experience better and also helps us get consumer insights. For us at Fevicol, it's not just about selling that box of adhesive, but to make sure that the consumer's life around furniture-making is made easier.
Q]

So are you aiming at becoming a solutions provider for your consumers?
Today, all stakeholders, be it our consumers or contractors, don't just want to buy a product from us, they want a complete solution. For example, a consumer is not only buying the waterproofing product, but also looking for advice for implementation. So, we have a Dr Fixit Advisory Center which has a helpline and network of trained applicators to implement. We are increasingly using digital as a platform to reach out to our consumers and contractors. We have various apps for our contractors in waterproofing where they can access information about our products, how and where to use and buy, whom to contact for advice, etc. For large user businesses, we have in-house experts and technical services. So, our aim is to provide solutions not only for our consumers but also for our contractors and large professional customers.
Q]

You have had a long-standing relationship with Ogilvy and Piyush Pandey has been instrumental in conceptualizing a lot of your campaigns. How much of your consistency in delivering great campaigns is attributable to them?
The philosophy of Fevicol permeates throughout Pidilite. Our relationship with agency partners is also like Fevicol's relationship with consumers - it's an unbreakable bond. Ogilvy conceptualized Fevicol's first ad and they are still working on all our campaigns. Ogilvy is a reliable partner to us. They are brand custodians for us. They participate in our marketing strategies. Piyush and his complete team are important to us and we repose an incredible amount of trust in them. We give them the space to create new ideas, we let them experiment. They also feel very responsible towards the brand and make sure that our communication not only serves the brand objective, but is also true to the brand, its values and its personality. You will see the consistency in our ads - even if you look at the ones from the 80s and 90s - and Ogilvy has played a very irreplaceable role in that.