Lubricants company Castrol recently launched a campaign for its oil brand, Castrol Power1 Ultimate featuring brand ambassador Tiger Shroff. Conceptualised by Schbang, the campaign highlights the product's formula that offers superior engine health for two-wheelers. Jaya Jamrani, Vice President – Marketing, Castrol India shares insights about the new communication, the brand's association with Shroff and its efforts in harnessing technology to cater to customers
Q] Why did you choose Tiger Shroff as the face of your brand and how do you plan to leverage this association in the future?
First of all, we are very excited. Tiger really epitomises the idea of ultimate performance, whether it's his health or the way he comes across as an actor – everything that we thought is about ultimate performance and Tiger kind of epitomised it. The other thing is the relevance to the brand as it's a youth brand, and Tiger Shroff as a celebrity has a very high reach and relevance amongst the target audience and is very much in alignment with brand's imagery. So we are extremely excited to work with him, and this is just the beginning. We plan to create more exciting content and campaigns with him.
Q] Tell us about Castrol's new campaign with Shroff too. What was the insight behind it?
The campaign brings two ultimate performances together – one is Castrol Power1 Ultimate engine oil. And then of course, the other side of the performance that surprises is Tiger Shroff himself. With this new campaign, we've brought to life a face-off between Tiger Shroff and Castrol Power1 Ultimate where the ultimate performance of Castrol Power1 Ultimate surprises Tiger's ultimate performance as well as the fluidity that Tiger personifies. What's also really interesting is the way the campaign is all about man and machine coming together. And the initial response has been very good.
Q] What was your pitch to the creative agency?
It was very simple. We said we have two ultimate performers. One is the ultimate performance of Castrol Power1 Ultimate and the other is the ultimate performance that Tiger Shroff brings with him. So the brief to the creative agency was to bring the ultimate performers together, the Castrol Power1 Ultimate engine oil and Tiger Shroff himself and create something which really surprises our audience, by creating that man and machine energy.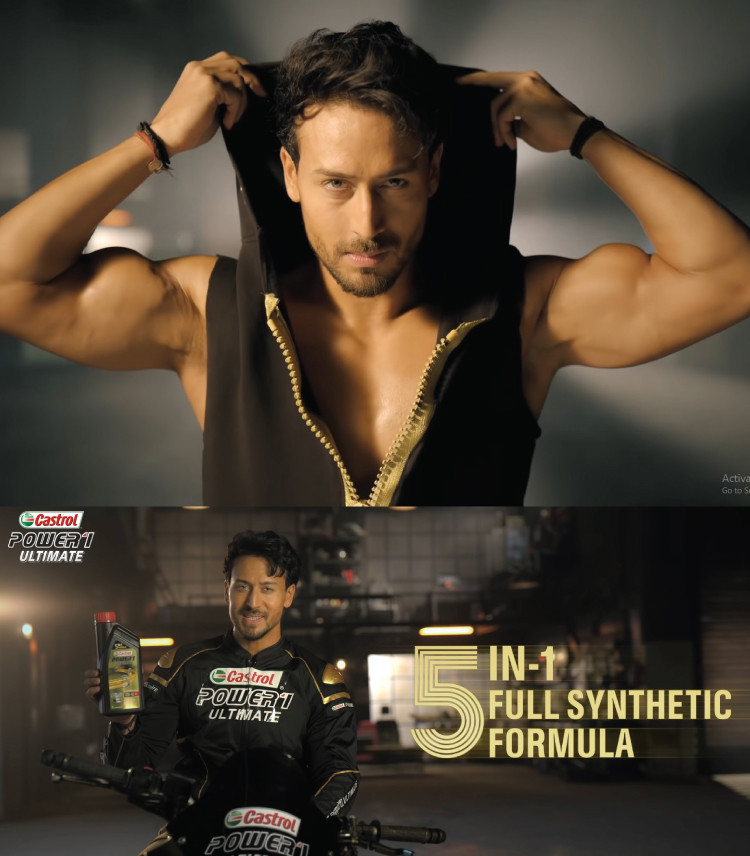 ABOUT THE BRAND
Castrol India Limited is a lubricants company with brands such as Castrol CRB, Castrol GTX, Castrol Activ, Castrol MAGNATEC and Castrol VECTON. Castrol India has a manufacturing and distribution network in the country with three blending plants and a distribution network of 350 distributors who reach consumers through over 100,000 retail outlets. In addition, Castrol sub-distributors reach additional outlets in rural markets while the company also directly services over 3,000 key institutional accounts.
FACTS
Media Agency: Mindshare
Creative Agency: Schbang
Social media agency: Schbang
Digital Agency: Mindshare
PR Agency: Current Global
PROFILE
As the Vice President, Marketing at Castrol, Jaya Jamrani is responsible for leading the marketing strategy for India across business segments, including forging strategic partnerships for growth. She has spent over a decade across various verticals in Castrol both in India and globally, after a previous stint with Unilever.
MARKETING TIP
Value creation is very important not just for the organisation, but also for the consumers



Q] How are you harnessing technology in today's times to cater to your customers? What recent innovations has the company introduced?
The digital transformation agenda has actually accelerated during the pandemic, because across segments people have just adopted the internet so fast. And that has obviously helped us to ensure that we continue to provide value to our customers and stakeholders. We have quite a lot of digital platforms depending on the audiences that we connect with. Fast Scan is a platform with which we connect with more than 100,000 mechanics now and we transact directly with them and that allows us to have a great relationship and advocacy with them. We also have a platform called Fast Lane where our customers can directly order products and not depend on the availability in their markets. We have a strong presence on digital platforms from a brand perspective. We also have a strong biking community online and we tie up with key influencers and bikers, because that's a segment which is very active online and does a lot of engagement. We have Castrol's Super Mechanic, which this year is a phygital kind of a setup where we will do certain meets physically, but a large part of the engagement will be done online. And again, we're looking at engaging with more than 100,000 mechanics there. We've made progress on e-commerce and the way we are available online with our brands. We also have some new age products that we have launched, including car care products. And finally, very fresh and relevant to the campaign, we will be using rephrase AI.
Q] What is your target market share in the automotive lubricants category and which are your strongest growth markets as of today?
Castrol is the market leader in the automotive aftermarket and as a growth organisation, as well as a growth market within Castrol worldwide. Our intent is to continue to grow the share year on year and we continue to be the dominant player across all the three segments – cars, bikes and trucks. And our intent is to create value for our consumers. Hence, we continue to gain share with them. This particular brand called Castrol Power1 Ultimate, operates in a consumer segment that seeks high performance engine oils. And that's the fastest growing market for us.