Q]

Mitashi is an Indian company with a Japanese name. How did that come about?
The directors of the company, Hasmukh Gada and Rakesh Dugar (currently the Chairman and Managing Director) started a video game distribution house in 1991, called Maze Marketing. In 1994, they took the distribution for Sega Japan nationally. Given their close association with the Japanese and the impact of the Japanese work culture with its focus on ethics and quality on the duo, when they were starting their own company, they decided to choose a name which had the Japanese influence in it, and that's how they hit on the name 'Mitashi'.
Q]

What is brand Mitashi's USP?
Today, we have carved out a niche for ourselves as a premium value brand, priced slightly above the midrange segment. We offer competitive prices, but we are never the cheapest, and are grateful for our partners' and consumers' support on this front. I would say our quality, backed by great service and a strong channel partner equation, have really helped us stand out from the competition in the market. A lot of good companies have entered and exited, but we are still here and ever growing, present in most of the major consumer durables categories today.
Q]

What are some of your best-selling products? Are there any unique products in the pipeline?
LED TVs are the biggest revenue driver for the company, contributing to about 50% of overall revenues from the electronics segment, followed by air conditioners, washing machines, refrigerators, home theatres, and so on.
The next step is to fill the gaps and expand our range in all these categories, as per market demand. Rather than introducing new categories, we will focus on technology and innovation in terms of aesthetics, usability, and making the products more appealing to consumers.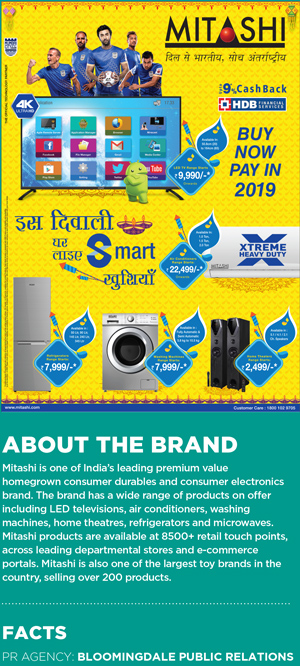 Q]

How big a role does advertising play for Mitashi and what is your marketing mix?
You will notice Mitashi ads primarily in areas like Thane, Kalyan, and Dombivali, which is where our business is booming. For us, Print has the largest contribution (4045%) to the marketing mix, followed by TV (1517%), BTL (20%) and the rest comprises OOH and POP advertising. As of now, Digital plays a very small role in our overall mix. This year, our marketing budget is about Rs 20 crores. Typically, advertising makes up about 5-7% of our overall budget, as we also spend heavily on partner discounts, foreign trips, freebies and more.
Q]

Have you released any campaigns and products for the festive season?
Apart from the ISL campaign, we have a festive campaign, featuring Ranbir Kapoor, which was released on October 3 on Print, Outdoor and BTL in around 250-300 stores, across 12-13 states. Especially for the festive season, we launched over 12 new TV models and will also be promoting our recently launched bottom mounted refrigerators and tower speakers.
Q]

You said Digital is not really big right now. However, do you forsee a change in your Digital strategy going forward?
Digital is great for top of the mind recall, brand awareness and brand building, but does not really result in direct sales, according to Mitashi. So what we have tended to do is focus on marketing through e-commerce platforms, wherein we would look at ROI-driven marketing instead of pure top of the mind recall. So, Mitashi as such is not directly involved in digital marketing, but through our partners we have done a lot of Digital campaigns in the last six months, focused on getting our products out there, increasing our ratings, and driving overall brand awareness.
Q]

How do you deal with competition?
We believe in offering local discounts and not pan-India offers, unlike our peers, because we believe there is no one solution which fits all. Each market is at a different stage of development. Maharashtra, Gujarat and Rajasthan are our primary markets, where we have made better in-roads as compared to certain Southern or Eastern markets. So, we have micro solutions in terms of consumer or dealer schemes in various markets, as well as a lot of local, micro-level promotions. Apart from that, our products are available on all major e-commerce platforms, with specific items which are not sold through our other distribution mediums. The idea is to restrict price comparison, competition and cannibalizing between the brand sales internally.
Q]

Do you have a specific strategy for price-sensitive Tier II and III towns?
While price is an important factor for consideration in purchase decision-making in smaller towns, their purchasing power is growing, and they do not flinch from buying a higherpriced product. While in the metros, people would normally do extensive research about a product, compare it with 10 others and then make a final decision, in Tier II and III towns, consumers put a lot of trust in their local dealer and buy directly from the showroom, based on the dealer's recommendation. Thus, it is essential for us to have a strong, trustworthy, longterm relationship with these dealers and offer effective service support, so that they recommend our brand to consumers. Most of our 8,873-odd channel partners have been working with us for over 5-7 years, which is impressive in such dynamic trade. Today, about 60% of our sales come from these markets.
Q]

What is your current revenue and what is your growth strategy going forward?
We have crossed Rs 500 crore in revenue and are looking to double this within the next two years. Our growth will primarily come from India, with about 60%-65% of our business from trade, about 17% from LFR, and another 17% from online.
Q]

Mitashi has a long-standing partnership with Rajasthan Royals. What does this deal entail?
The deal with Rajasthan Royals was one of the first I cracked in 2011 and the partnership is still going strong. We are the official team technology partner and jersey partner and there are a lot of promotional events which helps boost our customer engagement, as well. Apart from that, during the tournament, we send our dealers passes to watch the matches, which is a great way to get them to support the brand and the team.
Q]

How did the IPL partnership with Dainik Bhaskar help promote Mitashi?
We featured ads on 49 days of the IPL across Dainik Bhaskar on the bottom strip of the sports page. And it worked wonderfully for us. What we realized is that to increase brand awareness, acceptance or build a relation with the customer, you need to be present in front of their eyes. So, this is how we went about it and it really worked in our favour. Thanks to the IPL partnership and other branding and promotions, customer awareness is much higher compared to what it was earlier. We will also be following a similar model for the ISL, because we feel football is the next big sport in India after cricket, and it has massive potential. There will also be dealer incentive programs. This a very mutually beneficial association where the teams get mileage out of it and we also get to use the branding.