Q]

You have recently appointed Aamir Khan as brand ambassador for PhonePe. What was the rationale behind that appointment?
Aamir Khan is among the country's biggest superstars today. He has been doing path-breaking work in his industry and is also vocal in his personal capacity when it comes to creating awareness about important social issues. All of the values he stands for are in complete sync with PhonePe's ethos of trust, security and reliability. Therefore, we believed that he would be the perfect brand ambassador for our company to enable us to introduce digital payments to a billion Indians.
Q]

The brand is also the official co-presenting sponsor for the IPL TV broadcast. What are your objectives with this particular association, and how do you plan to gain greater awareness and growth over competition like Paytm?
Cricket is easily the most popular sport in India and the IPL is the country's biggest sporting event of the year. Even in its eleventh edition, it continues to hold mass appeal across the length and breadth of the country. It is one of those few events that is watched by the entire family together, making it the most captive and engaged audience that maps perfectly with the kind of consumers we are looking to connect with. With this association, we are very well placed to create awareness about the benefits of PhonePe and UPI (United Payments Interface). We don't bother much about what our competition is doing. Instead, we constantly work on building innovations in the payments space. Unlike a lot of payment players whose business is primarily focused on the wallet, PhonePe is a payments container that allows consumers to transact conveniently and seamlessly using whichever medium they are comfortable with including UPI, Credit Cards, Debit Cards, PhonePe wallet as well as external wallets like Jio, Airtel Money and Freecharge. We have over 50 million monthly active users who transact on the PhonePe platform to send and receive money, pay utility bills, recharge their mobile and DTH connection as well as invest in gold and tax saver funds. PhonePe also launched its own unique Apps platform in 2018, and today we have over 30 apps live on our platform where customers can place orders on Ola, Myntra, IRCTC, Goibibo, redBus, Oyo, and Treebo directly from within the PhonePe app.
Q]

Given the new brand ambassador announcement and IPL association, what kind of growth are you hoping to see this year?
I believe we are very well placed to create awareness about the benefits of digital payments as well as the PhonePe app. We want to introduce digital payments to a billion Indians and with IPL we have the perfect platform to do that. With this association and the engagement we are creating around it, our vision is to take brand PhonePe to every single household across the country. We will be running an aggressive surround campaign which will include Digital, Print, Social Media and Outdoor among other channels to build on and leverage the TV communication.
Q]

What percentage of your marketing budget has been allocated towards advertising this year, and how much of that will specifically be devoted towards the IPL ad spends?
We won't be able to comment specifically on the IPL deal commercials. We have earmarked around Rs 500 crore for marketing and brand building, and this will be utilized during the course of the year.
Q]

What is your marketing mix like? Will you be looking only at the ATL route for now?
Our marketing mix is currently more skewed towards ATL. So we are looking largely at television advertising as we believe that allows us to garner better visibility and reach among the masses. Beginning this year we started our branding initiatives by associating with cricket, which continues to be one of the most widely watched sports across the country. Later through the course of the year, we will also look at investing in BTL initiatives.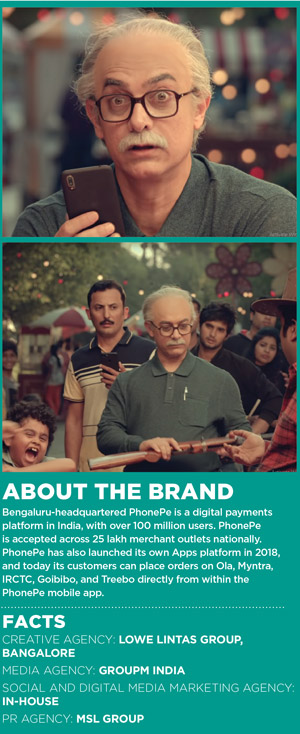 Q]

Take us through your recently announced partnership with Walmart India. How do you expect the partnership to impact the company's growth and market share?
We have been working closely with the Walmart India team to deepen our ties, and as part of that endeavour, we have recently launched PhonePe's payment solutions in Walmart India's 23 Best Price Stores and on bestprice.in, the B2B e-commerce platform. PhonePe has been aggressively expanding its merchant network among small businesses to enable them to accept digital payments. This partnership is another step towards enabling the faster adoption of digital payments in the offline retail space.
Q]

Are you looking at any more partnerships like these? Anything else in the pipeline that you can tell us about?
This year, we will be very aggressive in our marketing and branding initiatives that we will announce later. For now, our objective is to build a strong consumer connect.
Q]

Aside from Paytm, which other companies would you consider competition for PhonePe?
We don't really consider any one particular company as a direct competition. The Indian digital payments market is still at a very nascent stage. We believe there is a significant scope for growth and success for different companies.
Q]

Given that the digital payments is still at a nascent stage, what would you say are the challenges for PhonePe in the market? And what avenues for growth will you explore for the company?
The digital payments industry has taken off in the last few years, though as of now we have barely scratched the surface. There is tremendous scope for growth and expansion and we will continue to innovate with the PhonePe app. Our challenge is to reach out to Indian consumers who have the means to transact but either don't know or don't understand digital payments. With our newly launched campaign, we hope to reach them and get them to understand and adopt UPI and digital payments better.
Q]

How will you drive growth for the brand in the rural markets? Will you take a different approach for consumers in rural regions?
We don't have a differentiated marketing approach or strategy for rural and urban markets. Our current focus is to build awareness around digital payments for both markets. We want more Indians to experience the convenience of UPI and adopt digital payments in a big way.