Q] What was the idea behind the new Fonzo campaign? What makes Fonzo different from other mango-based drinks in the market today?
Fonzo is a unique product as there are no fizzy mango drinks in the market currently. We have created a completely new category with Fonzo. The core idea behind the campaign was to establish the taste and the identity of the product, as this is not just another mango juice brand.
Q] How challenging will it be to make space for the product in the cluttered mango drinks space?
The biggest challenge was to establish the product. Both the fruit and mango drinks are quite heavy - you can't eat more than one mango or drink more than one glass of mango juice at a time. We wanted to add a fun element to the product and fizz makes the product lighter and refreshing. The campaign is the first step towards establishing this new category. We will back this up with our distribution strategy.
Q] Are there plans of bringing out more flavors soon?
We might launch a lemon variant soon. Moreover, we also have a portfolio of other products like Fonzo Pina Colada, Limonata and Spyci. These are all fizzy drinks, but we will improvise to turn them into a combination of actual fruit juice and fizz, in order to make them healthier and re-launch them in this new avatar soon.
Q] Is this an attempt to lure healthconscious consumers?
We firmly believe that Indian consumers across age groups are looking for variety because they are tired of drinking the usual lemon, orange and cola drinks available in the market today. And yes, people are becoming more health-conscious, which is why we are working towards coming up with products to cater to that consumer segment.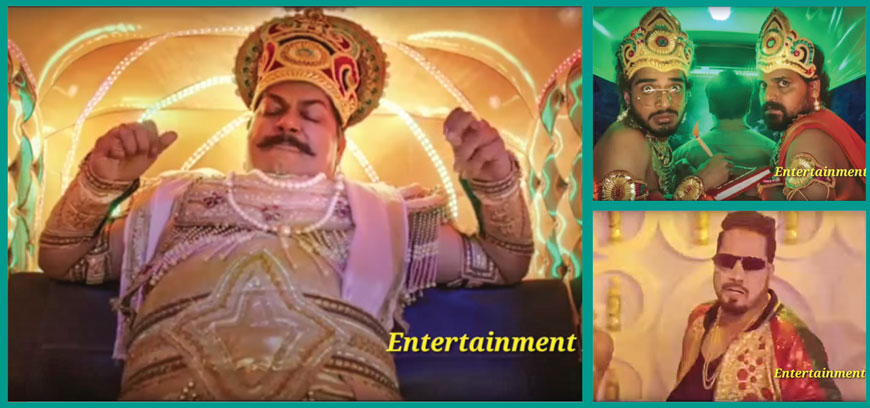 Q] What is the media mix of the current campaign and how much have you invested in it?
We are doing a 360-degree campaign currently, because we need to establish the product and its taste. We are currently spending between Rs 50-60 crore on it, with TV taking up the highest share, followed by Outdoor for which we launched a pan-Indian campaign and Digital, as well.
Q] Bisleri recently went big on its vernacular campaign which helped increase visibility for the brand. Was that the only motive?
In the context of Bisleri, one challenge which we constantly face is how to communicate with our consumers. While we are fortunate to have a large consumer base and top-of-the-mind brand recall, communication is a challenge because water is water after all. Every time we feel an urge to communicate with our consumers, we try to find something unique. That's how we came up with the campaign, 'One Nation One Water'. Although we are one nation, we have so many different languages. Our mother-tongue is very special to all of us. So we came up with a campaign where we printed different labels for each state. It was a big challenge because we have 125 plants and five SKUs; so to print the labels sticking to a strict deadline across the country was a task. However, the whole team got together and made it happen and even our vendors were very co-operative. The campaign received immense appreciation from customers across the country.
Q] There are a lot of products in the market that look very similar to Bisleri. How are you tackling this issue?
This is a real challenge, but we also know that the consumer is not a fool. The Indian mineral water market is huge with the presence of around 3000 brands. One possible reason for the duplication could be the fact that we haven't been able to reach out to consumers everywhere with our existing distribution strategy.
Q] You had re-entered the soft drink market with the launch of Bisleri Pop in 2016. Has the product been able to capture the fancy of consumers?
We launched Bisleri Pop with four flavors in 2016, but soon realized that the consumer is on the lookout for healthier options. That was when we thought of transforming these products into healthier options by adding real juice to the formulations.
Q] You did not do much to promote Fonzo…
We were just entering the category with Bisleri Pop and didn't launch a huge campaign to promote it. Frankly, at that time, we didn't have many advantages to talk about, except for the uniqueness of the flavors. So we thought of going the distribution way, by simply placing the products on the shelf. However, since we are now modifying our formulations, we have new things to talk about, which is the reason for the new campaign.
Q] How wide is your distribution network for Bisleri currently?
We have been working on strengthening our distribution for quite a while now. We are a heavy product and delivering such products to newer markets requires setting up more manufacturing units in these remote areas. Transporting low value products in high volumes increases the logistics cost. That's our biggest challenge. Today, we have 125 plants across the country and we are available at around 5 lakh outlets across India. We have about 5000 vehicles of our own. We do direct sales and are connected to around 10,000 distributors.
Q] Bisleri is working towards doubling its revenue to Rs 3000 crore by FY20. What steps are you taking to achieve that?
Currently, the first step we have taken towards doubling our numbers is getting the entire company re-organized into verticals and building the strength of the brand. Our strategy is to keep setting up new plants and servicing our markets. In the past, we were setting up 10 plants every year. Now, our vision is to set up 20-25 plants every year. We have built a team to facilitate this.
Q] What are the biggest challenges that the mineral water category is facing currently?
For Bisleri, the challenge is how fast can we double our infrastructure investment and increase our number of manufacturing units. Sales is not a challenge. The industry is growing at around 22% year-on-year, pointing to the fact that more consumers want bottled water. However, we need to increase our growth from 22%-50%. Logistics is yet another challenge. Every vehicle requires a driver and two loaders. Hiring people for this role is a hurdle, as it involves a lot of manual work. While all our plants are fully automated today, human intervention is required for material handling, which is an area where we are still struggling. Developed countries have moved to mechanized ways of loading and unloading their products, but we have still not reached there yet. We are looking at increasing automation and have also invited solutions from developed countries to deal with this issue. To begin with, we are in the process of installing a vertical conveyor belt by a Swiss company in our new plant; the first company in the country to have such a machine.
Q] What is your broad marketing strategy for the next few years?
The strategy is to keep our consumers aligned to our brand. We want to move from the mind to the heart of our consumers, with Bisleri being the mineral water of choice for our customers.