Q]

You just launched a campaign for your new range of zero fat dressings. Tell us about the insights for the campaign and the marketing mix for the same.
Our research led us to realize that there was a growing demand for affordable, non-fattening salad dressings and sauces in the Indian market. That was the basic inspiration behind launching the new range of 'Zer0Fat Dressings'. We launched a 360 degree campaign to promote the range, including a TV spot featuring Sonali Bendre and Amyra Dastur, a Print campaign and we also engaged with three renowned chefs to promote the range, asking them to create recipes using the products.
Q]

What percentage of your annual revenue goes into advertising?
It ranges between 25% and 30%. We spend about half of our annual advertising spends on our Dressings range.
Q]

What are your key target markets in India?
Our strongest markets are the metro cities of Delhi, Mumbai, Chennai, Bangalore and Kolkata. Currently, we are present in almost 500 cities. Tier II and Tier III cities are also focus markets for us.
Q]

What is your market-share in the Sauces and Spreads category in India?
We occupy a 70% share in the mayonnaise category, 50% share in the pasta and pizza Italian sauces segment, 40% share in the peanut butter category and 32% in the sandwich spreads segment. Our new range of zero fat dressings has 10 products which we aim to take to the metros initially. We see this new range contributing at least 10% to our revenues by next year.
Q]

As a German food brand, what kind of challenges did you face when you entered India initially?
Given that India is such a diverse market with varied tastes and preferences, we tried to adapt our products to this market by developing indigenous recipes and home-grown innovations, like the Tandoori Mayonnaise and eggless mayonnaise, tailor-made for Indians. Similarly for our 'Smokey Pineapple' dressing, we adapted the spice level to match the Indian flavour profile. In terms of packaging, too, we introduced PET packaging for our products in India, given that glass jars have a high probability of breakage during transportation over long distances. And while all our products available in India were developed specifically for this market, we have started exporting some of these products from India to other markets like Malaysia and Nepal.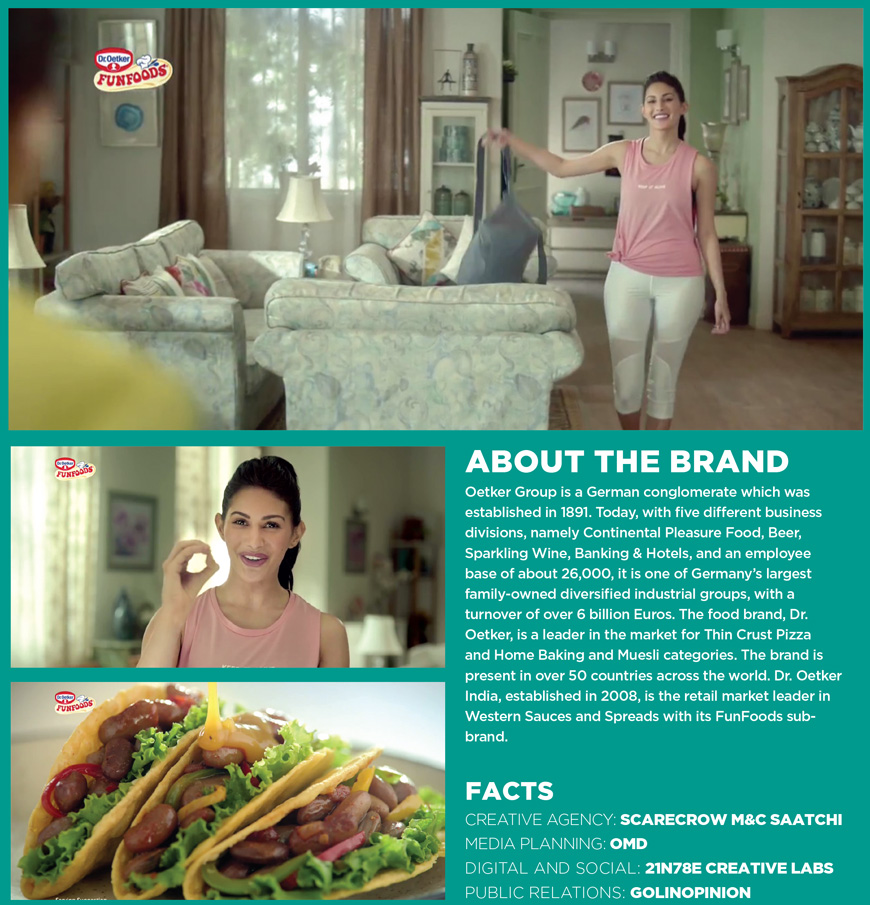 Q]

What kind of growth has the brand seen in India?
We are growing at about 30% year-on-year in India, with the exception of last year, where our growth was slightly lower due to the effects of GST. Last year, we crossed Rs 200 crore in revenue. We hope to reach between Rs 250-260 crore this year and achieve a turnover of Rs 500 crore by 2020.
Q]

Dr. Oetkar had also introduced muesli in the Indian market….
When we entered India in 2008, we had introduced a range of muesli as well. However, after the acquisition of FunFoods, we stopped the production of muesli. We did re-introduce the range in 2011 again, but after struggles with the FSSAI for product approval, we decided to pull out and focus on Sauces and Spreads category instead which was making money, and we have not relaunched the muesli range in India, since.
Q]

Your brand ambassador, Sonali Bendre is battling cancer. So is the introduction of Amyra Dastur a way of phasing her out?
Not at all. Our association with Sonali Bendre happened much before she made the announcement. However, while Sonali Bendre featured in a family situation TVC spot, we brought in Amyra for our Dressings range as we needed a slightly younger face with a focus on fitness, to target our urban consumers. That said, we believe Sonali Bendre is a strong woman with fire in her belly and we support