Q] In line with Budweiser serving as the official beer partner for the FIFA World Cup 2018, the brand released its biggestever global campaign, 'Light Up the FIFA World Cup'. Tell us a little bit about conceptualizing this campaign?
Budweiser is now in more countries than it's ever been in the past 120 years' of its existence and this campaign is a culmination of the true width the brand commands across the world today. The campaign aims to bring people together to the biggest sporting spectacle known to man which is the football World Cup. However, it also happens to be a spectacle that is a celebration of the fans, who are our target audience through this campaign; the idea being that whether it's a bar in Moscow, or a home in Delhi, or for that matter a stadium or a fan park in Melbourne, everybody is rising as one to celebrate this amazing sport. So despite India not being part of the World Cup, being part of this global campaign makes everyone feel part of that community. We are expecting this to be a great awarenessdriving campaign for the brand.
Q] Tell us about some of the unique elements of the campaign as well as the overall campaign spend?
There are two phases to the campaign. In the first phase, while we were building anticipation for the World Cup, we reached out to consumers, inviting them to participate in brandled engagement activities to win a chance to watch the World Cup in Moscow. There are about 35 consumers who are travelling to Moscow to see the World Cup live, as part of this activity. The second phase focuses on the actual celebration of the World Cup. This includes creating excitement around the event through digital content throughout the course of the World Cup and celebration in bars through the 'Red Light Cup', which is sound-activated and lights up in direct proportion to sound decibel levels. We are also creating a 'content studio' hub with postmatch analysis through non-traditional pundits, which will be our way of engaging consumers who may or may not necessarily be football fans; because our mission is to make the sport a lot more democratic. Yet another element of the campaign will look at sustainably lighting up some villages across India which are living in abject darkness, in line with the idea of Budweiser giving back to community, by making sure the lives of those who are in need is being supported by the brand. This is our campaign plan over the course of the next 45 days. While it is difficult to put a number to the overall campaign spend, it definitely accounts for a significant proportion of our overall marketing and sales budget.
Q] How big is the India market for AB InBev and what are some of your key marketing strategies here?
India is one of our top 20 markets as far as volumes are concerned. We have 17 breweries here, which is one of the biggest footprint of breweries from our top countries of operations, for leading brands like Budweiser, Fosters, Haywards Knockout, Royal Challenge, and most recently Beck's. In time, brands like Hoegaarden and Stella may also be brewed locally. We are very bullish about the Indian market, which is one of the fastest growing markets globally. We are looking at growing ahead of the industry by continuing to drive penetration through the right consumer segments, and we believe that we have the brands to shape that mission. Already in the premium segment, brands like Budweiser are growing well ahead of the industry average. Going forward, nonalcoholic beer is also one of the categories that we want to focus on in India which we believe has great potential. We plan to start with Budweiser Prohibition in this category, which has got great proposition globally. We are hoping to have a supply chain ready to enable this by early next year.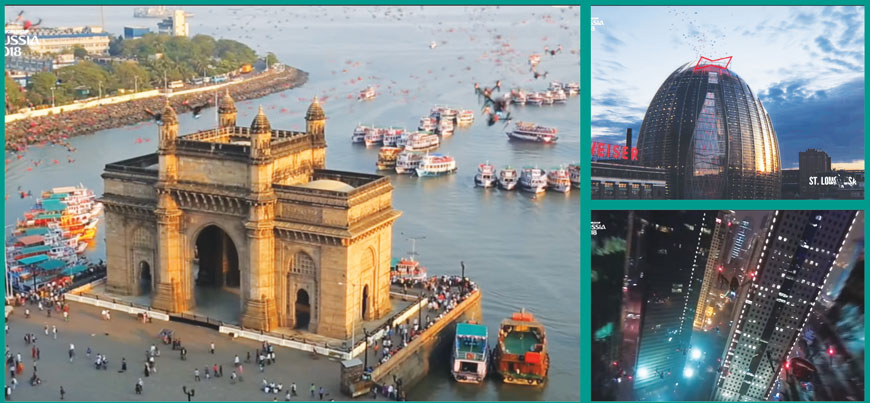 Q] Most of your brands are priced at a premium. How are you planning to work around that, given that India is a price-sensitive market?
We are very happy that our brands like Budweiser, Stella, Corona, Hoegaarden and Fosters are driving the premium and super premium segment, which is the fastest growing in India. The desire for aspirational premium brands is actually higher in Tier II and III towns than in urban cities, because such brands have been around for longer in Mumbai, Delhi, Bangalore, Hyderabad, Kolkata and Goa. That said, brands like Royal Challenge, Knockout and Haywards are all priced at what we call 'mainstream' to 'mainstream-plus' pricing. These brands are doing a very good job of being the first brand that people choose in that category in smaller towns. We are now launching Beck's Ice, which will be sold at a 'core-plus' price point, priced just marginally under premium.
Q] What does your overall marketing mix look like?
We usually have benchmarks on percentage of our total revenues that we allocate to developing the category, whether it's innovation or sales or marketing. These usually range between 10-15 per cent on an average, globally. In terms of marketing mix, we are big believers in new age platforms, like content partnerships, experiential marketing and Digital. Our global average spend on experiential marketing is in the range of 10-15 per cent and that number is even higher in India, which is leading the way. Branded properties with our own IPs are a big focus area because we feel that is when a consumer truly experiences a brand, and that's why we keep up a constant level of engagement through Social Media, through a lot of innovations in Digital overall and of course Experiential. These new age platforms occupy a higher percentage of our marketing spends compared to traditional media like TV, Print and OOH, especially in India where we are not allowed to present our product proposition.
Q] Tell us about some of your other promotional activities…
We believe that between international soccer and music, we have two incredibly engaging platforms to help support Budweiser. In fact, India was one of the first global countries to host Bud X, a flagship music event by Budweiser Experiences. Again, Corona has the most recognizable ritual the world over in that every bartender knows that it needs to be served with a slice of lime. We also have Corona SunSets which is a global music platform that we stepped up incredibly over the last 12 months. Moreover, the brand has also committed to saving 100 islands and in India it has committed to Juhu beach till the year end. For Hoegaarden, we have this platform called Hoegaarden Brunches where we partner with top fivestar hotels as well as other key Indian restaurants for Indian food-andbeer pairing, almost every weekend. We also believe that Hoegaarden is a beer that is bringing more women into the category, which is another major focus segment for us because we believe the brands that we have in our portfolio are versatile enough for both sexes to engage with. In fact, we launched India's first-ever TVC for Budweiser which showcased a female DJ walking up and taking control of this house party, centred around the idea of Budweiser helping you seize the moment. That TVC was our attempt to reach out to a growing segment of women consumers for Budweiser.
Q] What are your expansion plans in India?
We are looking to launch Budweiser in Rajasthan in the third quarter of this year. We are also looking at launching Beck's starting with Maharashtra and Karnataka, and then taking it to other markets across the country. Again, we are focused on taking Corona, Hoegaarden and Stella to Nashik, Nagpur, Kolhapur, Solapur and Aurangabad. Similarly in the South, we plan to take these brands to markets like Bellary, Hubli and Belgaum. We also re-launched Haywards 5000, which has been around for the last 25 years in India, with better flavour, quality and packaging to make it appealing to existing, as well as potential customers.