Q]

Was the Amazon Festive Home activation aimed at showcasing Amazon as a one-stop destination for all kinds of festive and household needs?
This stems from one of the core pillars of our business, which is selection. This week we will enter Diwali with more than 170 million products for our customers, but it's sort of difficult to fathom what 170 million products mean. Our team took up a challenge of setting up a home by using products sourced only from Amazon.in. So, right from electronic items to the sofa set to the toothbrush in the bathroom; all of it is available on Amazon. We basically wanted to highlight the fact that this is the kind of selection we are offering our customers this Diwali.
Q]

Tell us about the expected sales during the 5-day shopping festival between October 10-15?
While I can't reveal a number, I'd like to tell you about something I am most excited about, this Diwali- the fact that we now have the Amazon app and the interface available in Hindi. Widely available statistics suggest that there are just 150-180 million Indians who are conversant and comfortable with English. That literally means that with the app now available in Hindi, millions of Indians who have Hindi as their native language will probably not have the apprehension of language because they will now be able to browse, shop and go through the entire shopping cycle in a language of their choice. Over 85% of our new customers actually come from Tier II and Tier III cities. We are very excited by the initial response to the Hindi interface in the last few weeks, which was rolled out to our entire customer base and are looking at millions of new customers coming to Amazon as a result.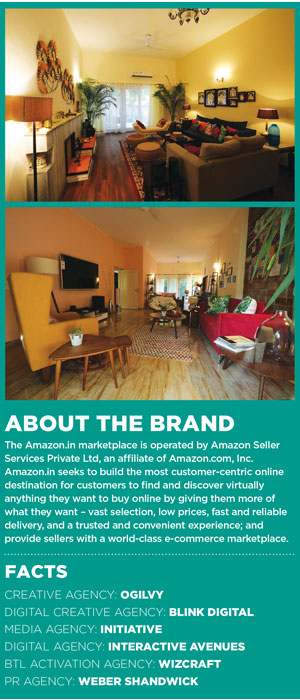 Q]

Your 'Chonkpur Cheetahs' were very popular during IPL and now you have the Amazon Great Indian Band...
Our campaign reflects a very Indian reality that people always keep aside big ticket shopping for Diwali, yet they are constrained by a budget. So this time we are saying that
'Khushiyon ke beech budget nahi aaega, and ab pura India Great Indian Festival manaaega'.
To enable this, for the first time this Diwali we will have EMI options available for customers; not just for credit card customers, but for debit card customers as well, considering that the number of people holding debit cards in India is 10 times higher than those with credit cards. The EMI option will thus enable many more customers to buy whatever they want. In fact, you don't even need to have a card today. If you are an Amazon Pay customer, you will be able to get an Amazon Pay-based EMI without having to have a credit or a debit card. So, that's another extension of the whole thought behind 'Khushiyon ke beech budget nahi aaega'.
Q]

Your biggest competitor, Flipkart also has a catchphrase for the festive season that plays on the word 'budget'. Interesting coincidence.
Clearly, we didn't know what they were planning on doing. We based it completely on our customer insight. I don't want to comment on what competition does but it becomes a little ironic to have the biggest stars in the country, talk about budget coming in their way of purchases. If you see some of the people in the Flipkart ad, it becomes a little difficult to believe that they would ever have a budget challenge.
Q]

What kind of marketing spends are you looking at for this season?
Again while I can't comment on the numbers, with the introduction of the Hindi app we are looking at increasing reach and frequency through the right media touch points in some of these market places. So, we will see a slightly different deployment of media this season, compared to what we have done in the past. So for example, while earlier we were speaking to a certain set of audiences, but now we are able to penetrate deeper, and we know that audiences will love Amazon and adopt it because of the new interface. We are looking at also translating the same campaign thought across relevant touch points. We are using Radio in an interesting manner. We have a few innovative ideas around Digital, too. For instance, if the chief wage earner in an Indian family is in his 40s, he will have a few old Bollywood classics as his favourites. We will leverage those classics, add some lyrics on top of that to communicate what Amazon has to offer them this Diwali and use that across the audio touch points. Meanwhile, we have started to put out our Outdoor ads in a few markets already. Print and TV has also been deployed. And Digital will be a large part of the campaign this year.
Q]

Is Amazon planning an offline to online move, with physical stores where one can touch and feel the products before placing an order online?
That depends on what customer challenge are we trying to resolve, and how we are trying to assist them. We have 14,000 stores in the country today which are now being rebranded as Amazon Easy, where one can actually walk into the store as a new customer and get help in creating an Amazon account. An assistant will even help you place your first order. At times, we actually position certain products in such a way to enable touch and feel for customers, before they order on Amazon. This is happening across multiple states in the country. Thus, it's not merely about putting up a showroom in urban India, because those customers are savvy enough to undertake this journey on their own. Instead, we are focusing on parts of the country where the customer requires a little more coaching and hand-holding to get them online. That's happening at scale, and the numbers will keep growing as we go forward.
Q]

On several 'Big Sale' occasions, there are cases where products aren't delivered, or worse, customers get a damaged product. In such a scenario, how do you regain their faith?
When you serve millions of customers at scale, there is bound to be some or the other instance where either the customer's expectation is not met, or some of our delivery partners are not able to live up to the promise. Likewise, even sellers sometimes can't fulfil their promises. Customers in such instances don't blame the seller, but blame Amazon because that is the brand they have interacted with. Therefore we sometimes end up taking the blame, not necessarily because of our own fault. Having said that, we have a culture of trying to identify the root cause of the problem, as opposed to solving only the problem at hand. So, for example if you as a customer have raised an issue, we would not just solve your problem, but also use that opportunity to find out where that particular process broke. Then we try and ensure that we fix the process so that millions of customers like you, under circumstances similar to yours, don't face the kind of problem that you have gone through.