"So when is your calendar coming? I need to fill in January appointments." I get at least 4-5 calls like this every year in the first week of December.
As I stroll down memory lane, fleeting images of how it began slowly emerge. Twenty years ago... Seems like a lifetime ago... In an industry like ours, it really is a lifetime. I was running a successful mid-sized full-service agency (nothing had been unbundled yet) called Canco Advertising. It was early November and one of my colleagues came up and asked me what did we normally give our clients as gifts for New Year.
Before taking great umbrage (we passionately believed in our ethical stand and our clients were happy with it), I asked him what he meant. So he explained that in the agency where he had worked earlier, a token gift to clients was par for the course. It seemed pretty harmless, so a few of us tossed around some ideas. Anything expensive was ruled out. That included cakes, bottles of liquor, chocolates and so on. Diaries... boring. Wall calendar... occupies too much of wall space, a luxury in Mumbai offices. Calculators... puleeze!!! Desk calendar! Aha! That sounded functional and also something people might keep on their desks. But I didn't want to make it look like a Canco gift, nor did I want something totally impersonal.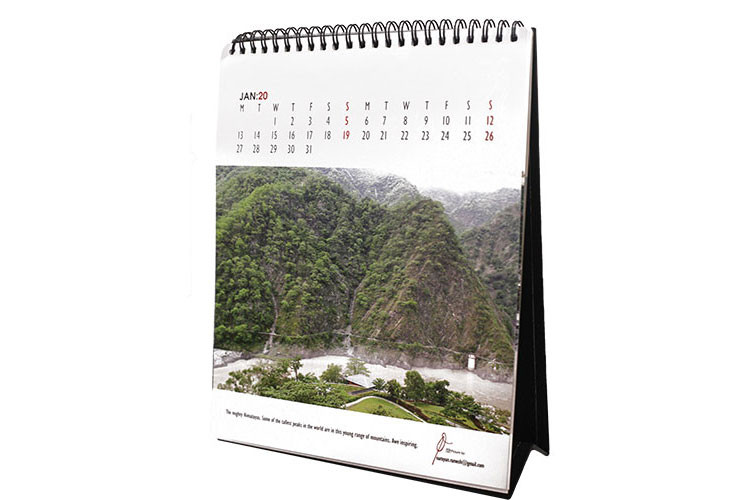 Then it struck me. I have always loved photography. I've always loved travelling. So my trusted Asahi Pentax KX with a couple of lenses always accompanied me on my travels. And I shot random landscapes and monuments. I somehow always avoided 'people' pictures. And I had several nice (according to me) pictures of the last year.
And so I thought, what if I compiled those pictures taken by me into a desk calendar - it would be the most personalized gift from me that I could think of.
And so I wrote on the fly-leaf, "Fleeting images. Frozen into much more than pretty pictures. Sights that should be seen and remembered. These are what I wish to share with you." (The same lines have adorned the fly-leaf of my calendar for 20 years.)
People loved the idea. I got several appreciative calls. I was on a high. Some client, in fact, suggested that I shoot for them instead of hiring a professional photographer. "I'm too expensive," I loftily remarked. "You can't afford me!" Then after a couple of years, when people began calling me up and asking for my calendar, I realized that it was not the pretty pictures they loved so much. It was the empty square blocks I print with dates, to record appointments, etc., in an age when telephones were merely meant for calling one another. Somehow those empty blocks are still relevant - even last month, a friend, R. Anand, sent me a picture of the reverse side of December 2019 where all the blocks were filled up with notes, and he enquired when the next calendar was coming! That, of course, brought my photographic airs down to terra firma, but I love the fact that so many people – from Brahm Vasudeva and Srinivasan Swamy to many others - tell me that they keep only one calendar on their office table, and that is the one sent by me.

And so the saga continues. Now I shoot the pictures on my phone (I'm waiting for Samsung to approach me and ask me to endorse the camera on their phone...I'll do it for free or give the money to charity!) Meanwhile, every year, my erstwhile colleague Dhananjay faithfully calls me, takes the pictures and designs the calendar. We still have our annual spat over what is more important, aesthetics or functionality. Another erstwhile colleague Neelam (my favourite copy-writer) calls me and softly requests me to send the captions I write, to her. She doesn't want people to feel I don't write well enough, or that I am bad at spelling.
So the story of the calendar continues. I have a date with all my friends.