We tend to see travel as a way of exploring, but my journey of awakening my taste buds has brought insightful discoveries to my travel experiences. A lot of people eat to live and a lot of people live to eat. This note is for people who live to eat.
From the lip smacking golgappas in Delhi or the hot mutton biryani in Kashmir's cold weather, from tunday kebabs in Lucknow to Goan-style seafood by the beach, our country beautifully blends diversity into a beautiful package that may be called the delicacies of India. One piece of advice that has stayed with me is that the real essence of travel lies in the local delicacies offered. While travel blogs and TV offer insightful information, they tend to limit our sense of exploring.
A free mind and taste buds challenging new flavours is a combination that calls for adventure, one flavour at a time. Taking new lanes or exploring new routes, and speaking to the locals will allow you create your own memories. The congested streets of Thailand give you a taste of their own while the posh streets of New York have other flavours to offer.
Travelling is not limited to adventures and exploring but also a journey to find spiritual peace. Places like Bodh Gaya and Borodhur depict the calmness and serenity that is inseparable from the Buddhist discipline. These places are not just about the display of their religions but also have stories and history that leave you amazed and spellbound. From the prasad of Thirupati to Chotiwala in Swarg Ashram Rishikesh to Iftar at Ajmer Sharif Dargah during Ramadan, religious places have a significant connotation even through food.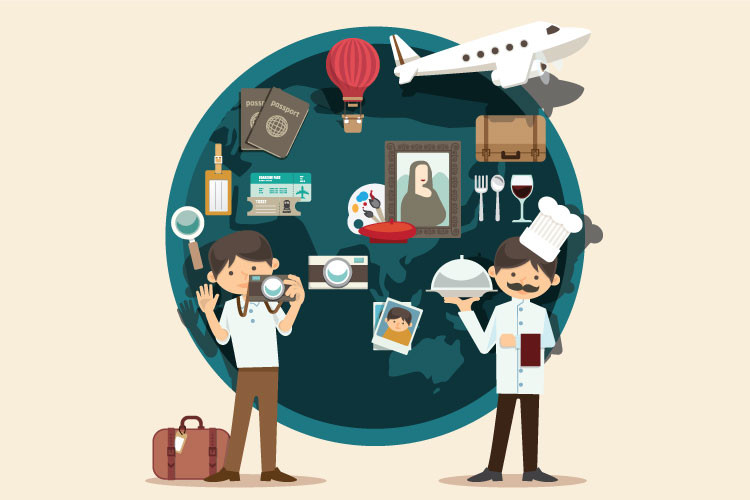 At times, our preconceived notions might blind our ability to truly explore a destination. I remember how my doubts on the food of Taiwan completely vanished only when I tried it out. From the crepes in Paris to the flavoursome burgers of New York, I believe that being a traveller encourages learning that stimulates growth. The Scottish are famous for their fish and chips and variety of spirits. But that's not the only thing that captures your attention. When you talk to them, you might find that they are among the friendliest people on the globe. My love for food has also been stirred by attending food festivals around the world. Whether it is the pizza festivals in Italy or the Oktoberfest in Germany, I've always been in awe at how events can celebrate food and help people explore various delicacies at one place. For anyone who loves chocolates and fashion, the Salon Du Chocolat is a festival in Ecuador where they have the finest range of chocolates. There are people in huge numbers that have been potentially looking forward to several food festivals in India as well. The National Street Food Festival that is celebrated in New Delhi gives the visitors a taste of the various amounts of street food that India can offer. From the North to the South, and across the West and the East, it is not just about how one reaches the destination but rather about how to appreciate and relish the diversity of flavours on the journey too. My travel experiences have enriched me especially because I have been in the events industry. It is a different experiment and a new adventure every time I hit the road. There is no guarantee what I might be tackling on a given day. This adrenaline of unpredictability in life makes me eager to take a new road on every turn in my life.