Podcasts have been my primary teacher in the last couple of years. Everything I have learned in the last couple of years has come from listening to incredible podcasts. Podcasts have helped me learn core functional skills, such as user interface, brand design, team management, as well as how to parent, fix relationships and get inspired.

A voracious reader through my childhood and adulthood, today I look towards podcasts to do what books did for me my entire life – transport me to another world. I especially like dialogue-based podcasts, where one person is interviewing a guest, and where the conversation is slow, relaxed and profound.

Before we started working from home, these podcasts were my trusted companion in my 40-minute commute in the morning. Now, they set the pace for my 60 minute post-dinner walk at 9pm. I think this ease of access – and the hands-free, eyes-free, movement-enabling nature – is definitely one big reason for my preference of podcasts as the key medium of acquiring information.

Also, people talk about a variety of learning styles, auditory being one of them. I am not sure if I will label myself an auditory learner but I definitely think that despite the fact that they are a one-sense medium (unlike videos), I find I concentrate much better when listening to a podcast.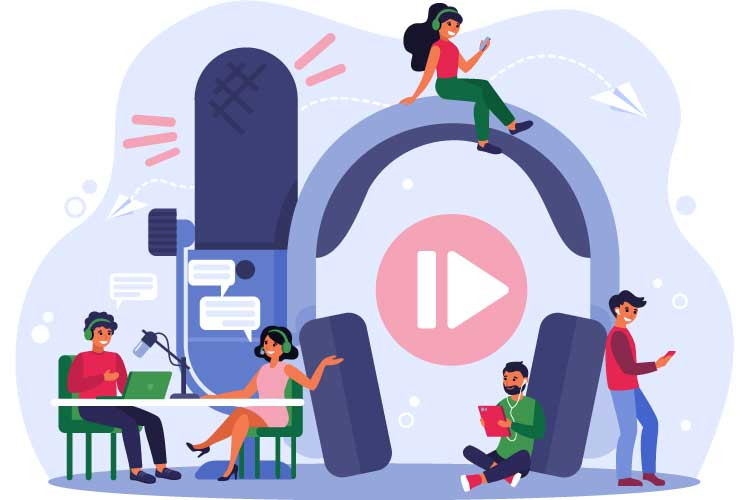 My relationship with podcasts has deepened this year. I've managed to host two podcasts: Habits Matter (on its second season) which explores the human side of how things really work at work by featuring inspiring, successful and thoughtful guests; as well as Lockdown Leadership, in which I speak to leaders at the helm of essential services and critical businesses during COVID-19.

The show explores questions about timely leadership, rapid innovation, social responsibility, and the mental models leaders fall back on when things get tough. These podcasts are my fortnightly creative joy, and are almost therapeutic as my team and I pore over each word, each comma and each tone to ensure we get it right.

None of this would be possible, of course, had I not been hooked to the podcasts I love. Here are some of my favorites. Give them a listen!

The Knowledge Project, by Shane Parrish: Hosted by the founder of Farnam Street, a very well-regarded blog on mental models, this podcast aims to help its listeners master the best of what other people have already figured out. My favourite episodes here are the ones with Naval Ravikant, as well as one with bestselling author, Jim Collins.

Great Women of Business, with With Vanessa Richardson and Molly Brandenburg: As a special limited-run series, Great Women of Business spotlights inspiring careers, savvy decisions, and catastrophic failures. Each episode tells a different woman's story, and teaches the business principles they used to find success. My favourite episodes here are the ones on Julia Child, Coco Chanel and Martha Stewart.

Hello Monday, with Jessi Hempel: A show by LinkedIn which explores the changing nature of work – and how that work is changing us. My favorite episode from this show have been the ones with Microsoft CEO Satya Nadella and Patty Jenkins, the inspiring director of the movie, Wonder Woman.

The Tim Ferriss Show: In this show, the bestselling author deconstructs world-class performers from eclectic areas, digging deep to find tools and tactics they use. My favorite episodes from here are the ones with Ferriss did with author Elizabeth Gilbert and iconic conservationist, Jane Goodall.

Invest Like The Best, by Patrick O'Shaughnessy: This podcast explores the ideas, methods and stories of people that will help you better invest your time and money. My favorite episodes from this show was the one with Charlie Songhurst, the former head of strategy at Microsoft, and a prolific investor; and the one with Matt Ball, the former head of strategy at Amazon Studios.