While 'content is king' is possibly the oldest and most frequently used adage, if there was a time that truly embodied its meaning, it's now! New narratives, new talent, new viewing patterns, new technology – content creation and consumption has turned around on its head and the content creator in me feels so alive. For me there is a story everywhere, and one only needs to have the lens to find it. My best stories have come from my travels!
Ibn Battuta once said that, "Travelling leaves you speechless, and then turns you into a story-teller," and I now truly believe it to be true. I know I am a traveller first and then a story-teller. Every place that I have been to, every experience that I have had, every new person that I have met, every culture that I have seen has given me inspiration to tell a new story. Most of the content I have created comes from personal experiences and if you look at it in that manner, they are inspired by true events and real experiences.
Along with being a self-confessed travel junkie, I am admittedly a foodie at heart! Most of my travels are around the local food I eat along with the local people giving an unmatched understanding of that country's culture. It was these food-led travel experiences that inspired me to create the second season of the show Masters of Taste with Gary Mehigan: The Family Table. Now, this is a food show that makes you feel all warm and fuzzy, exactly the kind of feeling I experienced while I was gobbling down copious amounts of delicious food during every single travel experience that I have had!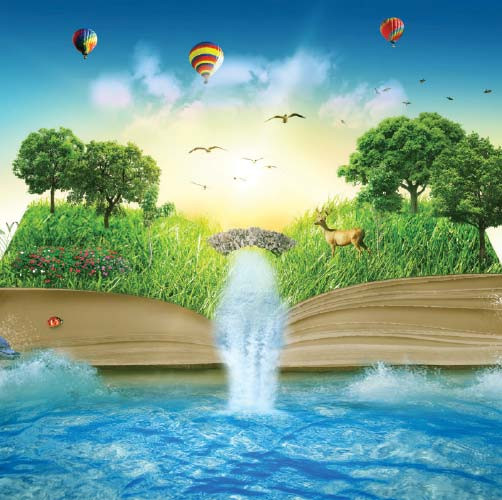 Adventure is another thing that is very high on my radar each time I travel. On one of my travels to South Africa, I decided to take the plunge and skydived alongside with my wife, Neha. The roller coaster ride of emotions I experienced that ranged from fear to exhilaration assured me that India needs to have its own version of Fear Factor and in that jump lay the genesis of my bringing the internationally acclaimed format to India. I knew that the audience would love to see this absolutely crazy range of emotions without actually doing any of the activities. It makes me happy to know that we did that successfully for so many years!! What a ride it was to jump off that plane and what a ride it was to put that enjoyable show together!
It makes the journey satisfying when you, as they say, "Do what you love and love what you do." I often feel blessed to have had the opportunity to combine my love for exploring this world and everything it has to offer and creating stories around it. I also genuinely believe that this works both ways! My work is such that I have to consume content from across the globe (and I am definitely not complaining!) and that allows me to understand cultures, decode people and their behaviours even without meeting them. It is such a mind-opener to know people and their cultures through their content, and I must confess that some of my travel destinations have been occasionally been picked after watching a variety of shows and movies. Remember how Zindagi Na Milegi Dobara made a road trip to Spain 'the coolest' thing to do back then? It's amazing what an impact that movie has made! Directly or indirectly – each of my travels has had an impact on every story I have ever told and vice versa. And I sincerely hope that it will always be the case!